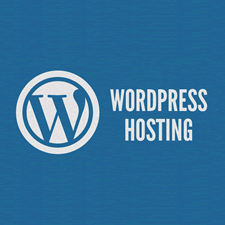 WordPress runs better when it is in a rich hosting environment. While the vast majority of web hosts claim that they have met the WordPress minimum requirements, choosing the most risk-free and worry-free WordPress hosting service can be a chore.
After reviewed 100+ shared hosts, we had come out the best WordPress hosting from various aspects. InMotion Hosting, BlueHost and HostGator are the award winners. Note that, those three recommendations are handpicked by our editors and the respective web hosting customers.
How to Award the Top 3 WordPress Hosting
To come out our list of top 3 WordPress web hosts, our editors carry out an in-depth WordPress hosting review, ensuring all of the listed companies fully meet the following requirements:
One-Click WordPress Installation & Activation

Installing WordPress site manually using scripts is often a nightmare for most webmasters. 1-click installation service, however, enables customers to have their WordPress sites installed quickly without glancing at a line of code or setting up a single database. That's why all of our recommended web hosts provide one-click WordPress installation service to customers.

There are more than 10 general software which support this service, but "SimpleScripts" and "Softaculous" are the most convenient ones. Thereinto, BlueHost utilizes SimpleScripts, while InMotion Hosting and HostGator suppport Softaculous.

100% WordPress Compatibility

In order to make the WordPress site fully functioned, these top web hosting companies are keeping pace with the latest advanced technology and optimized PHP & MySQL configuration, including Custom Cron Jobs, .htaccess configuration, MySQL Databases, Ruby on Rail, Perl, and Python, etc. Beside, sufficient server RAM is guaranteed by these companies, helping customers deal with large WordPress request successfully.

WordPress Site Performance

Performance is one of the major criteria when we rank the WordPress web hosts. After all, websites users are greatly affected by the page loading speed and uptime. WordPress powered websites are particularly vulnerable to performance problems, due to the plethora of themes and plugins that get applied to the websites. However, all the 10 WordPress web hosting companies guarantee 99.9% server uptime and quick page loading speed that is less than 2 seconds averagely, enabling customers to run a quality and fast WordPress website.

Technical Support

When choosing the best WordPress hosting company, one very important thing to think about is the response speed and reliability of the technical support staffs. Every webmaster may encounter problems such as faulty connection, how to transfer huge file, how to access the site via SSH etc. Fortunately, all the listed hosting companies offer groups of US based knowledgeable support staffs, providing customer service through hotline, e-mail, and live chat 24 hours a day, 7 days a week.

Price

It is important for customers to think about the hosting price before signing up with any web hosting providers. In addition to above mentioned benefits, these WordPress hosting providers offer budget-friendly pricing, ranging from $1.95/mo to $3.95/mo. These prices may not be the cheapest in the hosting market, but they are absolutely the most cost-effective ones after we have reviewed 100+ web hosting companies.
It is worth noting that all these companies support money back guarantee, allowing any unsatisfied customers to ask for either full refund or pro-rated refund. And now, let's check more information about InMotion Hosting, BlueHost and HostGator.
InMotion Hosting > Fastest WordPress Hosting Provider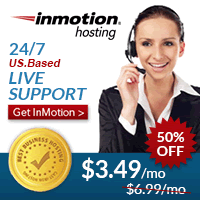 InMotion, founded in 2001, is designed to provide the fast, reliable and cost effective web hosting solutions for personal, small and medium businesses. This company offers 3 WordPress hosting solutions starting at $7.99/mo. With the 50% discount through this exclusive promotional link, the price is cheaper today, only at $3.49/mo. It supports 90 days money back guarantee, and the payment method of credit cards. Unfortunately, PayPal is not allowed at this moment.
So, why is InMotion Hosting the fastest WordPress hosting provider? The answer is that each WordPress hosting package comes with SSD, which plays an important role in speeding up a website. This company also has developed its unique Max Speed Zone technology that can accelerate the WordPress site loading speed up to 600% faster than other shared web hosts. To show you how fast it is on earth, we display the server response time of this company as below, which is according to our 30-day monitoring.
BlueHost > Design for the Websites in All Sizes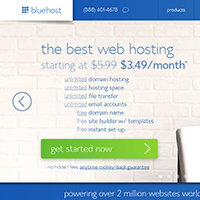 BlueHost is one of a few web hosting companies that offers the WordPress-optimized shared web hosting plan which has been accredited as the best WordPress hosting at WordPress.org since 2005. Its Professional WordPress hosting plan includes 1 free domain and enables you to host unlimited WordPress sites on one account. Besides, it supports almost all leading technologies including what we've listed as below.
PHP 5.3.18, MySQL 5, FastCGI, SSH, SSL
Unlimited disk space & bandwidth, cPanel
Perl 5, Custom PHP.ini, Python, Ruby on Rails
24×7 technical support via phone, live chat and email
The Plus hosting plan is pricing at $3.49/mo via the promotional link as below, which is designed for the webmasters who are running new or small websites and don't wish to invest too much money. Maybe, this hosting plan is not able to meet the requirements of some larger sized websites. In this case, the Pro plan can make a big difference. It is starting at $19.95/mo, coming with more possibilities than the Professional plan.
BlueHost Promotion Link Activation
What's more, if the above information still cannot meet your needs, the BlueHost managed WordPress hosting plan kis craeted for you. In total, this company devotes its effort to design four packages of diversified levels consisting of Blogger, Professional, Business and Enterprise. To make these packages affordable, BlueHost makes a price that starts at $24.99/mo on a regular basis. Moreover, webmasters are allowed to flexibly select the billing cycles among 1/3/6/12 months. What makes the price much budget-friendly is the 50% discount reducing the price to be $12.49 that can be claimed via clicking this promotional link.
The managed WordPress hosting plan comes with the following spotlights:
Enhanced cPanel capacitates webmasters the ability to easily manage their WordPress sites including domains, emails, and settings, etc.
Dedicated backup storage is included in every package to make sure the safety of data.
Dynamic upgrades enable webmasters to instantly add more RAM, CPU, and SAN storage with just a click.
Mojo Marketplace makes it easy to seek indispensable scripts and plugins to customize WordPress websites.
ManageWP empowers webmasters to migrate and administrate multiple websites as well as backups in a breeze.
HostGator > Cost-Effective WordPress Hosting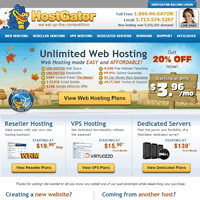 HostGator is the most cost-effective choice for hosting a WordPress site. Especially, now this company is offering 25% discount of $3.71/mo for the first 3 years by the coupon code BHS25OFFHG. This compelling price includes a free domain name, up to $200 marketing voucher, and a promise of helping you create a site in 5 minutes.
The another highlight of HostGator hosting is the 24×7 US technical support through toll-free telephone, live chat and email. With hold times that average under half a minute, you can be assured that an experienced and kindly representative from their California office helping with your problems knows how to help.
HostGator Coupon Code Activation
Conclusion
You can easily find many very cheap WordPress hosting providers declaiming 100% compatibility with WordPress, but saving a penny may buy a bucket as this industry filling with SCAM and terrible stories. These 3 companies are absolutely far exceeding the peers in the industry. Their WordPress hosting is different – strong reliability, much faster speed, and responsive technical support from real people.