To find the best business web hosting for our readers to run business websites with the least efforts and problems, we have reviewed more than 100 business web hosting providers from price, feature, ease of use, reliability, performance and technical support. As a result, we found that BlueHost, InMotion and WebHostingHub are the best 3.
The 3 companies all have been in the industry for more than 10 years and popular with millions of webmasters around the world by offering reliable and fast business hosting service. In below, we have worked out a comprehensive review to show why they are better than others. Besides, we have developed this table to show the highlights they provide.
Best Business Hosting – BlueHost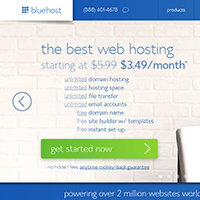 BlueHost has been well known for its reliable hosting service for more than 10 years. This company has released an all-in-one shared hosting solution for customers to run business websites, which is Professional plan. The regular price of this package is $6.99/mo, but visitors who go through the particular link below are able to cut the price down to $3.95/mo which is 44% off the regular price.
At low price, Professional plan comes with quantities of useful features, such as $200 advertising credits for Facebook, Twitter, Bing and Google for customers to share the content of their websites through the popular social sharing tools to promote their websites and business, which may help webmasters to expand their business.
In addition, the company offers shared SSL to encrypt the data when it is transferred over the internet, which ensures the security of webmasters and their customers' information. If site owners want a private SSL certificate, they need to purchase it through BlueHost cPanel. Besides, Professional is featured with the following highlights.
Free domain name & instant setup.
Unlimited disk space, monthly bandwidth & email accounts.
Anytime money back guarantee & high performance guarantee.
BlueHost Promotion Link Activation
Fast Business Hosting – InMotion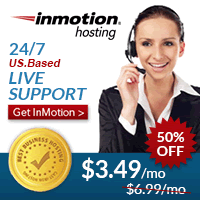 Among the companies we have reviewed, InMotion is the one offering the fastest business hosting service. This company has built 2 data centers respectively located on the 2 coasts of US, which enables customers to choose the one close to their visitors to gain better hosting performance. Besides, they have developed their own Max Speed Zone technology to provide faster hosting speed.
To enable people to choose the most proper one to host business websites, InMotion offers 3 different business hosting solutions – Launch, power and Pro. The 3 plans start from $7.99/mo, $9.99/mo and $13.99/mo regularly, but with the discount the company provides for customers through the following promotional link, the packages are available at $3.49/mo, $4.49/mo and $13.99/mo respectively.
To enable customers to put money in safe, this web host guarantees 90 days full refund and anytime prorated refund. In this way, both risk and worry are reduced. In addition, to ensure the security of customers' business websites, this company offers free data backups and secure email via IMAP. More server resources and highlights are:
As many as $300 advertising credits.
cPanel & 310+ popular applications.
Unlimited SPAM email accounts, disk space & monthly data transfer.
SSH, SSD, PostgreSQL, Ruby on Rails & pre-installed choice of WordPress, Joomla or PrestaShop.
InMotion Promotion Link Activation
Reliable Business Hosting – WebHostingHub
To provide reliable business hosting service, WebHostingHub equips their data centers with high quality Dell servers, reliable hardware, and redundant power supply. Besides, to ensure customers run websites smoothly without any unexpected interruption, this company has hired a group of technicians to monitor the data centers and servers to resolve any sudden issues immediately.
In addition, WebHostingHub business hosting package includes cPanel integrated with Softaculous, so customers have the ability to take full control over their websites easily. Moreover, clients have the ability to install many popular shopping carts to build an exception eCommerce website to sell their products. What's more, famous applications for blogging can be installed with a few clicks, including WordPress, Joomla, and much more.
Furthermore, to help customers concentrate on business without any distraction, WebHostingHub provides a high level of customer service via email, toll-free phone call and email. All the support staffs are standing by 24×7 to help customers resolve problems instantly and efficiently. With good reliability, rich features and quality technical support, the annual plan is priced at $3.99/mo. However, visitors going through the promotional link below to purchase the 2/3-year plan are able to get the service at $1.95/mo for the first 3 months.
Learn more highlights of WebHostingHub business hosting in below.
Free domain registration.
Free shared SSL & 310+ tools.
90 days full money back guarantee.
WebHostingHub Promotion Link Activation