Out of numerous SEO solutions, WordPress SEO by Yoast can be a powerhouse of search engine optimization that ensures your WordPress website is setup in the best possible way. Being packed with a rich set of features, this plugin has been enjoying overwhelming popularity among the general public.
In the further, to setup WordPress SEO by Yoast is not as difficult and troublesome as you may suspect, and instead it requires nothing but your desire to excel. At this place, we would like to demonstrate how to use this plugin to achieve better search placement. Now, keep on reading and get more useful information.
About WordPress SEO by Yoast
Being backed by Joost de Valk and his team at Yoast, WordPress by Yoast so far has over one million downloads with 4.6 of 5 stars on the ratings. Besides that, this versatile plugin has derived a lot of known features from many noticeable plugins like "All in one SEO" and "RSS Footer." For a better understanding of its built-in features, we will make a list of some significant ones as below:
Breadcrumbs – that allows you to build an easy navigation for your users and search engines.
Page Analysis – that allows you to check some simple things that are easily to be forgotten.
Social Integration – that allows you to integrate the website with Facebook and Google+ sharing tags.
RSS Optimization – that allows you to tell the search engine where they can find the original article.
Import & Export – that allows you to export your settings and import them to all of your other websites.
Meta & Link Elements – that allows you to control which pages that will be indexed by Google search engine.
XML Sitemaps – that allows you to create XML sitemaps and notify Bing & Google of your sitemaps existence.
Note that, the newest version of this "WordPress SEO by Yoast" plugin is 1.7, which is available for free downloaded from www.wordpress.org.
Install & Activate WordPress SEO by Yoast
As you are probably aware, the first thing you need to do is enable "WordPress SEO by Yoast" in WordPress. According to our installation tutorial, there are three different ways that you can choose to install a free WordPress plugin. In consideration of convenience, we are going to show you the simple ways to add the above-mentioned "WordPress SEO by Yoast" plugin.
In detail, you shall login to the WordPress dashboard and go to "Plugins" > "Add New." If done, just search "WordPress SEO by Yoast" from this plugin repository, and you will be prompted to "Install" and "Activate" it. After that, you are able to find the newly-enabled plugin on this "Installed Plugins" page. Note that, a new tab saying "SEO" will be added in the left dashboard as below.

Setup WordPress SEO by Yoast
Given that you have enabled this "WordPress SEO by Yoast" plugin, you are expected to move your mouse over this "SEO" tab. As you can see, there are a couple of editing options for you, including "Dashboard", "Titles & Metas", "Social", "XML Sitemaps", "Permalinks", "Internal Links", "RSS" and "Import & Export", etc. Here, we will cover the basic ones as is described below.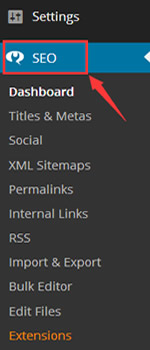 Important to Note: If you are using another SEO plugin other than "WordPress SEO by Yoast" or a third-party theme framework, you'd better transport all your previous data to this new plugin in advance.
General Settings
Just click on this "Dashboard" option and you will be brought to a general settings page as below. In the "General" section, you can choose to "Start Tour" to learn about the use of this plugin quickly. In the meantime, you can also reset your site to default settings.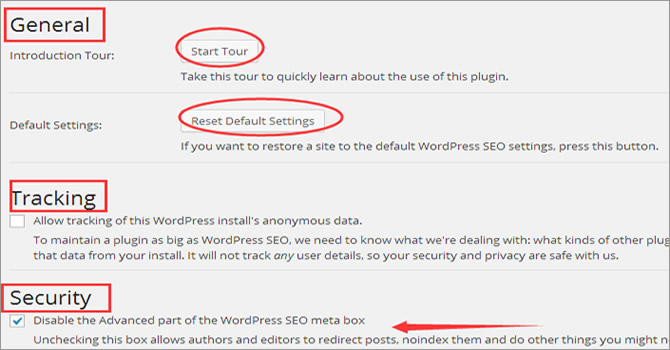 Besides that, there is a "Tracking" option that allows the plugin author to check anonymous usage data. If the data privacy is of great concern to you, you'd better uncheck this option. With the below "Security" option, you will be able to disable the advanced part of your WordPress SEO meta box. It is highly recommendable to check this box so that your editors and authors won't be able to redirect or noindex posts.
In the last "Webmasters Tools" section, you are allowed to verify with some different "Webmaster Tools" like Pinterest, Alexa, Google and Bing Webmaster Tools. If you have verified your website before, you can skip this step directly. Remember to "Save Changes" ultimately.
Titles & Metas
As below, this "Titles & Metas" section is subdivided into several tabs – "General", "Home", "Post Types", "Taxonomies" and "Other." Within the "General" tab, you will be able to have the following options:
Title Separator – is where to specify your title separator located between your site name and post title. Note that, your chosen symbol will show in search results.
Title Settings – is where to overwrite the default post titles and pages of your WordPress. If you are not sure about this usage, you'd better leave this box as it is.
Sitewide Meta Settings – is where to enable meta keyword tags and add noodp/noydir meta robots. Each option is quite self-explanatory, and you can check the box of your requirement.
Clean Up the 'head' tag – is where to remove some unnecessary code that would prevent Google from crawling and evaluating your website. It is recommendable to check these links especially when you are not using an app or client to update your website.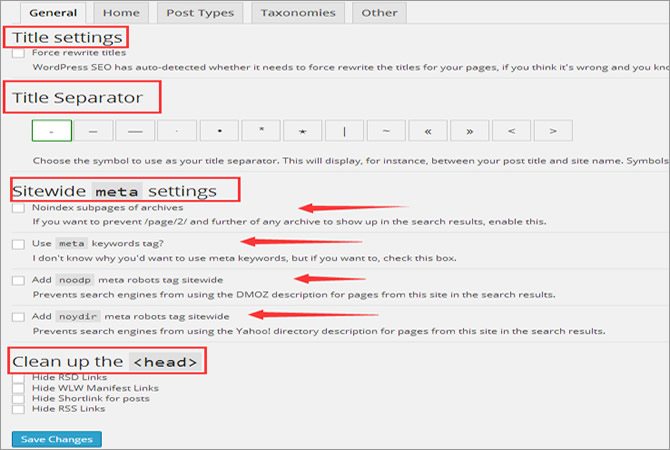 Within the next "Home" tab, you will be presented with the default title template. Besides that, you have the ability to create meta description and title template based on personal indulgences. As the filled-in website title and meta description will be shown in the search engine results page, the length of your title and meta description should be no more than 70 and 160 characters respectively.
After that, let's proceed with the "Post Types" tab. At this place, it is possible to define your own custom post type from multiple viable options, including "Posts", "Pages", "Media" and much more. And more, each of these post types come with meta description and title template that you need to fill in.
In the "Taxonomies" tab, you will have to customize the above-mentioned meta description and title for your "Categories", "Tags" and "Format." To avoid duplicate content as possible, you'd better uncheck the "Meta Robots" option. Note that, in the "Other" tab, you can also create personalized title and description for "Author Archives" and "Date Archives" as well as other special pages like "Search Pages" and "404 Pages."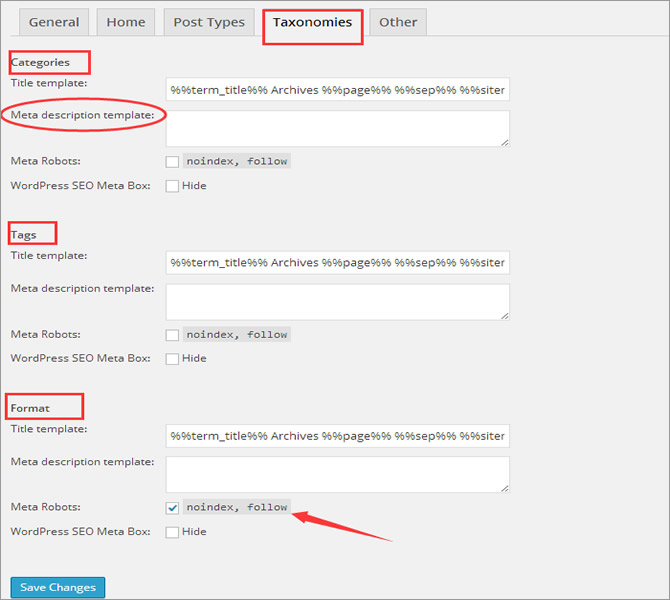 Social
As the most complete SEO plugin, WordPress SEO by Yoast also empowers you to associate your WP website with other social networking platforms, including Facebook, Twitter and Google+. If you already have accounts with those mentioned networks, it's great to fill in required information so as to improve your website SEO rankings.
XML Sitemaps
Adding sitemaps can be the most effective way to get your website indexed by search engines. Here, you should firstly make sure that the box of this "XML Sitemap option" is checked. And then, you will need to "disable author or user sitemap" especially when you are only using one author blog.
Although this "WordPress SEO" plugin will ping to Google and Bing automatically, you can also choose to ping other search engines like Yahoo and Ask.com. Last but not the least, you shall exclude post types and taxonomies that you don't want to display in the sitemaps.
Permalinks
Usually, permalinks refer to the specific URLs of your posts/pages. In this section, you are expected to "strip your category base" in case that the post/page URLs would be in conflict with your category URLs. To create much cleaner URLs, you can "remove stop words from slugs." At the bottom of this page, you also need to configure the "Canonical Settings."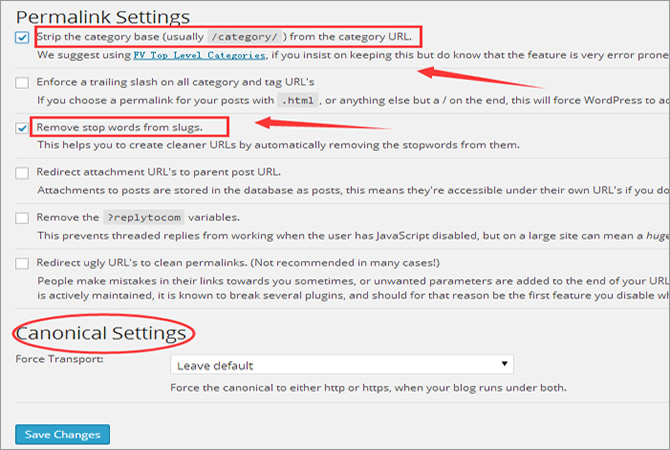 In Conclusion
As above, WordPress SEO by Yoast is a powerful plugin that includes all features that you need to get high rankings in the SERPs (Search Engine Results Page). To get more visitors and increase click-through rate is a lifelong pursuit for everyone, and you can get closer to your dream by choosing a reliable and high-performance WordPress hosting, as the following companies.