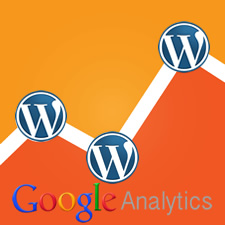 The functionality of WordPress can be further extended by installing different plugins to enhance your site and divert more traffic. As for the purpose of website traffic analysis, WordPress offers the Google Analytics plugins that help in extending the tracking function.
There are many such plugins that are available and do the same thing with a quality service. To help you save your time without the need to go through the list of all the 5,000 plugins, we have explored top 10 Google Analytics WordPress plugins that differ in functionality from extreme to minimal.
Google Analytics Dashboard for WP
Website: https://deconf.com/google-analytics-dashboard-wordpress/
This plugin displays a detailed Google Analytics result and real time statistics about organic searches, bounce rates, number of visitors and pages per visit directly on your admin dashboard. Authorized users also can view the statistics. It has an option to see traffic overview in Pie charts. Through this plugin, you can collect your analytical data in a fast and safe way as Google Analytics Dashboard employs Google Analytics API and OAuth2 protocol.

Google Analyticator
Website: http://www.analyticatorpro.com/?utm_campaign=analyticator&utm_medium=plugin&utm_source=description
It includes several widgets for the display of analytical data in the admin panel and on your blog. It supports universal and traditional analytics and supports download link tracking. It even permits concealing administrators visits without influencing Google Analytic overlay feature. You can disable any feature you don't want, giving you full control over all the options. It supports localization helping you get settings page in the language you want. It includes Polish Translation.
NK Google Analytics
Website: https://wordpress.org/plugins/nk-google-analytics/
To track your website, NK Google Analytics comes with the needed JavaScript and supports Universal, Remarketing and Classic tracking mode. Using this plugin, you can add tracking codes in all the theme pages and into the header and footer area. There is no support for tracking logged-in users, but you can track the login and register page. It also supports Custom Google Analytics tracking code and standard Google Analytics tracking.

Google Analytics by Yoast
Website: https://wordpress.org/plugins/google-analytics-for-wordpress/
You can easily track your WordPress site using this plugin with numerous metadata. It displays views based on category, author, page views and automatic tracking of out-bound clicks. You can manually put the tracking code in a different location and use custom variables to track meta data on pages. It supports custom variables including logged in users, author, publication year, tags, single/multiple categories and post types that are especially useful if you employ custom post types.
Simple Google Analytics
Website: http://www.arobase62.fr/2011/03/23/simple-google-analytics/
This is a very easy and simple plugin to add analytics code on your pages. You just need to enter your ID, choose whether you are on a sub-domain and add the name of your domain. You can also choose the location of your code heater or footer, and add site speed option from Google Analytics. This plugin is extremely easy to use and can add codes in all your pages.

BestWebSoft Google Analytics
Website: https://wordpress.org/plugins/bws-google-analytics/
Through this plugin, you can retrieve all the basic stats from Google Analytics account and insert essential tracking code in your blog. Statistical report either appears in the form of a table or as a line chart on the settings page in WordPress admin area. You can choose which information to show in the report. You can even display group stats by days, months and year and visualize data from different time periods.

Google Analytics Visits
Website: https://wordpress.org/plugins/google-analytics-visits/
This plugin uses Google Analytics PHP Interface to retrieve data from your analytics account and show visits from each and every country with flags in the widget. It has many options like option to hide the header, options to display total visits, total page views with percentages, page views, and many more. It also efficiently handles errors in case of wrong username, password or profile ID.

WP Google Analytics
Website: https://github.com/aaroncampbell/wp-google-analytics
Through this plugin, you can track your site usage with other additional and helpful data. It is much faster and reliable. There are several options like log 404 errors as events, log outgoing links as events and many more. There are many custom variables to hunt additional data like authors, tags, categories, date, and context. You can use the built-in filter for inserting a custom variable of your own.

Super Simple Google Analytics
Website: https://wordpress.org/plugins/super-simple-google-analytics/
This plugin is very reliable for inserting Google analytics tracking code on any pages you want. It is equipped with a bare bones option for those who don't want any complexities and are looking to just add the basic Google Analytics tracking code in the head section of each page without any bustle. There is not much included in it but just the essential options, making it very reliable.

GA Google Analytics
Website: https://wordpress.org/plugins/ga-google-analytics/
This plugin adds Google analytics tracking code in your WordPress site Very efficiently. It is extremely simple and easy to use. It uses the latest version of GA Tracking code and includes GA tracking code in both header and footer. With toggling panels, there is a sleek plugins settings page. You can add tracking codes in all the theme pages. There is not much fuss and is lightweight, known for its simplicity.