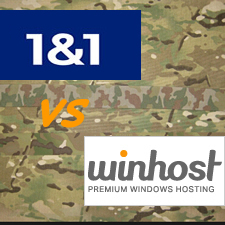 Both 1and1 and WinHost are famous and experienced Windows hosting providers in this field. Founded over ten years ago, 1and1 provides many services, including hosting services, website solutions, eCommerce solutions, email service and more. In comparison, WinHost focuses on Window hosting only. It's a normal reaction for people to wonder which one is a better choice.
To solve this puzzlement, we make this comprehensive comparison of the two companies' Windows hosting services. Of course other important aspects are included, such as price, feature, loading speed and technical support. More analysis and detailed information are illustrated in the following.
Price and Packages
Not like before, 1and1 offers only 1 Windows plan called Unlimited, pricing at $0.99/mo. No one can deny that such price is incredibly low and attractive. However, you have to be careful enough about such price because $0.99/mo is only available for the first three month. After that, you need to pay $8.99/mo which is quite expensive. And 30 days full refund is available.
As for WinHost, three affordable Window hosting plans are provided, involving Basic, Max and Ultimate whose prices are ranging from $4.95/mo to $19.95/mo. But via the following exclusive promotion link, you can get a discount with $3.95/mo for the Basic plan. In addition, if you prefer the last two plans, you can enjoy a free new domain name. At the same time, this web host offers 30-day full refund guarantee.
WinHost Promotion Link Activation
Feature
Generally speaking, feature is the most important factor people might take into consideration when they choose a Window hosting solution. Thus we select Unlimited plan of 1and1 and Basic plan of WinHost to make an in-depth comparison.
| Feature | | |
| --- | --- | --- |
| Plan in Comparison | Unlimited | Basic |
| Disk Space | 10 GB | 3 GB |
| Monthly Bandwidth | Unlimited | Unlimited |
| PHP | | |
| ASP.NET | 4.5 | 3.5/4.0/4.5 |
| ASP.NET MVC | 3/4 | 2/3/4/5 |
| 1-Click Installer | | |
| MS SQL | 2012 | 2008/2012/2014 |
| Control Panel | Custom | WebSitePanel |
| Free Domain Privacy | | |
| Price | $0.99/mo | $3.95/mo |
| Conclusion | Not Recommended | Recommended |
This table shows that 1and1 has 10 GB web storage and unlimited monthly data transfer while WinHost only offers 3 GB disk space and 50 monthly bandwidth. It seems the former company has richer features than the other, but the real condition is on the contrary, because the price of 1and1 is much more expensive than WinHost after the first 90-day.
Performance
Locating their seven state-of-the-art data centers in Europe and the USA, 1and1 claims that over 70,000 severs can operate at the same time. What's more, all of their data centers are equipped with multiple redundant connections to ensure the fast loading speed and 99.9% uptime.
Likewise, WinHost houses their data centers in both Europe and US. More importantly, all of their facilities are secured by redundant connections, handprint entry system and professional staffs who have to monitor the servers 24 hours a day and 7 days a week. In addition, this web host are capable of providing at least 99.9% uptime.
After our real monitoring the server response time of the two companies in the past month, we make this performance comparison chart that indicates the server response time of 1and1 is more than 700ms while WinHost only needs 317ms. Details are included in below.
Technical Support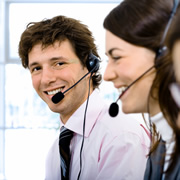 In terms of technical support, both the two companies promise to offer timely 24×7 customer service via email. With a group of professional technical staff, the two companies can provide customers with a quick and effective help.
In addition, knowledgebase and forum of WinHost are accessible in which you can get some messages about how to build and manage your website, and fix some simple issues without the assistance from others.
Conclusion
According to our in-depth comparison, it's natural for us to draw a conclusion that WinHost is a more reliable and cost-effective Windows hosting provider because it can provide faster loading speed, quicker server response, richer features and more affordable price compared with 1and1.