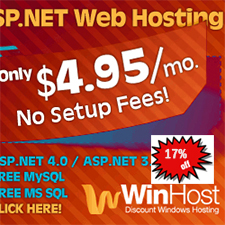 Looking for WinHost coupon codes? WinHost hasn't released any coupon codes but only a WinHost promotional link for 2 months free, starting the basic ASP.NET hosting at $4.125/mo effectively.
WinHost hosting service is priced from $4.95/mo for either quarterly or annual billing regularly, but the readers visit WinHost website going through this WinHost promotional link can get a deduction of the fee of 2 months for the annual billing with which the promotional price is only for $4.125/mo, or $49.5 for a year (17% discount).
WinHost doesn't offer a free domain name with the hosting plan, but registering a new domain name with WinHost is only costing $10/year that is reasonable and affordable. Surely, alternatively, you can park your existing domain name or sign up a new domain name elsewhere, and set it up with WinHost ASP.NET hosting.
The main features included in WinHost packages are:
Windows Server 2012 & IIS 8.
3 GB disk space, 50GB monthly data transfer & 250MB email storage.
ASP.NET 2.0/2/3.5 SP1/4.0/4.5.1, MVC 1/2/3/4, AJAX & LINQ.
MSSQL Server 2012 & PHP 5.
Remote IIS management.
Full Trust ASP.NET Hosting, 100MB dedicated RAM.
To get WinHost promotion for 2 months free, visit http://www.winhost.com