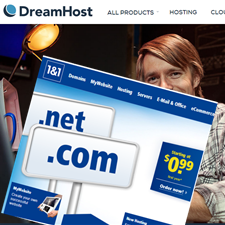 1and1 and DreamHost are global leaders in providing various web solutions such as domain registration and web hosting. They are followed by millions of users because they promise to offer affordable plans without compromising reliability and strength. If both companies are as good as they look, users may be puzzled at which one to go for.
Our editors are going to compare Linux shared hosting service offered by the two companies since this type of hosting enjoys the largest number of users. As usual, the comparison shall involve price, features, performance and technical support, which are all key factors to evaluate a host.
| Rating | | |
| --- | --- | --- |
| Plan in Comparison | Unlimited Plan | Happy Hosting |
| Price | | |
| Feature | | |
| Reliability | | |
| Loading Speed | | |
| Technical Support | | |
Plans and Pricing
1and1 offers three web hosting plans – Basic, Unlimited and Performance, with a regular starting price of $5.99/mo, $8.99/mo and $14.99/mo. To be honest, the regular prices are not competitive at all. To attract customers, they have reduced the prices to $0.99/mo, $5.99/mo and $10.99/mo.
Compared with 1and1, DreamHost offers only one shared hosting plan charging $8.95/mo. No discounts available. This price is affordable to businesses. But for those who just need an online presence, it may be too much. After all, not all people run websites to make profits.
Features
We choose to compare the Unlimited Plan from 1and1 with the Happy Hosting plan from DreamHost since their regular prices are almost the same. A full package of Happy Hosting covers all the standard features including PHP 5 Support, SSL Secure Server, Full Unix Shell, Ruby On Rails, Perl Support, Python support, SSI, Full CGI Scripts, unlimited MySQL Databases, etc. It is basically a good choice for startups except that it doesn't specify the control panel.
The Unlimited Plan shares all the basic features with Happy Hosting. Besides, it has more marketing features such as optional SEO Spotlight, Downloadable Green Logo, Spreadshirt Merchandising, E-mail Marketing Manager, etc. In this sense, it is a better choice for small businesses. A table has been drawn to help you learn more about their similarities and differences.
| Feature | | |
| --- | --- | --- |
| Plan in Comparison | Unlimited Plan | Happy Hosting |
| Disk Space | Unlimited | Unlimited |
| Bandwidth | Unlimited | Unlimited |
| Free Domain | 1 | 1 |
| Email Accounts | Unlimited | Unlimited |
| FTP Accounts | Unlimited | Unlimited |
| Control Panel | Custom | Custom |
| Money Back Guarantee | 30 Days | 97 Days |
| Effective Price | $0.99/mo | $8.95/mo |
Uptime and Speed
According to the table above, both companies are proud of their uptime. In specific, 1and1 has set up two high performance data centers featured by:
Redundant technology at all levels;
Parallel data processing in separate places;
A 300 Gbit/s external connectivity;
SSL encrypted data transfer and an external firewall;
Foundry and Cisco network infrastructure.
All these efforts are made to ensure maximum reliability and speed. Their efforts are not in vain. According to our real-time monitoring results, their uptime has been above 99.9% in the past 30 days. Take a look at this chart for more information.
DreamHost claims 100% uptime guarantee. We believe it does employ sophisticated technologies to ensure stable and fast server running. But according to our real-time monitoring, its uptime averages 99.98% in the past 30 days. An impressive score indeed but not perfect.
Technical Support
As for customer service, 1and1 offers official help via phone and email only. No live chat. This is quite disappointing because live chat is usually the first way to go in urgent cases. If it is not a very technical or pressing issue, users can take time to browse FAQ pages for answers or search for articles by category in 1and1 Help Center.
DreamHost has a wiki page similar to 1and1's help center. This page releases the latest changes and most useful information for web hosting users. Another information source is DreamHost Forum where users can share hosting experience, get the latest happening or offer suggestions.
DreamHost offers 24/7 in-house support and promises that help is just a few clicks away. To our disappointment, it doesn't offer phone or live chat. Just imagine how time-consuming it will be to write an email and wait for a reply. In the worst scenario, there won't be any reply at all.
Conclusion
With this comparison, we come to the conclusion that both hosts deliver high quality performance but 1and1 outdoes DreamHost because it offers more options at reasonable prices, more useful tools and support channels.
As we can see, there are shortcomings in both plans, for example, no live chat support or the popular control panel – cPanel. If you find neither of them meets your needs, we recommend you three other hosts.