1and1 is a typical low-quality web hosting that is not recommended due to the poor community reputation, customer feedback, web hosting features, performance, reliability and technical support. If you're considering going with their plans for either personal or small businesses, you shall read the secrets revealed before signing up.
In the following, we carry out an in-depth and careful 1and1 review. Proceed to the following parts.
Company Background & Overall Rating
1and1 was established in 1988 by Ralph Dommermuth who is the CEO of this company now. At the beginning, the company is built as a reseller of the technology products, including early online service, but now it provides web hosting service for private users as well as small-to-medium sized businesses. It is true that the company has made great progress in recent years especially in improving its page loading speed.
However, when we consider other factors like price, features, performance and tech support, it can't be regarded as a leading role in the industry. In below, we show an overall rating chart of the service, which is worked out on the basis of our personal experience and hundreds of reviews we have collected from verified customers.
The above chart manifests that the service is rated 2 out of 5 stars in speed, reliability and reputation, while its features and technical support are rated 1.5 out of 5 stars. To tell you the truth, these ratings are not very distinguished. In the following, we are to further reveal the secrets of the service with analysis in detail.
Bad Industry Reputation
In fact, 1and1 is a fraudulent hosting company with mass of customer complaints over the internet, well-known as "Save a buck, buy a lot of headaches". According to the submitted customer voices, the 1and1 customer complaints include:
Very bad website hosting performance and reliability.
Frustrated and ridiculous customer service.
Nearly impossible to cancel the web hosting service.
Take over even sell the customer domain names if they transfer out.
Deduct money from the customer credit cards even the service has been over.
The following comment was from Stephen M, one of the verified 1and1 customers:
I was very difficult to use the 1&1 software. I used their shared web hosting service and 3 domains. Transferring the domain names out is really impossible. The customer service is not a part of their company culture and service terms. Even though attempts were made to cancel the hosting service and transfer domain names out, it turned out to be impossible to complete online. They just totally ignore the tickets and emails for the cancellation requests, and their telephone operator (not support staff) always let me wait for their response. Now, 3 weeks later, I think I will lose the domain name signed up with 1&1. The worse thing is that I provided my credit card information to them with the order. If I could not cancel the service, I'm pretty sure 1&1 will continue to charge me later. To make your life & work easy and worry free – keep away 1&1.
Tricky Pricing Policy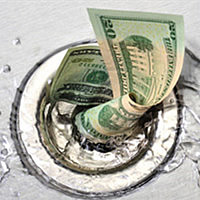 There are three shared hosting packages to be chosen from, including Basic, Unlimited and Performance. All of them have different features and accordingly they are priced at $5.99/mo, $8.99/mo and $14.99/mo regularly. Now the packages are promoted with a discount price starting at $0.99/mo, $5.99/mo and $10.99/mo respectively.
It seems that the offered prices are quite appealing. However, it needs to be noticed that these discounted prices are available for only one year. The renewal prices are the regular prices, which are a little bit expensive compared to the industry average. Besides, what prices, what goods. The features also should be taken into careful consideration.
Refund Policy
Apart from price, money back guarantee is also very essential. 1and1 provides customers with a 30-day full refund guarantee which is available for almost every of its packages. Therefore, customers can get their money back if they are not satisfied with the hosting service and cancel the accounts before the 30 days of registration. It seems that the refund policy is very beneficial, but the fact is that 1and1 has stipulated a large number of restrictions on this policy.
This money back guarantee applies only to monthly fees and setup fees.
Customers who purchase the Linux, Windows, and "Website" Dedicated Servers, or the 1&1 Dynamic Cloud Server are not eligible to get a refund. Besides, all monthly and setup fees for dedicated and managed Server products are non-refundable.
Fees paid for domain name registration, software shipping and handling fees are non-refundable.
In terms of bandwidth, 1and1 will not refund any unused portions of bandwidth, but require customers to pay additional fees if their accounts exceed the pre-determined amount of bandwidth.
If customers have added any additional or optional services or features from 1and1 control panel, these fees are non-refundable.
Customers who switch from one 1&1 package to another 1&1 package are no longer eligible for the money back guarantee.
Account which has been suspended or terminated due to the breach of any part of the 1&1 General Terms & Conditions including Section 1 (Payment of Fees) and Section 4 (Acceptable Use policy) has automatically forfeited the right to use this refund policy.
Limited Features
1and1 hosting packages come with a minimum of 100 GB web disk space, 1 website hosted, 20 MySQL databases, 100 email accounts, 20 FTP accounts, 100 subdomains, and so forth. Since these 3 packages differ in some resources, we have worked out a clear feature table in below for the convenience to have a detail check.
| Feature | Basic | Unlimited | Performance |
| --- | --- | --- | --- |
| Disk Space | 100 GB | Unlimited | Unlimited |
| E-mail Accounts | 100 | Unlimited | Unlimited |
| MySQL Databases | 20 | Unlimited | Unlimited |
| FTP | 20 | Unlimited | Unlimited |
| cPanel | | | |
| Perl/Python/Ruby on Rails | | | |
| SSD | | | |
| CDN | | | |
| SSL | | | |
When it comes to the control panel, instead of using cPanel, this company develops its own custom control panel, which may take a little time for people who have been conditioned to the easy-to-use interface of cPanel.
Poor Performance
Our editors did the performance comparison between 1and1 and the award-winning BlueHost by hosting the same WordPress site with the same plugins and the same content. As a conclusion, we found the site hosted with BlueHost is nearly 140% faster than 1and1 during the working time, including the database query performance, page generation performance, and page loading speed.
And the detailed performance comparison statistics chart is displayed as follows.
Ridiculous Customer Service
Sometimes, the worst thing is not the poor performance or reliability, but there is no one to take over your problems, and you have to wait for several days when you encounter network interruption, server down, and performance drop, etc. With 1and1, you may meet this situation.
Besides, there is no online chat support, which is very inconvenient for non-English speakers who need the instant help but cannot communicate with support representatives on the phone effectively. What's worse, 1and1 tries to control their customers by using domain names. When you decide to cancel or miss payment, they immediately take over your domain name to prevent you using another web hosting company.
Conclusion
The little bit expensive price, slow server response time, unreliable environment, limited features and drawbacks in technical support turn 1and1 to be a mediocre option for hosting a website. Based on our real hosting experience, we come out the following table of recommended companies. These providers deserve recognition and recommendation for their services of affordable prices, rich features, excellent performance and prompt technical support.