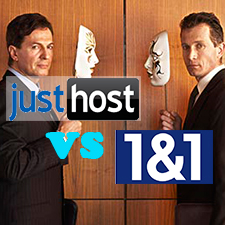 With the fact that both JustHost and 1and1 are reliable and affordable web hosting providers, webmasters may wonder which one is the better choice to go. Thus, our editors have in-depth reviewed and objectively compared the two company in regard to their price, reputation, features, performance and technical support. Note that the comparison is based on real world performance testing and real customers' feedback.
Both companies enjoy high reputation in this field for they are recommended by a lot of webmasters. In order to give an objective comparison between them, our editors have collected more than 300 feedbacks from real customers. As a result, JustHost is a bit more welcomed, especially concerning price, features and customer service. Read the reputation comparison table in below.
| Rating | | |
| --- | --- | --- |
| Plan in Comparison | JustPlan | Personal |
| Reliability | | |
| Loading Speed | | |
| Technical Support | | |
| Feature | | |
| Price | | |
| Recommended | | |
| Sale Now | Claim 69% Discount | |
Price
Based on the fact that JustHost only provides one hosting plan while 1and1 offers 4 plans, for the fairness of the comparison, we choose the latter's Basic plan for price comparison.
JustHost prices its all-in-one plan at $7.99/mo at beginning, but now it gives 69% discount and lowers the price down to $2.5/mo. All the webmasters can get the discount by going through this special promotion link. On the other side, initially, the price of 1and1 Basic plan is starting at $8.99/mo. With its default discount, the price is reduced to $2.99/mo. It is obvious that the former one is cheaper than the latter one.
| Price | | |
| --- | --- | --- |
| Plan in Comparison | JustPlan | Basic |
| Regular Price | $7.99/mo | $8.99/mo |
| Sales Now! | 69% Off | 67% Off |
| Starting At | $2.5/mo | $2.99/mo |
| Money Back | Anytime | 30 Days |
| How to Claim | Link Activation | Link Activation |
What's more, both companies offer money back guarantees which allow all customers to request their money refunded once they feel unhappy about their service. This practice ensures the purchase is totally worry-free and risk-free. However, JustHost provides anytime money back while 1and1 offers 30 days'.
Feature
Actually, both companies are rich featured with verified tools such as PHP, Perl, Python, Ruby on Rails and Cron Jobs. Besides, both companies offer a 1-click installer with more than 100 scripts. However, JustHost provides unlimited bandwidth, MySQL databases, subdomains and many more while all these features are limited for Basic plan from 1and1 web hosting company.
| Features | | |
| --- | --- | --- |
| Plan in Comparison | JustPlan | Basic |
| MySQL Databases | Unlimited | 20 |
| FTP Accounts | Unlimited | 20 |
| E-mail Accounts | Unlimited | 100 |
| Subdomains | Unlimited | 100 |
| Perl, Python, Ruby | | |
| 1-click Installer | | |
| cPanel | | |
| Ruby on Rails | | |
| | Learn More | Not Recommended |
Moreover, in terms of control panel, JustHost utilizes the user-friendly cPanel while 1and1 applies the self-built one. To be honest, cPanel has been used by millions of customers and has easy-to-recognize icon and icon names. Without it, webmasters are inclined to spent more time to get used to a new one.
Reliability
The two companies guarantee at least 99.9% uptime. In order to check whether their promises are true or not, we have carried out an uptime monitoring of two sites for more than 6 months. Note that the two sites are newly built ones with the same contents and scripts.
According to the result, both companies are reliable web hosting providers which can guarantee at least 99.9% uptime. The reasons that they can achieve such a good reliability are because they utilize quality servers and word-class data centers. For example, JustHost applies dual quad processor performance servers, UPS power backup, diesel generator backup power, 24/7 network monitoring and many more.
Speed
When monitoring their uptime, our editors also test their server response speed. It is worth knowing that the two sites are full of images and plugins. As the result shows, the average time JustHost consumes is 366ms while that for 1and1 is 757ms. Obviously, the former is 107% faster than the latter.
Technical Support
JustHost offers responsive customer service 24/7/365 through toll free phone call, live chat and email. Besides, all of its support staffs are well-trained before officially getting to work, thus they are equipped with professional knowledge and warm attitude. With these outstanding staffs, people can get their problems solved quickly with comfortable experience.
Unlike JustHost, 1and1 web hosting company only provides two channels for customers which are phone call and email. As live chat is unavailable, people who can't express their intentions and problems orally may feel confused.
Conclusion
Based on the comparison we have made, JustHost is a better choice to go, for it not only offers budget-friendly price but also rich features, high performance, and responsive customer service.