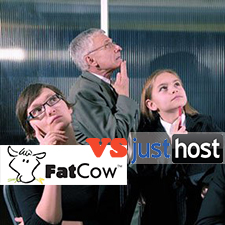 Both FatCow and JustHost offer budget-friendly web hosting services for a long period of time, but which one is better? After all, cheap pricing is not the only factor for a truly cost-effective web host. Customers also need to consider the features, reliability, page loading speed, customer service, and industry reputation. In this article, we have comprehensively compared the 2 companies based on the above mentioned criteria, so our readers can know clearly which company is more suitable for them.
Before presenting the detailed comparison, we have added an overall rating chart as below, in order to give our readers a general impression of the 2 companies.
| Rating | JustHost | FatCow |
| --- | --- | --- |
| Feature | | |
| Price | | |
| Speed | | |
| Uptime | | |
| Support | | |
| Safety | | |
| Control Panel | | |
To come out the result of this FatCow vs JustHost comparison, our editors not only have personally set up two websites hosted with them respectively, but also have collected some valuable feedbacks from verified customers. According to customers' voice, JustHost is more preferred than FatCow.
Price – JustHost Wins
As the cost-effectiveness matters most in this comparison, pricing must be the top concern. In fact, the average pricing of shared web hosting service in the market is no more than $7/mo, and both FatCow and JustHost set the price below that average. Here is the detailed price chart of the 2 companies.
| Billing Circle | FatCow | JustHost |
| --- | --- | --- |
| 36 Months | $4.08/mo | $2.5/mo |
| 24 Months | $4.08/mo | $2.95/mo |
| 12 Months | $4.08/mo | $3.95/mo |
JustHost constantly offers beneficial discount against its base rate of $6.99 per month. So any customer who clicks on this promotion link can purchase with the much more affordable price – $2.5/mo only. Besides, the price of JustHost web hosting applies to billing circle, which means the longer billing period customers purchase, the lower price they can get. Also, with the anytime money back guarantee, customers can feel rick-free and worry-free to go with the longest billing circle, because they can get their money back at any time when they want to cancel the account.
Compared with JustHost, FatCow web hosting service is a little bit more expensive, starting at $4.08 each month. The price doesn't apply to billing circle, so customers looking to save more money by purchasing longer billing period might feel disappointed.
JustHost Promotional Link Activation
Speed & Reliability – Both Win
Either FatCow or JustHost has attached great importance to the hosting speed and uptime. After all, no one wants to have a website with a slow page loading speed, or frequently be unavailable online.
In order to guarantee the fastest webpage loading and no downtime, JustHost utilizes the dual quad processor performance servers to host customers' websites. In addition, as the sister brand of BlueHost – the leading web host worldwide, JustHost has placed all the quality web servers at BlueHost world-class data centers, which are equipped with UPS power backup, diesel generator backup power, courtesy site backups, multiple 10 Gigabit Ethernet connections, and 24/7 network monitoring.
The date center infrastructure of FatCow has several the latest advanced technologies. Besides, it combines all-time available monitoring system with a group of on-site experts to prevent any unexpected situations.
Features – JustHost Wins
| Feature | JustHost | FatCow |
| --- | --- | --- |
| Free Domain | | |
| Disk Space & Bandwidth | Unlimited | Unlimited |
| Website Builder | | |
| FTP Access | | |
| Shared SSL | | |
| Free Advertising Credits | | |
| PHP & MySQL | | |
| Drupal | | |
| Perl | | |
| Ruby on Rails | | |
| Override .htaccess Support | | |
| Money Back Guarantee | Anytime | 30 Days |
According to this feature comparison chart, both JustHost and FatCow offer competitive packages with a large number of attractive features. However, in respect of free website scripts and programming languages, JustHost is more rich-featured than FatCow.
Customer Service – Both Win
In terms of customer service, either JustHost or FatCow has done a great job. This is because they have a group of professional technical support staffs, and all of these representatives have at least 4 years support experience. Therefore, once customers encounter any problem, they can get the best after-sales service by contacting these staffs via phone, e-mail, and live chat. Note that the technical support is available 24 hours a day, 7 days a week.
Summary
Based on this in-depth comparison, JustHost is undoubtedly more cost-effective than FatCow, for it is cheaper and offers more features. Besides, as tested, JustHost guarantee a fast server response time of 366ms and 99.9% uptime in the real world.