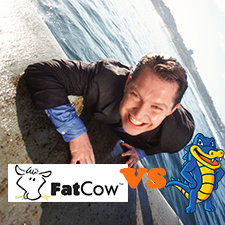 We have carried out a FatCow vs HostGator comparison as many of our readers feel hard to choose between the 2 companies. This is because both of them are experienced web hosts that have been in this industry for a long period of time. Therefore, they know how to deliver a quality hosting service that can meet the needs of customers successfully.
In order to help our readers make the right decision, we have made this comparison based on price, features, uptime, hosting speed, technical support, and industry reputation. All the statistics are coming from our real hosting experience and the performance testing in the real world.
Before comparing by ourselves, we have collected hundreds of reviews from the verified customers of the 2 companies all over the world. After analyzing these feedbacks carefully, HostGator has achieved a higher level of customer satisfaction rate than FatCow. In the following, we have made an overall rating chart based on customers' voice.
Rating
Plan in Comparison
Hatchling
Baby
FatCow
Reliability
Loading Speed
Technical Support
Feature
Price
Discount
25% Off
25% Off
60% Off
Sales Now!
$3.71/mo
$5.96/mo
$3.15/mo
How to Claim
Coupon Code
BWH25Percent
Coupon Code
BWH25Percent
Link Activation
Price
Price can be the top concern for the majority of webmasters, especially for budget-conscious students and business owners. In this case, we compare this aspect in the very beginning. In fact, both FatCow and HostGator have offered a budget-friendly price that can be afforded by almost all the webmasters easily.
Regularly, FatCow prices its all-in-one web hosting starting at $7.49/mo, but now, it has offered a 60% discount that reduces the rate down to $3.15/mo effectively.
HostGator has 3 hosting packages that are named as Hatchling, Baby, and Business. By activating the special coupon code BWH25Percent in the checkout, customers only need to pay $3.71, $5.96, and $9.71 respectively for the 3 plans every month, already 25% off the initial price of $4.95/mo, $7.95/mo, and $12.95/mo.
In addition, both of them offer the money back guarantee to promise a risk-free and worry-free online dealing. The only difference is that the refund period of FatCow is 30 days while that of HostGator is 45 days.
Price
Plan in Comparison
Hatchling
Baby
FatCow
Regular Price
$4.95/mo
$7.95/mo
$7.49/mo
Discount
25% Off
25% Off
60% Off
Sales Now!
$3.71/mo
$5.96/mo
$3.15/mo
How to Claim
Coupon Code
BWH25Percent
Coupon Code
BWH25Percent
Link Activation
Features
We have carefully reviewed the feature lists of the 2 companies in their official sites, and have found that their hosting packages are definitely rich-featured.
Customers can get an unlimited amount of disk space and monthly data transfer, a lot of free scripts, user-friendly website builder, free advertising credits, the latest version of PHP and MySQL, and the advanced technologies and CGI, Perl, Python, Ruby on Rails, and many more.
However, HostGator also provides customers with the popular cPanel control panel and SSH that are lacking in FatCow hosting account.
| Feature | | | |
| --- | --- | --- | --- |
| Plan in Comparison | Hatchling | Baby | FatCow |
| Disk Space | Unlimited | Unlimited | Unlimited |
| Bandwidth | Unlimited | Unlimited | Unlimited |
| Free Scripts | | | |
| Advertising Credits | | | |
| CGI | | | |
| Perl | | | |
| Python | | | |
| cPanel | | | |
| SSH | | | |
| Money-Back Guarantee | 45 Days | 45Days | 30 Days |
| | Learn More | Learn More | Learn More |
Hosting Performance
In order to compare their hosting performance, we not only review their web servers and data centers, but also carry out a performance monitoring to test their uptime and server response time.
In fact, both of them host all the websites with the quality web servers featuring a high specification. HostGator, in particular, makes use of the 100% DELL servers that are factory built and tested. Then, to guarantee that all the servers can run well and uninterruptedly all the times, these 2 companies locate these servers at world-class data centers that come with a lot of state-of-art technologies to ensure the unceasing power supply, proper cooling system, a high level of security, and 24/7 facility monitoring.
To be honest, these robust infrastructures can undoubtedly guarantee a good uptime track record and a peak performance. To get the detailed statistics, we have set up 2 new sites and get them hosted with the 2 companies respectively. After monitoring them for more than 3 months, we have found that both of them can promise at least 99% uptime. In terms of server response time, however, HostGator has done a better job, achieving a swift speed of 338ms that is 106% faster than FatCow with 695ms.
Technical Support
At present, more and more people are caring about customer service, so both HostGator and FatCow focus on offering a responsive technical support. Their support staffs are all professional, experienced, and well-trained, being able to assist customers effectively and promptly with the best resolutions and a friendly manner.
Once people encounter some problems, they can contact the support team via phone, e-mail, and live chat.
Summary
According to this comparison, both of the 2 web hosts have offered a top-notch hosting service with cheap price, rich features, no downtime, and good technical support. However, for people who are wishing for a fast hosting speed with the cPanel control panel, HostGator is the better option.