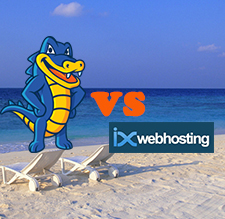 Both HostGator and ixWebHosting are award-winning web hosting providers that offer multiple packages for customers to choose. However, which one is the better option? To answer this question, our experienced editors have carried out a comprehensive and objective comparison between the 2 companies based on price, features, hosting performance and technical support. Note that the results are coming from verified customer feedbacks and our real hosting experience with them.
Rating
Plan in Comparison
Hatchling
Baby
Expert
Reliability
Loading Speed
Technical Support
Feature
Price
Sales Now!
25% Off
25% Off
39% Off
Starting At
$3.71/mo
$5.96/mo
$3.95/mo
How to Claim
Coupon Code
BWH25Percent
Coupon Code
BWH25Percent
Link Activation
Budget-Friendliness
HostGator offers 3 packages that are named as Hatchling, Baby, and Business. Regularly, customers can purchase them at the price of $3.96/mo, $6.36/mo, and $10.36/mo respectively with the default 20% discount. At present, however, the prices are down to $3.71/mo, $5.96/mo, and $9.71/mo effectively with the beneficial coupon code BWH25Percent that allows a 25% discount. Customers can sign up with the cheap rate by activating the code in the checkout.
ixWebHosting also has released a special 39% discount that cuts the prices down to $3.95/mo, $7.95/mo, and $7.95/mo for its Expert Plan, Unlimited Pro, and Business Plus. Although the 3 packages are cheaper than many other hosting solutions we have reviews so far, they aren't as budget-friendly as HostGator hosting services.
Price
Plan in Comparison
Hatchling
Baby
Expert
Regular Price
$4.95/mo
$7.95/mo
$6.95/mo
Sales Now!
25% Off
25% Off
39% Off
Starting At
$3.71/mo
$5.96/mo
$3.95/mo
Money Back
45 Days
45 Days
30 Days
How to Claim
Coupon Code
BWH25Percent
Coupon Code
BWH25Percent
Link Activation
Features
As compared, both of them provide customers with almost all the competitive features that are needed to build and manage a website successfully, such as unlimited disk space and monthly data transfer, automatic script installation, free site builder, Perl, CGI, Ruby on Rails, and so many popular hosting applications like WordPress, Drupal, and Joomla, etc.
However, as compared deeply, HostGator is more rich-featured for it also offers $100 Google AdWords credit, cPanel control panel, Python, and Cron that lack in ixWebHosting hosting packages. In addition, HostGator allows unlimited MySQL databases for all of its plans, but the other one just sets some restrictions in this aspect. Check details in the following table.
| Features | | | |
| --- | --- | --- | --- |
| Plan in Comparison | Hatchling | Baby | Expert |
| Domain Hosting | 1 | Unlimited | Unlimited |
| Server Resources | Unlimited | Unlimited | Unlimited |
| MySQL Databases | Unlimited | Unlimited | 50 |
| Perl | | | |
| Ruby on Rails | | | |
| CGI | | | |
| 1-Click Installer | | | |
| Marketing Credits | | | |
| cPanel | | | |
| Python | | | |
| Cron | | | |
| | Learn More | Learn More | Not Recommended |
Reliability
In fact, both of the 2 hosts claim to guarantee at least 99.9% uptime for all of their hosted websites, and have fully met this this promise in the real world. This is because they only utilize the most robust web servers featuring the highest level of specifications instead of some low-quality ones with cheap pricing.
Besides, to make sure that the servers can work properly at any time, HostGator rents server spaces from the largest IDC company of SoftLayer and ixWebHosting leverages the power of Tier 3 (n+1) redundant data center. Note that all of these infrastructures are monitored 24/7, featuring cutting-edge technologies for power supply, climate control, and security.
Hosting Speed
We got 2 free accounts from them 6 months ago and started a performance testing since then. We have hosted 2 new WordPress sites featuring the same images and textual contents with HostGator Baby plan and ixWebHosting Unlimited Pro respectively. After monitoring their server response time and comparing the result, the former one (338ms) is up to 135% faster than the latter one (795ms).
Customer Service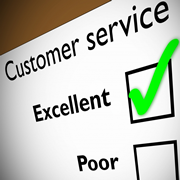 It is unwise to underestimate the importance of technical support. After all, customers might feel frustrating when they need help but find no one to ask for, and end up having a negative impression of the hosting service.
To be frank, both of the 2 companies have done a good job in this aspect, for they provide customers with a responsive support service that is available 24 hours a day and 7 days a week. The support staffs are all experts who have been in this industry for a long period of time, so customers can get the best assistance whenever they want.
In addition, to guarantee the best convenience, they offer multiple support channels for customers to choose based on their real situations. For instance, customers can contact these representatives by dialing the toll-free phone number, sending e-mails, and starting an instant online conversation with the live chat button.
Summary
With this in-depth comparison, both of them have offered quality hosting solutions with good uptime track record and unmatched technical support. However, for customers looking for a cheap service with rich features and fast hosting speed, HostGator is undoubtedly the better option.