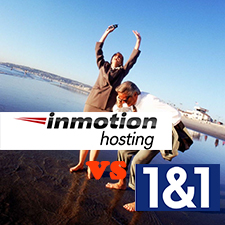 Both InMotion Hosting and 1and1 are experienced web hosting companies for small business founded in 2001 and 1997 respectively. With over 10 years development, they have built a well reputations in web hosting area. Thus, in order to help customers find out the best web hosting company for small business, our editors have reviewed these two web hosting providers with their features, performance, price, and customer service cautiously.
After collecting their real customer reviews all over the world, we made an overall comparison as below:
Feature Comparison
1and1 and has 3 Linux-based web hosting packages, but it doesn't have rich feature as much as InMotion. What's more, many features that 1and1 offers is limited. Especially for its Basic hosting package which only allows 100 GB web space, 1 site on 1 account, 20 MySQL databases, 100 e-mail accounts, and 100 sub-domains.
InMotion Hosting also offers 3 plans, among which the Launch plan is the cheapest package. But compared with the least powerful Basic plan offers by 1and1, Launch has been offering 2 websites on 1 account, unlimited domains emails, and 200 MySQL databases. Moreover, SSD is integrated to deliver faster speed for customers to run websites rapidly.
Performance Comparison
InMotion Hosting has an excellent web hosting performance. And its unique Zone technology helps ensure that website and email responding up to 6x faster. Besides, InMotion Hosting 100% utilizing Dell servers with powerful CPUs, large storage RAM, 1000MBits and RAID 5 connection to switches. And by leveraging the power of multiple cutting-edge data centers, InMotion Hosting is able to offer the most stable and secure environment for web servers.
We also have done the investigation about 1and1. As a result, the uptime of 1and1 is not as satisfactory as it guarantee, and its server response is slower than inMotion Hosting.
Check the detail information as following:
Price Comparison
InMotion hosting allows customer to purchase starting at $6.99/mo regularly. Besides, in order to help customers to save more money, InMotion offers a compelling 50% discount for readers going through this promotional link that reduces the price down to $3.49/mo effectively.
Also, InMotion has 90-day money back guarantee which is the longest full refund period above all hosting companies, so this guarantee can make the purchase totally risk-free. Besides, InMotion Hosting offers an additional up to $250 extra credits, including $100 Google ads credits, $75 Bing/Yahoo search credits and $75 Amazon product ads credits for their customers.
1and1 has 3 hosting packages which allow customers to purchase starting at $5.99/mo, $8.99/mo and $14.99/mo regularly. However, with an attentive discount at some times, 1and1 offers customers the cheaper price of $1.99/mo. It looks more affordable than InMotion Hosting, but the cost-effectiveness is far behind that of InMotion Hosting.
Customer Support
InMotion Hosting offers 24/7/365 available customer service with a group of professional support staffs which allows customers to contact these representatives via phone call, e-mail, ticket system and live chat. All of these technical support channels are really responsive, and problem solved in a quite effective way.
But 1and1 technical support is not helpful as it claims. Because of the shortage of online live chat, the non- English speak customers can't communicate with support staffs effectively. If some emergent accidents happen on those people, they can't communicate with support staffs successful, even to solve their problems. Besides, their support system always deals with the problems proposed by customers untimely, and asks customers to wait 24 hours for response. Thus, we conclude that the customer service in 1and1 is not well.
Summary – InMotion Hosting is Recommended
After comparing InMotion Hosting with 1and1, we can find out that InMotion Hosting is the better one for small business with rich features, affordable price, excellent performance and helpful customer service than 1and1. If you're a small business web site owner, it is brilliant for you to choose InMotion Hosting!
Visit http://www.inmotionhosting.com/ to get the 50% discount and to learn more about the details.