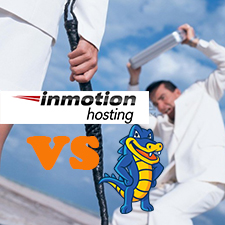 Based on the comparison from web hosting price, performance, reliability, control panel and technical support, InMotion hosting is more recommended for small and medium sized businesses than HostGator.
InMotion and HostGator were founded in 2001 and 2002, both designed to provide the high-quality web hosting services, not following the game only for the cheap price, although today HostGator is more well-known than InMotion hosting in the marketplace. In fact, based on our editors' review from the real hosting experience with InMotion and HostGator, and the nearly a thousand verified customer reviews received for InMotion and HostGator, we think InMotion hosting is doing better on the web hosting service and HostGator is doing better on offering rich product lines & marketing.
InMotion hosting provides shared web hosting, VPS and dedicated server only based on Linux platform, but HostGator supports Windows platform. InMotion hosting has 3 shared web hosting packages named Launch, Power and Pro, and HostGator also has 3 shared web hosting packages named Hatchling, Baby and Business. As InMotion Pro and HostGator Business are pricing too experience more than $10/mo, the following chapters only compare the Linux-based shared web hosting plans from InMotion and HostGator that are InMotion Launch, InMotion Power, HostGator Hatchling and HostGator Baby.
Price
The HostGator pricing is an important skill why HostGator could be so successful in the competitive web hosting market in the recent 5 years. The price of all HostGator shared web hosting plans for the first order is up to 70% cheaper than the renewal. Take an example. HostGator declaims that their Hatchling plan is starting at $3.71/mo, but in fact, it only works for a 3 years plan for the first order, then the customer have to renew at up to $8.95/mo.
Compared to HostGator, InMotion hosting provides the fair pricing structure, and doesn't charge 1 more cent for the renewal. Once a customer pay InMotion hosting at a price, the customer can renew at that price forever.
As a result, with monthly billing support, HostGator attracts more much customers signing up their shared web hosting plans, but, based on the observation in the past 2 years, the HostGator customer cancellation rate in the first billing cycle is up to 50%, and only the 30% of customers choose to renew at an unreasonable expensive renewal price. Meanwhile, the up to 89% of InMotion customers choose to renew the shared web hosting service, or upgrade to the more advanced hosting solutions from InMotion.
Features
As InMotion and HostGator are offering the directly competitory hosting solutions, their shared web hosting plans are closed to each other. The highlight of InMotion hosting is that they're offering free daily automated backup and up to 90 days FULL money back guarantee.
Performance
Another secret of HostGator Hatchling and Baby is, the only difference is that the HostGator Baby allows to host "unlimited" websites on 1 account, but HostGator Hatchling only allows 1. There is no difference between the allocated CPU units, memory and disk I/O. This had been admitted by the HostGator technical support teams. So, choosing HostGator Baby for an expensive cost, when you have more websites hosted on 1 account, your each site just goes slow down.
InMotion hosting allocates more CPU units, memory and disk I/O for the more advanced shared web hosting plan. That means, when you host 1 website, it runs faster on an InMotion Power account than an InMotion Launch account.
Our editors did the experiment as following. For the same WordPress site, hosting a site with InMotion Launch & HostGator Baby, send the same requests to the sites in 5 minutes at the same time, then collected the server response data of the shared web hosting plans as following. As a conclusion, HostGator Baby is 120% slower than InMotion Launch,
Customer Satisfaction Rate
The site BestHostingSearch.NET, so far had received 62 HostGator verified customer reviews and 781 InMotion verified customer reviews that each customer review includes the rating for the web hosting reliability, performance, control panel & software, and technical support. Based the HostGator and InMotion review statistics, the 86.4% of HostGator customers were satisfied with the overall services from HostGator, but the 99.1% of InMotion customers were satisfied with the overall services from InMotion hosting.
In fact, InMotion customer reviews are the most of all the web hosting providers that we have reviewed, and the InMotion customer satisfaction rate is the highest.
Real Hosting Experience
HostingReview360.com, the site you're reading, is hosting with InMotion Launch now as the following screenshot of the WHOIS information. If InMotion hosting is not excellent, we won't host our own sites with them!

As the conclusion, InMotion hosting is much better than HostGator for shared web hosting service. To learn more about InMotion hosting, visit http://www.inmotionhosting.com/


InMotion