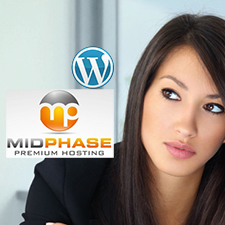 MidPhase is a web hosting provider that has offered excellent WordPress hosting service at low rates for 10 years. Both of the 2 MidPhase Linux-based WordPress hosting plans (Personal website hosting & Business website hosting) are promised to meet all the requirements for a worry-free and risk-free WordPress hosting experience, such as perfect WordPress compatibility, great reliability, fast loading speed, ease of use and rock-solid technical support.
MidPhase WordPress Hosting Price
MidPhase is also reputable for offering cheap WordPress hosting service, for the regular price of Personal and Business web hosting packages are only $2.95/mo and $7.95/mo, much cheaper than most other web hosts. Even so, we still provide a coupon code BWH30OFF to cut another 30% down your expense. Thus the effective price of the MidPhase WordPress hosting plans is for $2.07/mo and $5.57/mo.
MidPhase 100% Compatible with WordPress
MidPhase has been proved to be 100% compatible with WordPress, for the reason that MidPhase WordPress hosting plans provide all the important features needed, but not only.
Considering that WordPress is developed with PHP, the up-to-date version of PHP is necessary for better optimization. And that's exactly why MidPhase offers PHP 5.3.x and all the PHP extensions and modules like custom cron jobs, cURL, Apache .htaccess and customized PHP.ini.
Besides, MidPhase also supports WordPress super cache plug-in which is most effective in protecting a WordPress site from slowness on consuming too many Server resources – enables the WordPress site running more stable and rapid.
Reliability
Like other trust-worthy web hosts in the market, MidPhase makes a 99.9% uptime guarantee by using the best network, infrastructure and servers. All the WordPress sites are hosted in MidPhase Tier-3 data center located in a disaster-safe zone in Lindon, Utah. It needs to highlight that the data center requires no routine downtime even in the maintenance window.
The servers MidPhase utilized are all equipped with redundant & UPS power to ensure the hosting sites are consistently online. Besides, MidPhase on-site staff are there monitoring the network in every single second and they are ready all the time to provide assistance anytime.
Speed
Over the past 10 years, MidPhase has convinced thousands of WordPress users with its high loading speed. Due to the adoption of dual processor servers with 64 GB of RAM, MidPhase provides server resources that are more than enough for ordinary WordPress sites to run optimally even for the peak traffic.
In addition, MidPhase has worked out a special way for customers to speed up WordPress sites by integrated cache plug-ins with the WordPress installation. W3 Total cache, WP Super Cache, WP Smush.it and WP Optimize, which are tried and tested, are highly recommended by MidPhase. These WordPress cache and performance plugins are reported that they can increase site speed by up to 10 times.
WordPress Easy to Install and Management with MidPhase
In terms that ease of use matters greatly when choosing a good web host for WordPress, MidPhase has done a great job in providing the most easy-to-use cPanel control panel and the 1-click installer Softaculous.
Softaculous is regarded as one of the best installer for WordPress. By the aid of Softaculous, you can totally be worry-free to the complicated configuration and debugging, and have WordPress properly installed in only a few seconds automatically.
cPanel, the industry leading control panel, is available for all WordPress hosting accounts. With cPanel, it is more than easy for you to manage almost all the aspects of your WordPress hosting account, including domain, site, files, email, database, FTP, statistics, etc. Here, we need to mention that the free site builder within cPanel is particularly helpful for WordPress users desired to get a site online quickly without the solid technical skills.
Technical Support
MidPhase support center contains many ways through which you can get a satisfactory answer for any questions. In the MidPhase extensive knowledgebase, there is a special category designed for WordPress, aiming at helping WordPress beginners who would like to solve common problems by themselves. The category includes 12 detailed articles and 7 video tutorials.
In addition, MidPhase provides 24×7 real on-site staff assistance via toll-free phone number, email and live chat. If you have experienced MidPhase support for yourself, you should know that the staffs always make accurate answers in no time with the expertise in WordPress hosting.
Conclusion: MidPhase is a Good Choice for WordPress Hosting
After reading the review above, we believe that you have already had some general knowledge about MidPhase WordPress hosting compatibility, reliability, speed, ease of use, technical support and price. However, only when hosting a real WordPress site on MidPhase, will you find out all the great advantages brought by MidPhase.
To start with MidPhase WordPress hosting at $2.07/mo, follow this promotional link to visit http://www.midphase.com/, and apply the MidPhase coupon code BWH30OFF in checkout.