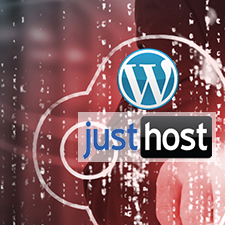 JustHost has a wonderful performance in providing WordPress hosting service to individuals and small businesses around the world since 2020 as well as running PHP as suPHP for an increased security, with all the required PHP extensions and modules such as cURL, GZip, DOM, .htaccess customization, custom cron jobs, etc. Besides, JustHost configures 128MB memory as the PHP memory_limit, which is sufficient to deal with large requests.
Considering that JustHost doesn't limit the number of WordPress sites and databases on 1 account, the JustHost web hosting plan is very budget friendly for users to hatch small WordPress sites.
Easy-to-Install WordPress Sites With JustHost
In most cases, you need to deploy WordPress site including uploading files, debugging, configuring hosting environment, you may meet the troubles making your hair white without the professional support and server privilege, especially you're a newbie in this field.
JustHost is thoughtful enough to provide every customer with SimpleScripts. The powerful 1-click installation software enables WordPress to be completely installed and configured in seconds with no technical experience required automatically. For WordPress users used to cPanel but not familiar with SimpleScripts, JustHost also offers another 1-click installer – Fantastico.
Migration Service
If you are dissatisfied with the previous WordPress hosting provider and want to transfer your sites, you can be totally away from the boring transfer process. You only need to provide the login information of the old account, then JustHost professional staffs will do the rest for you. The migration service is free of charge with the guarantee of no downtime.
Furthermore, if you need more control over the blog hosted on WordPress.com, JustHost really helps in this case. JustHost has instructed the detailed manual to help users migrate the sites over WordPress.com to theirs.
Reliability
JustHost guarantees 99.9% hosting uptime for all WordPress sites. To maintain the promise, JustHost utilizes lots of advanced facilities and technologies in its data center, such as multiple 10 Gigabit Ethernet connections and the high performance dual quad processor servers with UPS power backup generator.
Moreover, JustHost network is monitored 24×7 by a small dedicated team to ensure that customers won't suffer from unexpected latency or downtime. Even if a problem happens to the network or server, JustHost technicians can always find a solution as soon as possible before it's escalated to customers.
Technical Support
The rock-solid technical support is a key of the satisfied web hosting service. JustHost is exactly one of those providing best pre-sale and after-sale customer services. All the WordPress users are all well backed by JustHost professional support staff who are very familiar with WordPress site support.
When you meet with any perplexity, you can reach JustHost staff by calling them directly via the toll-free phone number, quickly chatting with them online, or opening a support ticket. No matter which way you choose, the response will be made in the shortest time possible.
JustHost WordPress Hosting Price
As one of the most budget-friendly web hosting provider for WordPress, JustHost charges the WordPress hosting package at $7.99/mo regularly. The price is not expensive, however, JustHost is still carrying out a special promotion for only $2.5/mo, 69% off the regular price, for all consumers going through this promotional link.
There are also a number of extras coming with the cheap JustHost WordPress hosting package. For example, every account has access to free $100 Google ads credits and $25 Yahoo ads credits which helps hundreds of unique visitors to a new WordPress site, 1 free domain name included which is $12/year value elsewhere.
Conclusion: JustHost Is the Right Web Host for Your WordPress Sites
Given what we have reviewed above, the conclusion can be naturally made that JustHost is indeed a reliable and affordable WordPress hosting provider. If you are looking for a host for your small WordPress site, we suggest you choose JustHost. Once you find any disappointment, the JustHost ANYTIME money back guarantee allows you to ask for a post-rated refund whenever.
To learn more about the JustHost WordPress hosting, visit http://www.justhost.com/