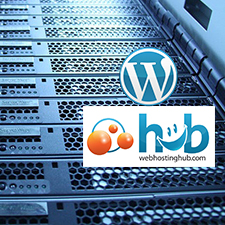 The in-depth WebHostingHub WordPress hosting review is based on WordPress hosting compatibility, features, speed, reliability, technical support and price, rated by our editors' real WordPress hosting experience with WebHostingHub for the past 2 years. If you're looking for a reliable & cost effective WordPress host, you shall not bypass WebHostingHub.
WebHostingHub was founded in 2006 designed for personal and small businesses by the award-winning business web hosting company InMotion hosting. With the 6 years' development, WebHostingHub has been topping the list of almost all the branded web hosting review sites including BestHostingSearch, WebHostingBing, WPMatter, etc.
Today, WebHostingHub is serving for 200,000 customers, and it's still fast growing with about 8,000 new customers added for each month. Approximately, the 40% of the WebHostingHub customers are using WordPress for their websites. WebHostingHub is well accreditted by the high customer satisfaction rate for their WordPress hosting features, speed, reliability, technical support and affordability.

WebHostingHub WordPress Hosting Features
WebHostingHub provides WordPress-specific web hosting plan which is optimized for running WordPress for the increased performance, reliability and security. WebHostingHub WordPress hosting includes the following features,
Free domain name for life & unlimited WordPress sites hosted on 1 account.
cPanel & Fantastico, 1-Click to install/upgrade WordPress in just a few seconds.
Partnered with WordPress communities for 1000+ WordPress themes & widgets for free.
PHP 5.2.17 & 5.3.10, MySQL, FastCGI, up to 256MB PHP memory_limit.
Easy transferring process for WordPress to WebHostingHub from elsewhere.
99.9% WordPress hosting uptime & WordPress loading times that average less than 2 seconds.
24×7 WordPress expert support with holding times that average less than 30 seconds.
WebHostingHub WordPress Hosting Speed
Compared to some cheap web hosts reselling the renting servers, WebHostingHub has a colocated data center in Los Angeles, CA that uses 5 fiber lines from 3 network providers with the direct access to the Internet and the on-demand network bandwidth exceeding 7,500 MBits. WebHostingHub invests over a million USD on the network infrastructure and web servers yearly since 2008. Now, all of their servers are DELL branded, with 4x Intel XEON CPUs, 64GB DDR3 RAM and RAID 5 SATA3 storage.
By leveraging the latest cutting-edge hardware & network equipment and the rock-solid web hosting experience, WebHostingHub WordPress hosting is one of the fastest budget WordPress hosting, even compared to the reputed web hosts including GoDaddy, HostGator, iPage, DreamHost, etc. When we visit the WordPress site hosted with WebHostingHub from San Francisco, CA using Google Chrome v17, the average of page rendering time is only 0.75 second.
As the WordPress hosting performance comparison among WebHostingHub, GoDaddy, HostGator and DreamHost for the same site with the same WordPress scripts and the content, and came out the conclusion that WebHostingHub is 35% faster than DreamHost, 62% faster than HostGator, and 97% faster than GoDaddy. Read the WordPress hosting performance comparison statistics chart as following.
WebHostingHub WordPress Hosting Reliability
WebHostingHub guarantees their WordPress hosting for 99.9% uptime and gets it in practice. For our 2 WordPress sites hosted with WebHostingHub, we never experienced any downtime, break and server hack in the past 2 years.
Actually, so far, our sister web hosting review site BestHostingSearch.NET, has received 333 real customer reviews for WebHostingHub. Based on the WebHostingHub review statistics, the 99.7% of customers were highly satisfied with the WebHostingHub WordPress hosting reliability, loading speed and security. If WebHostingHub is not reliable, they would not have such high customer satisfaction rate.
WebHostingHub WordPress Hosting Support
WebHostingHub offers 24/7 100% US-based technical support located in their Los Angeles office via toll-free telephone, live chat, email and ticket system. As introduced, WebHostingHub currently host 80,000 WordPress-based sites and blogs. Their support technicians are expertly trained and part of the WordPress community. In fact, most of their staff use WordPress for their personal sites. With holding times that average less than 30 seconds, you're assured that the staff helping your WordPress hosting issues is 100% knowledgeable and experienced for WordPress.

Visit WebHostingHub and live chat with their technical support. You will soon be amazing for the WebHostingHub support quality.
WebHostingHub WordPress Hosting Price
WebHostingHub WordPress Hosting is starting at $6.99/mo regularly. With the special partnership with HostingReview360.com, now they're offering a compelling 44% discount for $3.99/mo for all visitors going through the following exclusive promotional link. As designed, WebHostingHub doesn't provide any kinds of discount for the renewal, so we recommend you going with WebHostingHub for 3 years at once that you can save up to $108 totally. With up to 90 days FULL money back guarantee, your purchase with WebHostingHub is absolutely risk-free and worry-free.
Pricing Details
12 months plan

$5.99/mo

24 months plan

$4.99/mo

36 months plan

$3.99/mo
Payment Method
Credit Card

Yes

PayPal

No
To learn more about WebHostingHub WordPress hosting and to claim the WebHostingHub 44% discount, visit http://www.webhostinghub.com/wordpress-hosting.html