As is known, social media engagement is a very important element to maintain a successful website or blog. In the same way, to integrate Facebook login and comment in WordPress can result in more subscribers. Of course, presenting WordPress blog on Facebook page also contributes to getting more followers.
Plus, to figure out how to integrate Facebook with WordPress by adding login and user comment functionalities is incredibly easy whether for both new starters or top bloggers. Here, we would like to showcase the detailed steps to put Facebook login and comment on WordPress in below. Now, let's drop down and get to know the point.
How to Integrate Facebook Comments with a WordPress Site?
As is noted above, to allow website visitors to comment on Facebook is a great way to gain constant credibility and site traffic. Although there is a rich set of WordPress social plugins available online for you to enable Facebook comments, you'd better carry out this project manually so as to get the very feature that you need. Besides, almost each plugin requires you to create a Facebook app, which will be discussed later.
Step 1 – Create Your Facebook App
To start with your integration of Facebook with WordPress, you shall firstly go to this developers.facebook.com webpage. Once done, you only need to go to "My Apps" > "Create New App" at the top this page. Note that, if you are a return visitor, you will need to choose "Add a New App". Next, wait for a while and you will see a pop-up window appear. Here, you should click "Website" option.
Then, you are required to choose an existing app or create a new app name of your preferences. Once done, you will be prompted to specify whether this newly-created app is a test version, and in the meantime, make a selection from the drop-down "Choose a Category" menu. At last, don't forget to click "Create App ID" button to go on.
If completed, you will be displayed with a series of codes to put in your theme file. Pay attention that those codes are extremely necessary only if you plan to add additional features. In the meantime, you should fill in your "Website URL" and "Mobile Site URL" at the bottom of this page.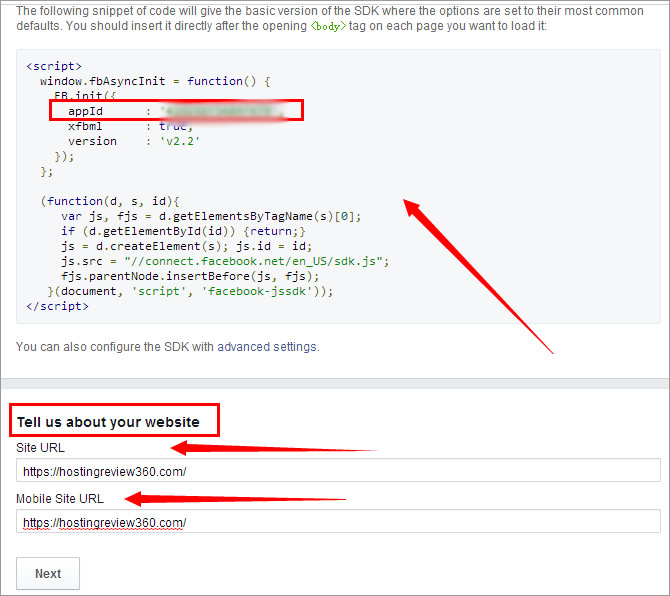 Having done with those steps, you will need to choose "Social Plugins" so as to enter a new page. And then, click "Comments" so as to get your plugin codes. Beware that you are allowed to set the number of post comments, the pixel width of the plugin and the color scheme.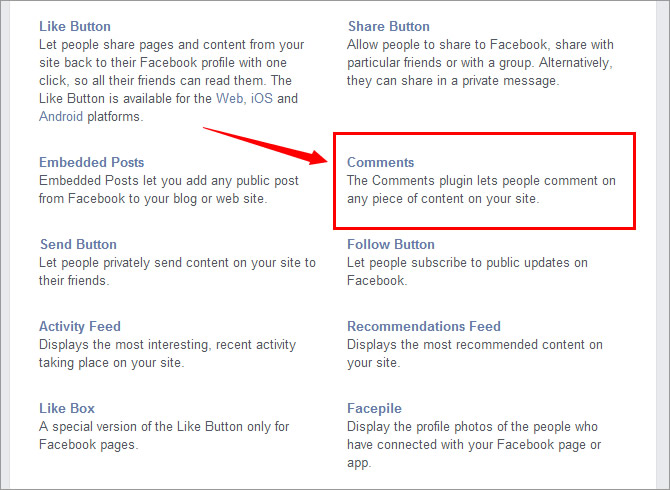 Step 2 – Pasted Auto-Generated Codes to WordPress
As is displayed in below, there are two snippets of script code that need to put right after the opening "body" tag and at the bottom of a page/post respectively. By the way, if you don't want to go with those mentioned fussy steps, you can go directly to developers.facebook.com/docs/plugins/comments.
Step 3 – Customize Your Facebook Comments
To do so, you should go to developers.facebook.com/tools/comments. If done, you shall go to "Edit Comment Settings" page and make personal settings. For example, you are empowered to add a comment moderator, specify moderation mode and sort post comments, etc.
Till this step, you have successfully enabled Facebook comments on your WordPress site, which takes a total of three steps. If you don't like to use this mentioned manual method, you can refer to the following simple plugins.
How to Enable Facebook Login & Comments Automatically?
Apart from the manual method above, you can also choose to integrate Facebook comments and login through a series of social plugins. To be frank, it is recommendable to use this automatic approach especially for those beginners and technical novices. In the following, there are some well-selected social plugins from wordpress.org.
Social Login – It enables you to add Facebook comment and to register with over twenty-five social media platforms, such as Twitter, Facebook, Instagram, OpenID, Yahoo and Google, etc. And you can choose where to add this plugin with a login widget.
Super Socializer – It provides you with all needed social features, including social sharing, login, feed, commenting and more. In the further, you are able to share your blog site content on multiple popular social networking platforms.
Facebook All – It empowers you to have a fully-socialized blog site by allowing visitors to comment and login with Facebook. Besides, you will be presented with user-friendly admin interface and customizable Facebook icon as well.
Nextend Facebook Connect – It allows you to have a one-click Facebook registration and login without having to fill in troublesome registration form. More than that, you are capable of getting helpful and fast tech support.