Facebook, as a prominent and user-friendly social networking platform, allows users to get in touch with relatives, friends and other acquaintances boundlessly. Due to its non-ignorable social impact, Facebook is deemed as a great marketing tool for brand managers and small business owners to promote online websites.
However, Facebook keeps changing and evolving from time to time to stay up-dated and cutting-edge. As a result, there are a number of people feel perplexed even intimidated by the thought of creating a Facebook business page themselves. In this case, we would like to showcase the best way to create a business page on Facebook site and some pertinent suggestions as well. Detailed information is in below.
How to Set up a Facebook Business Page?
To set up a Facebook Business page is not difficult, and you can choose to create it through this page or register a Facebook account. Frankly speaking, you'd better create a user account from scratch, if you are serious about your online business. Detailed steps are available as follows.
Register a Facebook Account
As is showed in the screenshot, you shall fill in some personal information in the checkbox, including user name, password, email, birthday and gender, etc.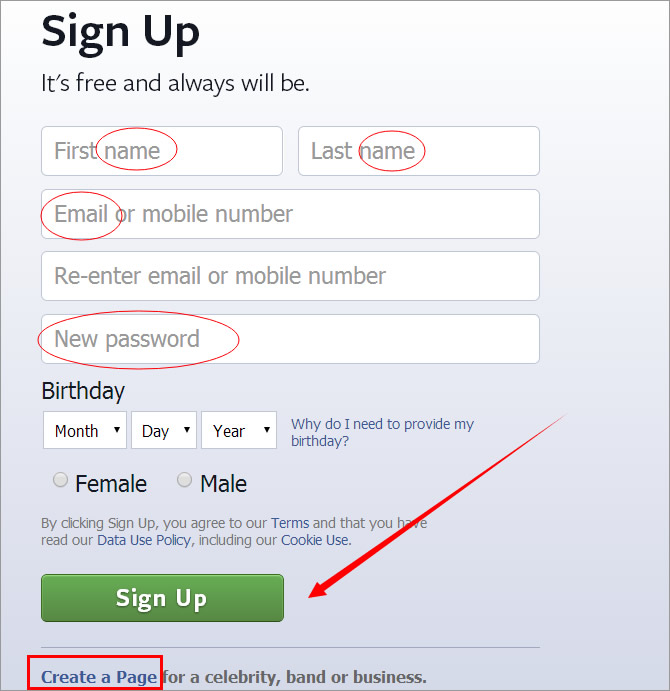 In the meantime, you're allowed to create a "business only" page by clicking the link of "Create a Page". But you'd better not follow this link, if you don't want to encounter many limitations in the upcoming days. Once completed, you shall click the "Sign up" option to go on. Note that your business page will be tied to the filled information that is only visible for yourself.
Choose Your Business Type
Once logged into your account, you will notice that there is a full list of editing options in the left toolbar. Scroll down and "Create Page" in the "Pages" section. Next, you will be automatically transferred to a page as is displayed in below. It is obvious that you can make a choice from a total of six categories, among which the "Brand or Product" classification is highly recommendable for running online business.
Apart from that, it is not recommendable to select the "Local Business or Place" category that requires a physical address and phone number. Plus, Facebook will turn your "Local Business or Place" page into a specific place on the map.
Select a Preferred Category & Name
Next, you will be asked to make a selection for your page category from a drop-down menu. Note that a category works to make your business page visible in Facebook's search and is actually more important than the mentioned page type.
At the same time, you also need to create a page name under the "Category" menu. It is advisable to take some time to think about the filled name as it will increase SERP ranking in Facebook search. Beware that a page name is limited to 70 characters, and it can be changed only if you have around 200 fans. By the way, you'd better capitalize the first word of your page name according to Facebook's rule.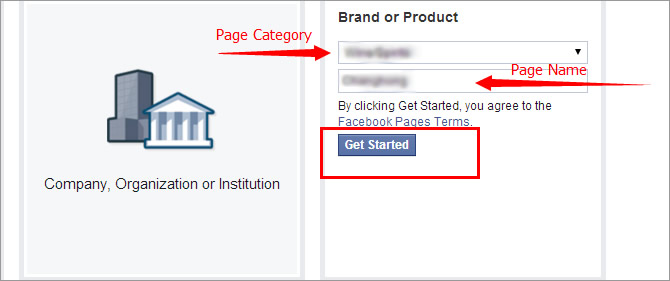 Once done, you will need to scan the "Facebook Pages Terms" and click the "Get Started" button to continue the following procedures.
Add a Page Description
Then, you will be taken to a new page where you need to put in page description in the "About" section firstly. As this "About" page can be indexed by Google search engine, you should make sure the filled descriptive sentences is keyword-rich as possible. As is specified, you also need to limit the descriptive words to 155 characters.
At the same time, you should take serious about the URL of your business page so as to increase your site visibility. To do so, you can add your website address into the current business page or add other social networking websites, including Twitter, Yelp and so on. Note that the entered link can be changed only once. Do not forget to click "Save Info" option to go to the next section.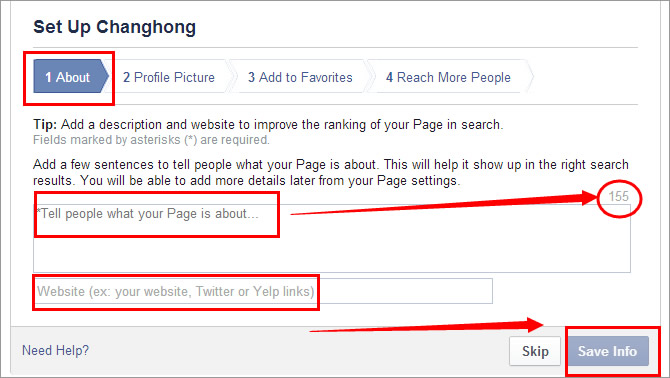 Upload Your Profile Picture
If works properly, you will be required to upload a profile picture as is showed in below. To do so, you can upload an image of yourself or a product logo both from website and local computer. Keep in mind that the optimal size of your picture is 180×180 pixels. In the meantime, you can skip this step and add your profile image at any time. Remember to click "Next" button to continue your set-up.
Add Your Page to Favorites
Then, you are empowered to add your business into favorites, which is similar to bookmark a web page. In the meantime, you can remove it from your favorites by clicking the "Remove from Favorites" button. Don't forget to click the option of "Next" to go on.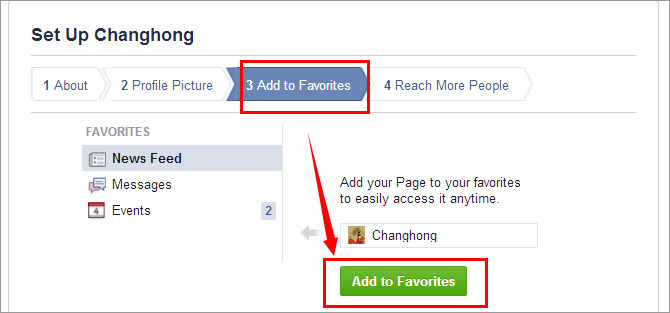 Put Advertisement on Facebook
To put ads on your Facebook page is optional but fairly necessary for site awareness. Pay attention that you should pay a minimum of five bucks per day to advertise online. If you are determined to pay for advertising, you can click the "Promote Page" button to choose your preferred payment method, including PayPal and Credit Card, etc.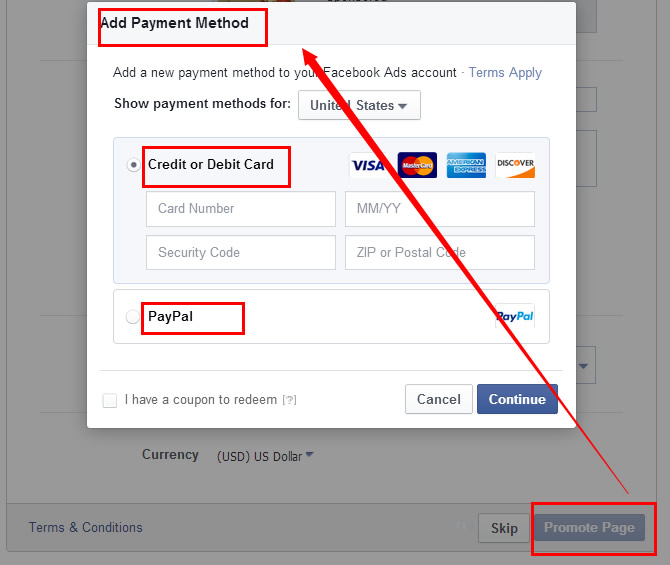 As is noted above, you can skip this step directly if you are not prepared to put ads online. Till this step, your business page has been successfully created, and you can refer to the following suggestions to customize it effectively.
How to Customize Your Business Page?
When it comes to make settings on your business page, there are several indispensable parts you should care about. To make things clear and concise, we make a list of some significant settings as follows.
Add Like – By default, Facebook will prompt you to "Like" your business page, which aims to inform scanners there is at least one people before. In the further, this "Like" section helps to show how many visitors hit "likes" on your works and products.
Build Audience – You can invite your email contacts and friends to visit your page by clicking the "Build Audience" button on the top right of the editing page. Make sure that your page has been well-established or updated a bit more ahead of time.
Update Post Status – You'd better have several status updates before sharing your page with others. Try your best to update post status a few times a week, but do not update too often.
Add a Cover Photo – You will need to add a cover page to get more followers and likes. The optimal size of a cover photo is 851×315 pixels. To do so, you can upload from local computer and then click "Save Changes" to put it into practice.
Recommendable Web Hosting Solutions
As is mentioned above, it is not difficult to create and customize a Facebook business page even for beginners. However, to run a successful business is a complicated thing that largely depends on site performance and reliability. In this case, we would like to recommend you to go with the following web hosting solutions, all of which deliver ultra-fast and reliable hosting environment.