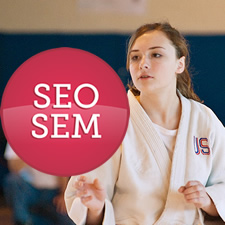 SEM, which refers to Search Engine Marketing, is a familiar term for most webmasters, but many people do not have a good understanding about it. In fact, SEM is designed for online businesses to carry out marketing strategies in search engine results and other search engine related services.
SEM is similar to SEO (search engine optimization, which helps websites rank well in search engine results) in some aspects, which causes much confusion especially for most beginners. However, the 2 terms are quite different. To choose the right solution for your business, you should have a good knowledge about them. In below, we have explained SEM and SEO in detail and analyzed the main differences between them.
What Is SEM?
Search engine marketing, as an important part of Internet marketing, is a series of strategies that promote websites and products by performing optimization and advertising in SERPs. SEM includes all tactics for SEO, and besides, it includes some paid services like advertising and Pay-Per-Click (PPC) listings.
SEM helps you obtain both free traffic through search engine optimization and paid traffic through paid search advertising. When you use an advertising service like Google AdWords, you buy an advertising space in the search results by bidding for the keywords of your business. You only pay for the clicks on your ads, so the process is called as PPC.
Launching a PPC campaign gets your websites or services displayed on the top of the search results pages for the keywords you bid, so using such services is more targeted at potential consumers that are searching for your products, which will lead to higher conversion rate and better website traffic.
What Is SEO?
Search engine optimization is used to improve the natural rankings of your website in the organic search results. When you strictly follow SEO guidelines and search engine algorithms, search engines like Google will rank your website in the front of the search results, which brings large free traffic.
Compared with paid search, natural search engine optimization is more affordable but it is also much slower for getting a good position in SERPs. New websites may spend years to achieve a good result.
SEO tactics mainly fall into 2 groups – on-page optimization and off-page optimization. For on-page optimization that is performed on your website directly, you should pay attention to the keyword issues, URL structure, meta tags, sitemap, content quality, page loading speed, and many more factors that influence the placement of your website in SERPs.
In terms of off-page optimization, you need to lay emphasis on backlinks, such as increasing the number of quality backlinks, improving the quality of the links, and using the proper anchor text. In addition, you should also do social sharing, social bookmarking, and some more.
What Is the Main Difference Between SEO and SEM?
The largest and most obvious difference between SEO and SEM is that the former is only a component of the latter. As is discussed above, search engine optimization focuses on improving organic results only, while search engine marketing also includes advertising and other marketing tactics.
There are many people wondering which is better between SEM and SEO, but you should know that the 2 terms are not referring to competitive services. Instead, you'd better choose the proper one or even combine them based on the in-depth analysis on the situation and the business goal of your website.
SEM is effective in bringing in instant traffic with the intention to be you consumers or fans, so it is useful in promoting businesses and gain quick profits. However, there are still some cons of using SEM constantly, one of which is that the paid advertising could easily put heavy burden on your cost if the ads are not properly optimized or the keywords are too competitive. What's worse, there is a risk of click fraud from your competitor which might cause big problems to your budget.
SEO requires long-term endeavor and a large number of effective optimization practices. Valuable content, good link building and proper use of keywords can make your website attractive and well-ranked in the long run. That means, when you do the optimization, you are not working for good search results only but also making your website a pleasure place for visitors to stay.
Usually, SEO cannot achieve instant results on traffic in the case that you are not using Black Hat SEO practices which will gain a quick good result but eventually get your website penalized by search engines.
Final Consideration
SEO should be the first concern you take, and SEM is performed on the foundation of good SEO. Imagining that people click through your ads and go to your website but only to find the content is boring and badly-organized, how can you expect them to enjoy themselves and come again? The 2 terms just need to be combined if you want a successful SEM campaign.