What is search engine optimization? How to get my website rank higher in the search engine? Are there any tips or guidelines about SEO? These may be the common questions that the majority of webmasters bear in mind.
In this article, therefore, our editors have answered these inquiries in detail. Just read the following parts carefully, and then you can find the answers with ease.
What is SEO?
Whenever you type a key word in the search engine (e.g. Google, Yahoo, and Bing) and then hit the Enter button, you can get a long list of search results that contain your key word. Generally, people are more likely to visit the sites or web pages that are on the top of the list, so you may wonder why these websites can rank higher on the web, while your websites just hardly be found by your target audiences. In fact, this is because of a powerful Internet marketing strategy called SEO.
To put it simply, SEO is just a matter of process aiming at making your site to be engine-friendly from the bottom up, and improving the visibility of a website or a web page in the search engine's organic search results, thus increase the number of site visitors.
How Search Engines Operate?
Before doing search engine optimization for your website, you need to, at first, become an educated consumer and get familiar with how search engines find websites that match your query, and determine the order of search results. In other words, you need to know how SEO works. Here, we have taken Google as an example.
There are 3 basic steps for Google to deliver search results; crawling, indexing, and serving. The crawling process visits all the websites online, and then detects links on each page of these sites and stores them in massive hard drives. Next, Googlebot will process all the information in key attributes and content tags.
Top SEO Tips and Guidelines
Now, after presenting the definition, importance, and operation process of search engine optimization, it is time to give you some useful tips and guidelines of SEO. Check details in the following.
Tip 1: Careful Keywords Research
The keywords tell both site visitors and search engines what the topic of your site or a particular web page is, so it is necessary to compile a list of the most commonly searched keywords in your niche by using some keywords search tools. Besides, always remember that you need to strategically scatter the keywords throughout your content, especially the headings which have greater chances to be crawled than the surrounding text.
Tip 2: Replace Some WordPress Defaults with Custom Ones
It should be realized that too much dependence on the auto-generated items brings no benefits. Specifically, for WordPress, those items including the "Hello World" post and "Sample Page" are less problematic for SEO. Thus, we suggest you to replace these two parts with custom ones.
Furthermore, it needs to pay attention on the default category that is also the top focus for SEO. Generally, your posts are not categorized. Hence, it is significant to make sure relevant categories for all posts that are created.
Tip 3: Change the Structure Of Permalink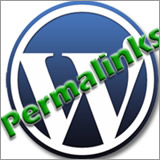 Another thing that needs to be changed is the structure of permalinks because these links are inefficient URL structure for SEO. Thus, altering the permalinks to the name of Posts is commonly the best practice. Here we take this website HostingReview360.com as an example. If the permalink has not been changed, this post only appears as https://hostingreview360.com/year/month/day/.
After we have optimized the permalink of this post, it appears as http://hostingreview360/top-wordpress-seo-tips-that-help-increase-search-engine-rankings/. This optimization plays a pivotal role in telling search engines more details about the content of your posts by showing the category or the post name in the URLs. Hence, the posts with optimized permalinks tend to pop among countless search results.
Tip 4: Create Quality Content
One of the most important aspects of a high ranking website is the content. Although you are able to fool the search engines for a while, nobody wants to visit your site or web pages if your content is of low quality. Conversely, if your content is compelling and well written, then site visitors is going to read it and may even want to direct other people to your sites via blog posts, forums, and some social medias like Twitter and Facebook. The only thing in this part that people need to pay attention to is that your content is written for your readers, not only the search engines. We mean your content need to be informative and interesting, without inserting numerous unnecessary keywords to grab search spider's attention. To be frank, excessive use of keywords can be quite annoying to site visitors.
Tip 5: Fewer Flashes and Images
Undoubtedly, flashed and images look awesome and can bring some fun to your content, but search engines are not advanced enough to analyze videos, images, or audio, and can only interpret text. Therefore, any useful information and keywords you put in an image-based text will be invisible to the search engine. The only way to solve this problem is to create an alternate version of your content in HTML, meaning that you'll need to describe them in words.
Tip 6: Use SEO-Friendly URL
It is meaningless to explain the importance of having a SEO-friendly URL. If your URLs are messy, it will be difficult for search engine to crawl them and index your pages, so you may have a hard time to rank on the search results. Here are some tips when deciding your URL:
Avoid lengthy URLs with unnecessary slashes, colons, and some other redundant characters.
Don't use excessive keywords
Use sub-domains rather than sub directories.
Tip 7: Make your Site Easier to Navigate
The way you link your web pages together is important in helping search engines, as well as your visitors quick find the content they want, thus have a big impact on your ranking. In fact, in terms of site structure, the focus is to be simple and easy to use. We have given 3 tips in this part:
Create a naturally flowing hierarchy without complicated f navigation links.
Don't follow outgoing links that are not relevant to your niche.
Control the navigation from page to page e through text links.
Tip 8: Robots.txt
The robots.txt protocol, also known as robots exclusion protocol, is a convention to show the search engine the files that can be indexed or not. With the robots.txt file in below, all files of your website can be indexed by search engine spiders.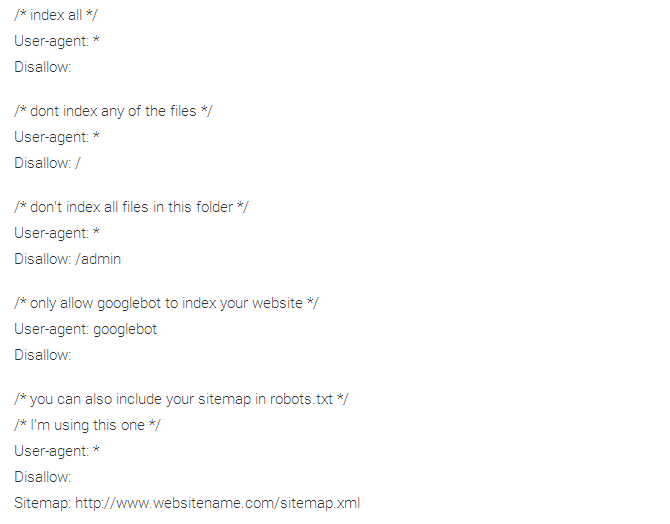 Tip 9: Exchange Links with Other Relevant Website
Exchanging links with other websites is an on-site SEO tactic that aims at building up backlink, meaning that you can post links which will lead back to your site on some other social sites. For instance, if your website is about blog establishment, then you can build the external links on some famous blogs or blogging host review sites.
Tip 10: Utilize Sitemap
As the roadmap for search engines, Sitemap cannot be forgotten, especially when we make a new page or post a new article. There are two popular versions of a site map: XML Sitemap and HTML sitemaps. The former one is coded specifically for search engine to know the pages in your site, their relative importance to each other, and how often they are updated. The latter one is designed for site visitors to find the content they want.
Tip 11: Be Aware of Nofollow Links
It is important to know that if you put your links with a nofollow attribute, then it means you want the search engines to ignore your links. Therefore, you need to check your link to see whether there is a rel=nofollow in it. Nobody wants to waste time getting links on sites that are totally useless.
Tip 12: Utilizing WordPress Plugins Is A Valuable Investment
Currently, there are a great variety of WordPress plugins for boosting traffic in the market, including All in One SEO Pack, SEO Ultimate, SEO Friendly Images, SEO Smart Links, and WordPress SEO by Yoast, just to name a few. For more details of these plugins, please refer to this SEO beginner guidance.
The above plugins feature almost everything you need with which you are capable of writing your own meta description tags and custom description for social networks including Google Plus and Facebook. The more exposed your websites are to the social networks, the more visibility your websites are bound to enjoy. Moreover, these plugins come with the tab that you get under the post editor where you are able to have options to select "focus keywords" for each post.
Tip 13: Don't Pay for Any SEO Service
Be wary of SEO firms, web consultants, or any other SEO agencies. Normally, you don't really know what you can get from their services. And the worst is that you may get blacklisted. If you really encounter problems, you can read some other SEO articles in our site, or go to some SEO forums or blogs for help.
Tip 14: Premium WordPress Themes Deserve A Shoot
The default themes are designed with less flexibility and customizability when compared to some premium WordPress themes in the market that are optimized in terms of SEO and security. With the help of them, the content of your posts can be indexed more easily by the search engines so that the visibility can be boosted. If you want to learn more detailed information of this kind of themes, please refer to this article.
In addition to the above aspects, page loading speed also plays a momentous part in search engine optimization because just 1-second page load delay can give rise to 7% decrease in conversion rate, 16% reduction in visitor satisfaction rate and 11% fewer page views. Therefore, it is crucial to choose a company that offers fast web hosting service. The providers in the following table may help on account of their budget-friendly and feature-rich services with blazing-fast speed and responsive technical support.