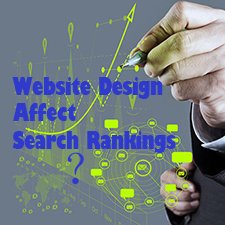 Does the website design affect rankings on search engines like Google? This might be the common question that bear in many website owners' minds. After all, speaking to the search engine optimization, most of the tutorials out there only mention some common factors like keyword-relevancy, external link building activities, content of the posts, update frequency, and SEO plugins, but forget that the design of your site is also very important to the search rankings.
Navigation
The website navigation plays a crucial role on your SEO friendliness. It functions like a road map informing search engines all the different areas and information, so you need to avoid some types of navigation that make it not easy for your pages to be crawled, indexed, and displayed in the SERPs.
Don't use Flash based or JavaScript based navigation structure, because search spiders are not smart enough to crawl these formats.
Navigations based on CSS and XHTML are easy to be read by search engines.
The images you add should contain alt tags with appropriate keywords.
Avoid using drop down menus, because it is not as usable as shallow navigation structures.
Navigation button should be totally clear, letting search engines know exactly where they are and what the webpage is describing.
Clickability
When search engines read your website, they need to be informed clearly what is clickable and what is not. This is because the more informative and usable your site is, the more likely it can be ranked higher. However, we have found that many webmasters add confusing buttons to let search engines identify links by themselves, but end up losing valuable opportunity to be crawled by a search engine spider. Below are some tips you need to pay attention in this process.
Any clickable button on the webpage should have a clickable-looking appearance.
Any unclickable item shouldn't look clickable to confuse search engines and visitors.
The links behind all clickable buttons shouldn't be broken.
Responsive Design
If the theme and template of the website are responsive, then it means your contents can be displayed perfectly on any devices, such as laptop, desktop, smartphone and tablet. Thus, visitor viewing your site with different screen size can have a perfect reading experience. Always remember that the more satisfied your readers are with your site, the more likely they stick around on your webpages, showing search engines that your content is meaningful and worth crawling.
Color Contrast
Color contrast contributes a lot on search engine visibility. The most common and highest color contrast comes with black text against a white background, making reading the content an easy thing. However, some webmasters looking for the different style just utilize low color contrast such as light gray text on a white background, which is of low readability and legibility. In a word, always keep color contrast in mind, and make your website be easy to read and interpret by both visitors and search engines.
Internal Linking
The internal link functions as a reference leading readers and crawlers from one section to another within the same website. It reduces click's number required to get every page of your site, especially when your site contains so many pages that managing the depth of your website through the navigation structure alone is not enough. Thus search engines can crawl your content more easily and effectively.
Besides, internal links allows you to use anchor texts which are keyword-rich throughout your websites. Whenever you add posts, take a second to consider whether there are some other articles in your site that are not only relevant to the new content, but also can arouse people's interests. If you really have found this kind of relevant and meaningful posts, then create internal links to these pages. However, never use internal linking as a method to create links which are keyword-stuffed, because you might get penalty from search engines.
Summary
There are so many factors that might influence the search rankings of your website, among which the site design is very essential, but often been overlooked. Therefore, in order to make your website be as SEO friendly as possible, we highly recommend you focusing more on above mentioned website structure elements.