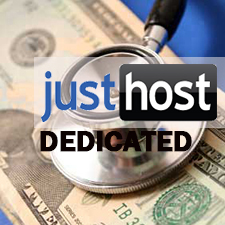 As a reputed hosting provider offering shared web hosting service, JustHost now offers its dedicated hosting service. In this article, we have discussed every aspect of JustHost dedicated hosting to test its reliability and affordability, based on price, features, related technologies, performance, and technical support.
In fact, as a trustworthy hosting provider, JustHost now has supported more than 30,000 customers all over the world with a high satisfaction rate. Among the 69 real customers' feedback, 95.7% of these people are highly satisfied with the hosting service offered by JustHost, especially the uptime, speed, control panel, and support service.
Price Value Review
JustHost has 3 packages for dedicated hosting, which has been named as Standard, Enhanced, and Premium. This 3 packages are priced at $149.99/mo, $199.99/mo, and $249.99/mo, but now, customers are able to get the sale price which are $74.99/mo, $99.99/mo, and $124.99/mo by visiting through this special promotion link, already 50% off the initial rate.
JustHost Promotion Link Activation
It is worth noting that customers can pay via PayPal, avoiding the possibility of information leaking like their financial account. Besides, with JustHost anytime money back guarantee, customers can purchase without worrying the waste of money.
In order to promise a high price value, JustHost not only offers the affordable price, but also rich features, including up to 8 MB of cache, 16 GB of RAM, 1000 GB of RAID 1 storage, 15 TB of monthly data transfer, and 5 IP addresses. In addition, customers can also get the free domain name and free marketing credits that are valued $200.
Advanced Technologies
JustHost dedicated hosting is well-defined with the most cutting-edge technologies to ensure the top-level service. In this following, we have listed and explained the most important ones.
Instant Provisioning – It is frustrating to get the login information by waiting a long period of time, so JustHost has pre-provisioned a bunch of dedicated accounts in its custom provisioning system with the highest level of safe and security to prevent spammers and hackers. In this way, customers can get and use their accounts immediately after paying the money, instead of waiting for hours or even days.
Root Access – This is a powerful server management tool that allows customers to have the complete control over the operating system and web server, such as editing the underlying system configuration, or installing applications via the command line.
Enhanced cPanel – Every customer can get access to cPanel control panel, thus being able to manage their e-mails, files, statistics, domains, database, and many more easily with an understandable user interface.
Mirrored Storage – This technology is used to ensure continuous website availability by maintaining multiple copies of data in separate physical hard disks. Therefore, once there is a disk hardware failure, the servers can continue to process or quickly recover the data back to normal.
Enhanced Caching – JustHost offers write-back caching with up to 8 MB of cache RAM, so the page loading speed of the hosted websites can boost significantly.
Hosting Performance
JustHost dedicated hosting is able to guarantee at least 99.9% uptime and short webpage loading by adopting the power of quality servers, world-class data center, and first-class technologies or more.
JustHost dedicated servers are 100% customer-friendly running Dual Core with Intel Xeon processors, being able to ensure the most fast and the most stable operation. Besides, its data center is also built by themselves with the sister brand of BlueHost, featuring UPS, advanced cooling system, intrusion protection, and 24/7 monitoring.
Technical Support
JustHost owns an professional and well-trained dedicated support system, with which customers are able to have all of their problems resolved perfectly by contacting professional support staffs via phone call, e-mail, and live chat. These staffs are experienced and on-site 24/7, coming with the deep knowledge about dedicated web hosting and being able to deal with every issue raised by customers.
Summary
With affordable price, rich features, all the advanced dedicated technologies, unmatched performance, and responsive 24/7 technical support, JustHost dedicated hosting is definitely reliable and affordable, helping customers set up large and complex sites with tremendous popular easily.