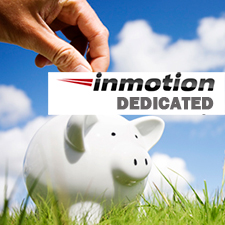 As a famous web hosting companies, InMotion Hosting always offers quality shared hosting service, but how about its dedicated hosting. In this article, we have discussed every aspect of the dedicated hosting solutions offered by InMotion Hosting, based on real customer feedback, performance testing for the past 6 months, and our careful investigations on the compatibility, reliability, and support.
We have collected more than 1,000 InMotion reviews from verified customers worldwide. According to the statistics presented in the following, 99% of them have voted positively of the overall hosting, including uptime, page loading speed, control panel, and support service. To be frank, as InMotion Hosting succeeds in achieving such as a high level of customer satisfaction, its hosting service is undoubtedly reliable and quality.
Uptime Testing
We have set up a brand-new website with InMotion best-valued Advanced package. After monitoring its availability for half a year with Pingdom, we has rarely detected some downtime for our set-up site, meaning that InMotion dedicated hosting has committed a 100% uptime in the real world.
The reasons why InMotion Hosting keeps satisfying uptime are as follows:
Network: With the BGP multi-homing and redundant switching network, InMotion Hosting can ensure at least 99.999% uptime for any hosted website.
Tier 1 Network: By utilizing the redundant power supply, the dedicated hosting from InMotion always enables websites run smoothly. Once one of the top tier providers goes down, the advanced technology applied in routing will switch to another automatically and instantly.
Continuously Monitoring: InMotion has a team of professional administrators monitoring each of the server day and night, making sure they all running properly and smoothly all the time.
The Page loading Speed
The page loading speed of InMotion dedicated hosting is very fast, which is less than 1 second on average. This is because InMotion utilizes high-technology DELL servers to ensure the fastest speed, instead of piecing together a server with the cheapest parts. All of these quality servers are backed by either Intel Core or Xeon processors, ensuring the best performance of the website.
Besides, InMotion Hosting applies some drive technologies into the servers of the web. For instance, the Advanced, Essential and Elite packages are involved with SATA2 drives to confirm the short webpage loading speed. AnOther two business packages consist of 15K SAS drives to guarantee the performance of the websites.
In terms of operating system, InMotion has utilized CentOS for over 10 years to ensure a fast-speed hosting environment. Besides, it has a group of CentOS experts who know how to configure and optimize the OS for high performance.
Price & Discount
InMotion dedicated hosting has 3 basic packages named as Essential, Advanced, and Elite, which have been priced starting at $189.99/mo, $219.99/mo, and $289.99/mo regularly. But now, by clicking this exclusive promotion link, customers only need to spend $119.99/mo, $159.99/mo, and $219.99/mo respectively, much cheaper than the majority of dedicated hosting solutions in the market.
Besides, there are other two commercial packages which are suitable for customers wishing to set up a large and complex business site that can run like the wind. However, the prices of the 2 plans are a little bit expensive, starting at $469.99/mo and $569.99/mo respectively.
Ease of Use
The hosting service offered by InMotion which involved in its dedicated hosting, which means that web hosts nearly shoulder almost the maintenance and optimization responsibilities, ranging from platform optimization and CentOS performance to even control panel.
Additionally, the powerful cPanel control panel or other services involved in all of its dedicated hosting packages, having no additional costs. Thus, customers are able to take control of their databases, sites, accounts, and domains without any obstacle.
Premier Technical Support
InMotion Hosting is award-winning for its 24/7 premier support service, with which customers can get their problems resolved quickly and effectively by contacting support staffs through phone call, e-mail, live chat, and the help center.
Besides, this company offers a $300 valued Launch Assist for FREE, helping customers transfer their domains, configure the LAMP stack, or set up firewall configuration with great efficiency.
Summary
Based on affordable prices, rich features, advanced technologies, excellent performance, responsive support, and good industry reputation, InMotion Hosting is undoubtedly a reliable dedicated hosting provider on the web. Besides, with the money back guarantee, the purchase is totally free of risk and free of worry.