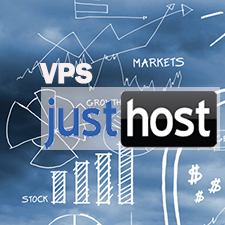 JustHost is an award-winning web hosting company, and it now also offers VPS hosting service to provide customers with upgrade option. Now the question is whether JustHost VPS hosting reliable and worth to go? After all, it focuses only on shared web hosting for a long period of time.
To come out the precise answer, we have carried out an in-depth JustHost VPS review bases on its price, features, technologies, speed, uptime, and support.
Overall Rating
Before reviewing by ourselves, we have collected some customer feedbacks concerning about JustHost VPS hosting. According to the result, 97.1% of these people vote positively for control panel, 97.1% vote positively for reliability, and 100% vote positively for customer support. To be frank, with such a high level of customer satisfaction, JustHost VPS is definitely worth going.
JustHost VPS Price Review
JustHost has 4 VPS hosting packages named as Standard, Enhanced, Premium, and Ultimate. Regularly, they have been priced at $29.99/mo, $59.99/mo, $89.99/mo, and $119.99/mo respectively. At present, however, JustHost has offered a 50% discount for the first month of all the hosting packages and billing cycles, with which customers can purchase starting at $14.99/mo effectively by visiting via this exclusive promotion link.
Check the detailed price table in the following
| Billing Cycle | Standard | Enhanced | Premium | Ultimate |
| --- | --- | --- | --- | --- |
| Regular Price | $29.99/mo | $59.99/mo | $89.99/mo | $119.99/mo |
| 12 Months | $23.74/mo | $47.49/mo | $71.24/mo | $94.99/mo |
| 6 Months | $24.49/mo | $48.99/mo | $72.49/mo | $99.99/mo |
| 3 Months | $23.99/mo | $46.99/mo | $69.99/mo | $94.99/mo |
| 1 Months | $14.99/mo | $29.99/mo | $44.99/mo | $59.99/mo |
It's worth noting that JustHost accepts PayPal – one of the quickest and safest payment methods, which can avoid the possibility of confidential information leaking like the financial account and password.
JustHost VPS Promotion Link Activation
Features
All of the 4 VPS hosting plans offered by JustHost are rich featured, containing 2 GB to 8 GB of RAM, 30 GB to 240 GB of disk space, and 1 TB to 4 TB of monthly data transfer. Besides, no matter which plan customers have purchased, they can get the free domain name, free dedicated IP addresses, and free marketing credits that are valued $200.
| Features | Standard | Enhanced | Premium | Ultimate |
| --- | --- | --- | --- | --- |
| RAM | 2 GB | 4 GB | 6 GB | 8 GB |
| Disk Space | 30 GB | 60 GB | 120 GB | 240 GB |
| Monthly Bandwidth | 1 TB | 2 TB | 3 TB | 4 TB |
| IP | 1 | 2 | 2 | 2 |
| Free Domain | | | | |
In addition to these basic features, JustHost also provides many cutting-edge technologies listed in the following.
Cloud Technology – All the JustHost VPS hosting solutions are utilizing the powerful cloud technology like OpenStack and KVM for more useful features and competitive options. Thus, customers can get a guaranteed growth path in the future.
Control Panel – JustHost offers enhanced cPanel control panel, which is more powerful and user-friendly than many other custom-built control panels. After all, its user interface is intuitive and graphical-based, which is easy to understand even for newbies containing the most basic computer knowledge.
Root Access – JustHost gives customers the root access to CentOS, with which customers can get the full control and access to the operating system and web servers.
Guaranteed Server Resources – JustHost guarantees customers that any resources they have purchased are 100% available with the high-quality servers and KVM hypervisor virtualization.
Instant Provisioning – This hosting company promises instant provisioning, thus customers can get their sites up and running within minutes, instead of waiting for hours or even days.
Multi-Account Management – Customers can manage all their accounts and access multiple cPanel hosting services with just one login.
JustHost VPS Hosting Performance
When it comes to uptime and page loading speed, JustHost never disappoints us. As tested in the real world, its VPS hosting is able to guarantee at least 99.9% uptime and fast page loading speed which is less than 1 second.
What helps JustHost achieves such an excellent hosting performance is its utilization of quality web servers and world-class data centers.
Web Servers – JustHost only uses high-quality and high-performing DELL branded servers, which are 100% factory built and tested. These servers are running up to quad core processors with the most popular CentOS 6.4 operating system to ensure no downtime and unmatched performance.
Data Centers – The data centers utilized by JustHost are custom-built featuring state-of-the-art technologies for power supply, climate control, safe and security, and facility monitoring. Once any problems happen, JustHost is able to resolve them immediately without contacting third party IDC companies.
Technical Support
Many people have doubted the quality of JustHost VPS technical support, for their representatives used to offer shared hosting support only for a long time. In fact, there is no need to worry about this. All the support staffs have learned deeply and systematically about this hosting type before JustHost launching the VPS plan, so customers are guaranteed to get the best resolutions.
Besides, the support service is available 24/7 via multiple support channels like hotline, e-mail, live chat, and company blog.
Summary
Based on this comprehensive review, JustHost is able to offer quality VPS hosting with affordable pricing, rich features, advanced technologies, excellent hosting performance, and responsive technical support. Therefore, we highly recommend this company for anyone wishing to set up a large site with VPS hosting service.