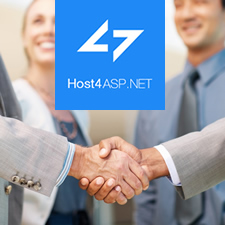 Recently, we have received a great number of emails from our readers who want to join an affiliate program asking that whether Host4ASP.NET is a good option to affiliate. The answer can be found in the following article that is based on our real experience and first-hand survey.
Joining an affiliate program is one of the easiest and most efficient methods to make money from a blog. However, you are just able to make a lot of cash by affiliating a good program. Now, read the following parts to make clear whether Host4ASP.NET affiliate program is worth going.
Service Price
Service price is one of the most important concerns when people choose a service or product online. Most people would like to choose the affordable services, especially when they are selecting a web hosting package. Host4ASP.NET knows this clearly. To ensure most webmasters can afford their services, this company offers a 58% discount to cut their service price down to $2.95/mo that is much lower than the price most web hosts charge.
Hosting Features
The more features hosting packages own, the fewer limitations users will meet when they are running their websites. To ensure customers run websites smoothly and stably, Host4ASP.NET integrated each of their hosting packages with quantities of outstanding features, including sufficient disk space, monthly data transfer, subdomains, email accounts and much more. In addition, each package comes with the latest versions of ASP.NET and ASP.NET MVC, IIS Remote management, Full Trust Level, and so forth.
Service Usability
To ensure customers run their sites with the least effort being made, Host4ASP.NET offers one of the most frequently-used control panels –WebSitePanel. With the easy-to-use interface of WebSitePanel, customers are able to manage their sites easily. In addition, by using the Microsoft Web App Gallery, they are capable of installing and upgrading a pile of PHP-based and ASP.NET based open source applications with just clicking the mouse several times.
Hosting Performance
Hosting performance is another important concern of webmasters. Host4ASP.NET utilizes multiple state-of-the-art US datacenters equipped with fully redundant power supply, 100+ Dell servers, UPS and other cutting-edge technology. In addition, senior technicians and engineers are monitoring the datacenters, servers and network 24×7.We have been hosting a small business website with this company for 6 months. According to our monitoring result, the uptime is 99.98% on average and the server response time is no more than 320ms.
Payment Commissions
Commission is always the first thing affiliates will take into concern when they choose an affiliate program to work with. In terms of this aspect, Host4ASP.NET is absolutely one of the web hosting affiliate programs offering the best commissions. This company's standard CPA is $70/sale. However, if you are able to create 10 sales per month in the future, they can offer you a better CPA. Besides, there is no cap on the number of commissions. The more sales you deliver, the more money youwill be paid.
Signup Process
It is very easy to sign up as a Host4ASP.NET affiliate. First, visit https://host4asp.net/affiliate/. In this page, click Sign Up button and then you are directed in a new page in which you just need to fill out the form with your real personal information and agree to the Host4ASP.NET Affiliate Terms and Conditions. Then, click Sign Up and you have successfully signed up as a Host4ASP.NET affiliate.
Affiliate Support
Host4ASP.NET affiliate team is always online to offer affiliates free support and advice. If affiliates have any questions or problems, they are able to get instant and right answers from the affiliate team members via email. Besides, for people who just started to promote others' business online, they are able to contact the affiliate team to get useful suggestions on how to succeed online.
Conclusion
According to the aspects we reviewed above, we can reach the conclusion that Host4ASP.NET is a trustworthy web host offering affordable, feature-rich, reliable and fast hosting service. In addition, it is very easy to sign up as a Host4ASP.NET affiliate. Moreover, if you have any questions or problems, you are always able to get instant and useful help from their affiliate support team. Therefore, Host4ASP.NET affiliate program is really worth going.