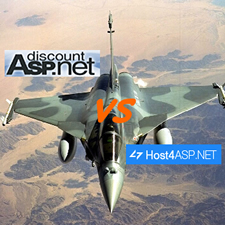 Both DiscountASP.NET and Host4ASP.NET are famous Providers of ASP.NET hosting and they pay attention to Window hosting only. Both of the two companies are recommended by thousands of users around the world.
However, for those who never purchase the services of the two companies, they are puzzled and don't know which one is better. So it is not a simple task for them to choose the ASP.NET hosting which is more suitable for them. Thus, we decided to make this DiscountASP.NET VS Host4ASP.NET comparison on the basis of cost-effectiveness, features, performance and technical support.
Price and Package
DiscountASP.NET only releases one plan called Base Web Hosting Plan which can be billed quarterly or annually at the price of $10/mo. It seems that the price is a little expensive. But here comes a good news – a 50% discount is offered by this company now. As long as you click the following promotion link, you can enjoy the discounted price of $5/mo. In addition, 30-day money back is promised.
DiscountASP.NET Promotion Link Activation
On the contrary, Host4ASP.NET offers three optional packages for users – Basic, Advance and Business. Speaking to price, you only need to spend $2.95/mo, $3.95/mo and $9.95/mo respectively through the promotion link as follows instead of regular $4.95/mo, $6.95/mo and $15.95/mo. As is known, the prices of them are affordable for almost everyone. And also, the company supports full refund within the first 30-day.
Host4ASP.NET Promotion Link Activation
Feature
As a matter of fact, the two web hosts provide their packages with many useful features. They share a lot of common hosting features while some differences still lie in the volume of resources. Among them, we selected some key points to help readers get a better understanding of them.
| Feature | | |
| --- | --- | --- |
| Plan in Review | Base Web Hosting Plan | Advance |
| Disk Space | 1000MB | Unlimited |
| Monthly Bandwidth | 80GB | Unlimited |
| Control Panel | Custom | WebSitePanel |
| FTP | | |
| IIS 8 | | |
| MS Web Deploy | | |
| ASP.NET | 3.5/4.0/4.5 | 3.5/4.0/4.5 |
| .NET Version Switch | | |
| ASP.NET MVC | 2/3/4/5 | 2/3/4/5 |
| MS SQL Server | 2008/2012/2014 | 2005/2008/2012/2014 |
| SQL Backup & Restore | | |
| PHP | 5 | 5.2/5.3/5.4 |
| Price | $5/mo | $3.95/mo |
| How to Claim | Link Activation | Link Activation |
Host4ASP.NET creates a better first impression than that of DiscountASP.NET does. Because from the aspect of fundamental resources, Host4ASP.NET includes unlimited disk space and monthly bandwidth while the other only has 1000MB storage and 80GB data transfer.
Both the two companies promise free instant setup and support the latest versions of ASP.NET and MS SQL Server. In addition, their ASP.NET versions are compatible and can be switched easily, which is attractive for customers with demands of different .NET versions. What's more, Host4ASP.NET chooses WebSitePanel while DiscountASP.NET adopts Custom control panel to provide services. By the way, the two companies offer free backup and restore service for all of their packages.
Performance
By adopting the latest Microsoft technology, like latest Windows OS, SQL Server and Silverlight, Host4ASP.NET can keep pace with times and provide the newest services for customers. In addition, the company utilizes 100% DELL severs with Dual processors and redundant power system to keep fast page loading speed and 99.9% uptime.
In comparison, DiscountASP.NET selects Cisco enterprise switch and DELL servers to provide ASP.NET hosting solutions. The company still employs more cutting-edge technologies in its servers and data centers which are located in USA and Europe. Furthermore, this company supports 99.9% uptime.
Following chart is about the server response comparison between Host4ASP.NET and DiscountASP.NET.
Customer Support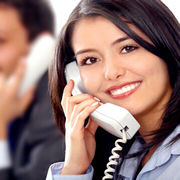 In terms of customer service, there is no doubt that Host4ASP.NET does a better job. Because this company promises to offer 24×7 technical support through efficient live chat, ticket support and email while DiscountASP.NET only allows users to ask help via email from 8 am to 5 pm in weekdays and 9 am to 6 pm during weekends.
Both Host4ASP.NET and DiscountASP.NET have various frequently asked questions stored in their knowledgebases. Customers can look for useful information from there to fix some simple problems
Conclusion Service – Both Are Recommended
On the basis of our analysis, we recommend both web hosting providers to customers because of their great performance and rich features. For those who focus on features and customer service, Host4ASP.NET is a better choice while DiscountASP.NET is more suitable for those who pursue high performance.