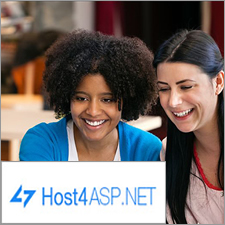 Host4ASP.NET now releases its 58%-off promotional link for webmasters who are planning to purchase its service but tight in budget. Unlike other web hosts, this company doesn't require a coupon code filled in the order checkbox for some special offers. Instead, it supplies visitors with the better and user-friendly promotion link solution, with which they are able to get up to 58% discount automatically.
Host4ASP.NET, offers a total of three Windows hosting plans – Basic, Advance and Business, which are rated at $6.95/mo, $9.95/mo and $18.95/mo regularly. But visitors who complete their orders through this promotional link can get the 58%-discounted prices of $2.95/mo, $5.95/mo and $14.95/mo respectively.
Host4ASP.NET Promotional Link Activation
Of course, if you search "Host4ASP.NET Coupon" on Google, you can find a considerable number of discounts. However, by going through the above promotional link, you are able to get the best price of Basic plan – $2.95/mo only. Note that each plan supports 12/24/36 billing cycles, with which you are allowed to get a proportionate discount. Details are showed as follows.
| Billing Cycle | Basic Plan | Advance Plan | Business Plan |
| --- | --- | --- | --- |
| 12-month Price | $4.95/mo | $7.95/mo | $22.95/mo |
| 24-month Price | $3.95/mo | $6.95/mo | $18.95/mo |
| 36-month Price | $2.95/mo | $5.95/mo | $14.95/mo |
In this way, you can save up to $48, $96 and $144 for 12/24/36-month hosting. For the utmost benefit, it is recommended to purchase the 36-month service. In regards to the payment options, you are prepared with the most popular Credit Card and PayPal methods.
There is no need to worry about money safety because Host4ASP.NET guarantees a 30-day unconditional money back guarantee. That means, customers who want to cancel their accounts can get a full refund within the first 30 days and a pro-rated one after this period.
To claim the Host4ASP.NET 58% discount, visit Host4ASP.NET through this promotional link for the best price.