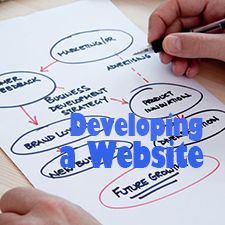 Nowadays, more and more people decide to set up an online presence to share ideas, selling goods, record daily activities, interact with friends, and acquaint with people all over the world, but few of them really do this in a right way. Undoubtedly, you must want a popular website with high traffic, instead of an unremarkable one that nobody knows.
The truth is that having a successful website is not a simple task, and you need to plan ahead and take a lot of factors into consideration. In this step-by-step guide, therefore, our editors have listed the most important tips which are helpful for you to setup a fully functional and great looking website.
Tip 1: Be Aware of Your Purpose
Before creating a new website, just ask yourself why you want to build this site. After all, your purpose will influence the style, the website technologies required, as well as the budget of your website. Generally, people building a website is to make money, share information, or stay in touch with families and friends.
Tip 2: Web Hosting Company
A reliable web hosting company is the fundamental of a successful website, but this process has often been overlooked. You need to choose a web host which can guarantee you a fast page loading speed, no downtime, responsive technical support, as well as all the features needed to build a website, otherwise you won't be able to enjoy a satisfied hosting experience, and even suffer a lot. If you have no idea how to choose a right web host, just try on BlueHost – the best web hosting providers trusted by millions of webmasters, or read this top 10 web hosting for some recommendations.
Tip 3: Domain Name
Whether you are going to set up a business website or a personal website, an appropriate domain name is essential. If your domain name is long, complicated, full of jargons and hyphens, then it will be hard for your visitors to remember and recall your website. And the best domain names are often memorable, simple, short, easy to spell, and is full of keywords that are related to the websites. By the way, we recommend you choosing a domain with .com, for it is the most widely accepted extension for a domain name.
Tip 4: Quality Content
Even though you have purchased the best hosting service and have selected a most memorable domain name, site visitors will never come to your website if your content is of low quality. The article you post need to be well-written, original, informative, easy to understand, and coming with good images. After all, we are in a huge ocean full of information, so you need to create attractive content to grab readers' attention.
Tip 5: Update Constantly
The regular update is as important as the quality of your content. The fresh content added regularly to your site keeps visitors coming back to see what's new, thus build the traffic of repeat visitors. Besides, as time goes by, the search engines may change the way they rank and display sites, so you need to refine your website constantly with appropriate meta tags, well-structured content and error-free HTML codes.
Tip 6: Check Spelling and Grammar
This process has often been ignored by the majority of webmasters, but is very important actually. In fact, many visitors are not tolerant of spelling and grammar errors, and spelling errors in things like JavaScript and URLs can make those scripts and links not work. So, to keep your readers happy and your scripts and links working, make sure you have checked your pages for these errors before you publish the post.
Tip 7: Website Layout
A simple and neat website layout can improve the quality of your website to the largest extent. Generally, people are not willing to come back to a site with an unappealing look. Besides, a simple website layout is user-friendly, so just remove all the styling CSS, complex navigational links, float positioning, as well as JS and flash.
Tip 8: Colorizing the Website
When setting up a new website, there are many ways to add interest and fun to attract site visitors, and one of the easiest ways is to use appropriate colors in tables, backgrounds, and fonts. You can do this through named colors, Hexadecimal codes, and CCS.
Tip 9: Easy Navigation
Generally, if your site visitors cannot navigate your site, they will leave it. Therefore, you need to design the navigation with visitors' needs in mind, and make your site be be easily learned so that your readers don't get lost. Besides, the navigation of your websites should remain consistent and is able to provide clear visual messages.
Tip 10: Keep Focus on Speed
Obviously, people are less tolerant of slow load times while the average Internet connection speeds have increased dramatically around the world. If your website does not load fast enough, the visitors who search for products or information online may leave your site immediately and never come back again. But you need to speed up your websites by remove unnecessary and unused plugins, using a CDN and a caching plugin, and optimizing images you want to upload to your site.
Tip 11: Keep SEO in Mind
A SEO friendly website could be easy for both users and search engine robots to find and understand, so never forget to optimize your website regularly. If you have no idea how to do this, you can check here to get further information.
Tip 12: Advertisement
It is common to sell ad space on your website to generate revenue. You'd better use some famous online advertising platform like Google AdSense, for they are more secure and convenient. Besides, never put too many ads on your site, because visitors may feel annoyed and have a negative impression of your website.
Tip 13: Focus on People
We have found many webmasters who post some search engine preferred posts with a view to ranking higher, but these contents are boring and full of keywords. In fact, the real audience of your content is your readers, not the search engine tools, so just keep your site focusing on people.
Tip 14: Be relevant to your audience.
Generally, people are more likely to go to website if they can interact with you, so you'd be better leave a comment section under each post for readers to raise questions and post feedback. Besides, according to the information received from your visitors, you can have a better understanding of what people really what to see.
Tip 15: Be Yourself
When visitors are looking at your website, they want to know who you are, what you do and what value you can offer your audience. So, we highly recommend you adding a little bit personality to your website and let your readers know you are a real person with your own style. You can achieve this by adding some photographs of yourself, or telling some stories about your own experience.
Tip 16: Websites Promotion
To attract more site visitors, you need to promote your websites. This process is simple, and you can do this by using some social networking platforms like Facebook, Twitter, Google+, and advertising credits offered by your webhost like Google AdWords, Yahoo! Bing.
Tip 17: Being Unique
It is unwise to copy the content and design of any other websites, just because you think they are good. It is very important to showcase the difference between you and anyone else, and make your website stand out from the others. Only in this way will people come to your when searching for a certain niche.
Tip 18: Resize Website Images
Images are helpful to make your webpages look wonderful, but large images can slow down the load time of your site and increase your bounce rate. So, you'd better keep your images smaller than 12 KB. Besides, the total size of your web page which includes images, text content, HTML, CSS, and JavaScript should be no larger than 100KB.
In fact, these 18 tips are not all things you need to take into account, but undoubtedly they are essential. The last but not the least, building up your new website with all the tips bear in mind.