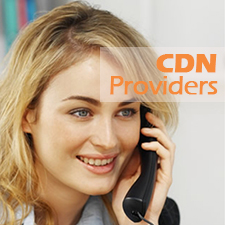 CDN is the acronym of content delivery network. Just as the name suggests, it is used to deliver the content of your website to your visitors with the fastest speed and the highest security. Generally, if your readers want to view your webpages, their access requests will be sent to your web server. Once the server receives the requests, it will send all the desired information back to the requesting machine (E.G. you readers' computers), including HTML, images, multimedia files and JavaScript files.
However, the physical distance will affect the page loading and file downloading speed to the largest extent, after all, your content need to travel a long time to be viewed by your readers if their geographical locations are far from your web server. In this circumstance, you need a CDN to speed up your website.
All of the CDN providers have a network of servers in strategic locations around the world, and copy your website content on each of these servers. Therefore, when people visit your site, they will be delivered your content from a nearby server, increasing the speed dramatically.
Now, you have known that CDN is useful to grow your website, and here is the question: which is the best CDN provider? After all, there are so many options on the web with different features, prices, and guarantees. But don't worry. We have given you a list of important criteria you need to consider when choosing the CDN.
The CDN you choose need to have an international reach, placing the servers at the most strategic locations.
It should be able to provide you with the solid statistics showing how and when your visitors access your content.
If your website contains private and sensitive information, then you need to make sure that the CDN offers encoding for secure content transferring.
If your website always has a large number of readers trying to view your content at the same time, or if your site is a media-rich one, then you'd better choose a CDN which can supply the enough bandwidth you need.
Make sure the CDN supports the most advanced technology as the delivery methods, such as HTTP progressive downloads, Flash streaming, Windows Media streaming, and Quicktime or Real Media streaming, etc.
If you have no time and every to choose a right CDN provider by yourself, then simply check out this list of top 5 CDN, which have been carefully selected by our specialized editors.
Top 5 CDN Providers