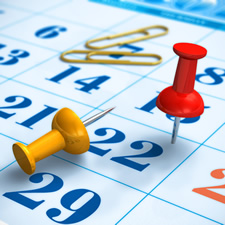 Planning your tasks and scheduling is extremely important to timeline everything and to organize your stuffs on a priority basis. This reduces your efforts to half and makes you life more appealing. The same for the virtual online experience, scheduling can help you avoid making your things hectic, time consuming and confusing.
WordPress, as the best CMS online, has offered some great plugins for planning your tasks effectively and scheduling them the right way. In the following, we have listed some of the best WordPress scheduling plugins for you to choose.
Weekly Schedule
Website: http://ylefebvre.ca/wordpress-plugins/weekly-schedule/
The main purpose of this plugin is to permit you to schedule your weekly events and to display that schedule in the form of a table on your page. This makes it easy for all the viewers to understand the entire schedule. You can even style your schedules on the basis of category items using StyleSheets, and you can place all the information to the items that can be viewed in the tooltip.

WordPress Appointment Booking by vCita
Website: https://www.vcita.com/software/online_scheduling
Installing this plugin, you can schedule all your appointments online, generating more leads, clients and hence more business. It is compatible with all WordPress versions and themes, and allows you to receive notifications of the request made by clients. You can place an automated response for your customers.
Online calendar is synced automatically with your phone and existing calendars. The schedule made by this plugin is scalable and flexible.

ScheduleMAX Online Scheduling
Website: https://www.schedulemax.com/
You can create a beautiful and a simple client scheduling in your site. Simply through your WordPress dashboard, you can easily add a scheduling business in your Facebook page. Even, you can grow your small business into a large one by this beautiful and easy scheduling plugin.
There are many shortcodes available, making this plugin achieve a lovely and an easy experience. It is installed in just 2 minutes if you have an account with ScheduleMAX.
Content Scheduler
Website: https://wordpress.org/plugins/content-scheduler/
This is a great plugin that is customizable and is highly automated. You can schedule your content to expire automatically and change at a specific time, thereby notifying people about it. There are several expiration options such as unstuck posts, change categories, add or remove tags, change the current status, and many more. During the expiration, you are also notified by content scheduler. The reminders always keep your content fresh and new, thereby attracting people.
WP Scheduled Posts
Website: https://wordpress.org/plugins/wp-scheduled-posts/
This is a perfect plugin with a complete solution for WordPress post scheduling. You can get a dashboard widget and an admin bar displaying all your scheduled posts. You can even choose who can view your displayed widget.
It comes with a brand new interface, along with the ability to monitor which post types can be available to scheduled posts. You can even control date and time structure as per your needs.

Drafts Scheduler
Website: https://wordpress.org/plugins/drafts-scheduler/
Using this plugin, you can schedule all your draft posts either sequentially or randomly. You can choose from 3 options and decide your interval for randomly drafting your posts. You can even choose your start date that comes with all the options for visualizing screenshots.
There is also an undo option for most recent schedules and any non-published posts. This plugin allows you to beautifully manage and schedule your tasks with several options at your disposal.
BirchPress Scheduler
Website: http://www.birchpress.com/
As is perfect for booking appointments and online scheduling, BirchPress Scheduler is a great plugin that permits service businesses to take online bookings. It supports multiple locations and multiple services and staffs. You can assign your employees different tasks without any hassle. You can easily add, delete or edit appointments from the WordPress admin area. It is very easy to configure date and time format, and supports multiple currencies.
Auto Schedule Posts
Website: https://wordpress.org/plugins/auto-schedule-posts/
Through this plugin, you can separate the writing schedule from publishing schedule. You can write whatever you want and publish it whenever you want. It holds your posts and prevents them from publishing until the previously set criteria is met for proper publication time.
You can set time between certain hours, specify a minimum period of time between different posts, and limit publication to certain days. This is a great plugin that can help you effectively schedule the time limits within your site.

Book Fresh
Website: http://www.bookfresh.com/
With this plugin, you can book appointments, manage your businesses, synchronize external calendar, reduce displays and many more directly from your WordPress site. It is very easy to use, allowing you to book business in just minutes.
This WordPress plugin has powerful calendar and automatic reminders, with which you can even send your clients a thank note and inform them about new offers. You can also manage all your calendars and control them from your mobile phones.
Schedulicity
Website: https://wordpress.org/plugins/auto-schedule-posts/
This is one of the most used plugins for an easy online scheduling with 40 million appointments already booked. You can incorporate button, widgets and shortcodes. It has 3 button styles and 2 widget styles, and supports multiple accounts with an extremely easy to use interface. However, it is available to users only in U.S and Canada.