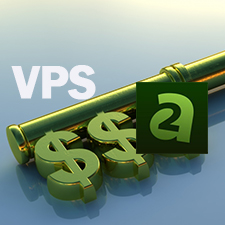 A2Hosting has been started nearly one decade since 2001. It offers customers with an excellent VPS hosting service as an upgrade option for shared hosting. To test whether they are providing cost-effective VPS as they claim, our editors have carried out an A2 Hosting VPS review concerning its price, speed, features, uptime, support based on our real hosting test, and the feedback of verified customers.
A2 Hosting VPS Price Review
The VPS hosting price provided by A2 Hosting is more flexible than that offered by other hosting companies, because it allows customers to design their VPS solution by choosing the resources only needed, which is really helpful for customers to save money.
The price of this company is starting at $14.99/mo regularly, and now, they offer a compelling discount that reduces the price down to $9.89/mo, which is up to 34% off the original price. To get this cheap price, customers only need to visit A2Hosting via this exclusive promotional link in checkout.
A2Hosting Promotion Link Activation
Features Review
A2 Hosting VPS hosting plan is featuring different options with 10GB to 250GB of disk space, 200GB to 1600GB of bandwidth, 512MB to 4096MB of memory, and multiple choices for operating system like CentOS, Debian, Fedora and Ubuntu. It also offers cPanel control panel which helps customers set up their websites easily and quickly. For security, this company has a unique HostGuard management to make sure of the 100% worry-free.
In the following, our editors insert a feature chart for the most valued options for customers to reference.
| Features | Level1 | Level2 | Level3 |
| --- | --- | --- | --- |
| Disk Space | 10GB | 50GB | 250GB |
| Bandwidth | 200GB | 800GB | 1600GB |
| Memory | 512MB | 1024MB | 4096MB |
| Hassle-Free 30-Day Money Back Guarantee | | | |
| SSD | | | |
| Full Root Access | | | |
| SSH Access | | | |
| A2 Quick Installer | | | |
Except for the above-mentioned features, A2 Hosting also provides many advanced technologies listed in the following.
Control Panel – A2 Hosting offers updated cPanel control panel, which is more powerful and user-friendly than any other custom-built control panels. It means that even beginners can build a website within minutes.
SwiftServer Platform with SSD – A2 Hosting VPS hosting solutions is utilizing the special SwiftServer platform, which increases the speed of customers' websites up to 300%. Thus, customers can get a fast load speed.
Root Access – A2 Hosting offers customers the root access to CentOS. With this technology, customers can fullly control their website and access to the operating system as they need.
Full HostGuard Management – A2Hosting offers full-managed VPS with 100% worry-free hosting, rebootless kernel update, smart system notifier, and seamless package upgrade, etc.
Perpetual Security – As a proactive protection tool, Perpetual Security against malicious hackers and threats with KSplice – Daily, Automatic & Rebootless Kernel Updates, Dual Web Hosting Firewall, Brute Force Defense, Auto-Heal Hosting Protection, Virus Scanning, and 24/7/365 Security Monitoring.
Performance
A2Hosting offers excellent and stable uptime, which is almost 100% in the real world as we tested.
The reason why A2 Hosting achieves such an excellent hosting performance is that it uses quality web servers and data centers. A2 Hosting uses 100% Dell servers featuring cutting-edge technologies, which are running up to quad core processors with the most popular CentOS 6.4 operating system to make sure of all websites running properly.
For data centers, these server spaces are supported by UPS power, redundant network, regulated environment and advanced climate system, which are monitored 24/7 so that experts can resolve problems at once.
Support
A2Hosting offers 100% US – based Guru Crew technical with outstanding staffs who have at least 5-year experience in this area. They offer efficient resolutions to any issues raised by customers via email, toll-free telephone, and live chat. Therefore, customers can contact with the experts immediately and effectively.
A2Hosting VPS Customizability Review
A2Hosting offers great flexibility in server resources, with which customers can choose the amount of RAM, CPU, disk space and data transfer only they need, instead of presetting the fixed volume of server resources like any other VPS hosting providers. With this flexibility, you save much money for the useless server resources.
Summary
According to this review, we find that A2Hosting undoubtedly succeeds in providing a cost-effective VPS hosting with advanced VPS related technologies at an affordable price, high quality of hosting performance and technical support. We highly recommended it for you sincerely here.