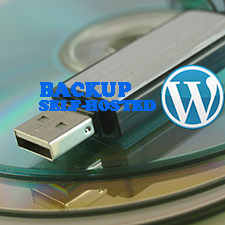 Every webmaster should backup their self-hosted WordPress website, because once their hosting providers have a failure, they will lose everything. However, many people, especially those who have little hosting knowledge don't know how to backup.
Since you have already been conscious of this point, we are to give some simple but helpful tips on how to make use of many online backup tools and services which help you keep a backup copy of all the sites files easily and effortlessly. Proceed to the following points.
Top 5 Tips to Backup Your WordPress Site
Tip 1: Don't Only Rely on Your Web Host to Back Up Websites
Almost every web hosting company will provide you with a backup service, whether charged or free, and promise you that the backup is complete, safe, and will occur automatically on a frequent basis. If you fully believe them and haven't found out how often they backup your website and how to retrieve it, then you may suffer a great loss.
Generally, web hosting companies will back up your files every week on a random day, but may not be able to run their backups as often as your situation requires. Therefore, if you constantly make changes to your website, update with new content, or add fresh elements, then solely rely on your web host for your backups will never be a good idea.
Besides, these backup files will not be kept for more than 30 days, so if you forget to download it before it is overwritten with a newer file, then you will probably be unable to retrieve the most valuable data.
In one word, backing up your WordPress site is not the responsibility of your web hosting company, so you have to set up your own backup system plan to make and keep copies for your website.
Tip 2: Back Up Your WordPress Site Thoroughly
There is a misunderstanding that backing up the website is just saving the page content. In fact, a good backup should include all the pages, images, textual contents, and any other files located in your database, as well as all the programming files on the web host server. It is true you can get the information from your hosting server after your computer crashes, but what if the web server goes down? Therefore, you have to keep the backup thoroughly in case any data gets corrupted or lost.
Tip 3: Back Up Your Site According to the Changes You Have Made
In fact, there is no need to back up your site every day or every week if you haven't make any changes to your website. But if your website is constantly being updated with new content, then you'll need to run a lot of backups. In fact, how often should you back up your site depends on how frequently and how much new data you have added to your site, and how much data you can afford to lose.
Tip 4: Choose a Good Online Backup Provider
There are so many useful backup providers available like Box, Dropbox, Google Drive, and SkyDrive, but once you want to store your website files into one of them, you need to take the following factors into consideration.
Security – Make sure that the provider can offer you a secure backup environment, and transmit the data over 256-bit SSL encrypted connection.
Data Size – Some backup providers or web hosts claim that if your site exceeds 20 or 30 gigabytes in size, your backup will be skipped. So make sure this won't happen with the provider you choose.
Redundant Data Center – Remember that no server is 100% safe and sure, so check out whether the provider has multiple data centers with redundant server spaces to store your data.
Data Transfer Speed – A good backup provider should be able to transfer your data quickly and smoothly, with a view to offering the highest level of protection to your site.
How to Backup a Self-Hosted WordPress Site
Having introduced so many useful tips on backup your WordPress site, we would like to introduce you the details on how to make a backup copy of your site files. We have listed the steps of backing up WordPress files and database manually or automatically as below.
Backup a Self-Hosted WordPress Website Manually
There are a total of four steps to backup WordPress files.
Use an FTP program to connect to your hosting provider with your FTP username and password.
After finishing the connection, select a local directory to save your backups and then select all the files on your host.
Transfer the files from your host to your local directory and make sure that you save all the files and folders in the directory that WordPress is installed in.
After your files have completed transferring, you can compress the files by using a compression program. This step is not necessary, but it can save you a lot of disk space.
In the meantime, there are a total of three steps to backup WordPress database.
Log in to phpMyAdmin that is a web interface for MySQL administration. If you have no idea how to get to phpMyAdmin, you should ask the technical support team of your web host for help.
Select your WordPress database that you would like to backup from the database menu. If you have multiple MySQL databases and have no idea which one your site is using, you need to open the wp-config.php file in the WordPress root folder and you will see the database name saved next to the DB_NAME option.

Click on the "Go" button to start the backup procedure for your database.
Use the 1-Click Installer You Hosting Company Offers to Backup WordPress Website
Many web hosts offer a 1-click script installer for their customers to install new applications, which can also be used to create a full backup for your self-hosted WordPress website. Although it is a manual process, it backs up all of your WordPress sites and databases. That is why web hosts like BlueHost and JustHost are so popular.
Use Backup Plugins to Backup WordPress Website
A great WordPress backup plugin enables you make a backup of your website effectively. Having reviewed hundreds of WordPress backup plugins, we have selected the best 3 that are rich-featured and easy-to-use, but won't slow down your website. In the following, we have displayed major information about the winners.
NO.1:WP-DB-Backup
Ratings:
Downloads: 1,695,723
Last Updated: 2013-9-30
WP-DB-Backup is a powerful WordPress plugin used to backup the core database content and tables. It is relatively easy-to-use as compared with many other plugins available online and can work properly in a shared web hosting environment. Besides, it pays much attention to database backup, ensuring the highest level of website security.
This plugin allows you easily to backup your core WordPress database tables, with which you may also backup other tables in the same database. This is an excellent plugin because you are capable of scheduling it to backup your WordPress database automatically.
Feature Listing
Database backup focus
Ultimately easy-to-use
Multiple options for backup schedule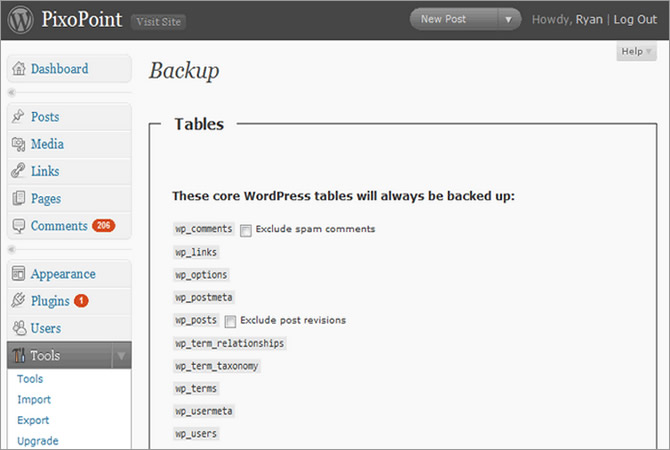 NO.2:BackUpWordPress
Ratings:
Downloads: 719.698
Last Updated: 2013-8-22
BackUpWordPress is designed to backup your whole site, including your database and all of your files on a schedule that suites you. This plugin enables you to use zip and MySQL dump for faster backups if they are available, manage multiple schedules, and work in low memory. In addition, this plugin works excellently on both Linux and Windows server, with which your backups can be sent by email selectively.
Feature Listing
Manage the backup schedule freely
Super user-friendly
Zip and MySQL dump utilization
Works properly in low memory environment
E-mail the backup file automatically
Exclude files and folders from your backups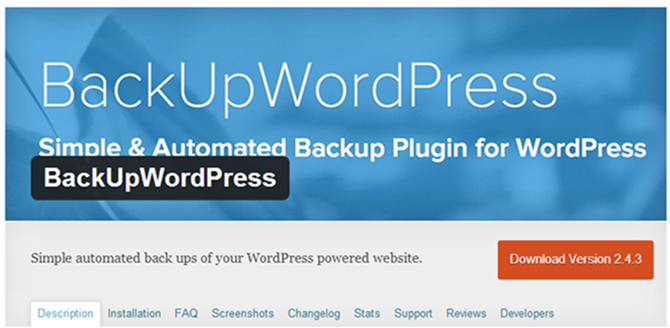 NO.3:Simple Backup
Ratings:
Downloads: 111,809
Last Updated: 2013-8-26
Simple Backup is a user-friendly WordPress backup plugin, just as the name suggests. With it, you can carry out a comprehensive and regular backup practice to your site easily. It utilizes MySQL dump for automatic and reliable database backups and is able to perform some common optimizations to your WordPress sites and MySQL Database before backup.
It stores the backup files in a directory called "simple-backup", which is located in the root of your WordPress directory. If Simple Back cannot locate that directory, you will receive an error message and need to create one manually.
Feature Listing
Manage automatic WordPress backup schedule freely
Proper WordPress site and database optimization
E-mail notification for backup process
Easy to understand and manage dashboard
NO.4:UpdraftPlus
Ratings:
Downloads: 316,408
Last Updated: 2013-10-10
UpdraftPlus is one of the most reliable backup plugins available in WordPres.org. Since now, it has been downloaded for more than 300,000 times all over the world. It simplifies the backup process by offering super simple tools. Besides, this plugin carries out the backup automatically on a repeating schedule, which can be adjusted to suit your needs.
Feature Listing
Backup automatically on a repeating schedule
Database backups can be encrypted for security
Files and database backups can have separate schedules
Quick restore (both file and database backups)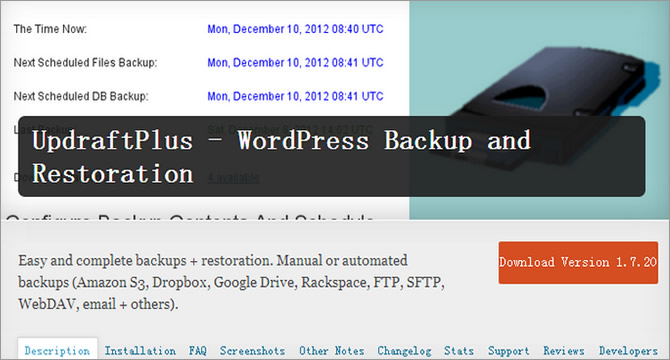 NO.5:Online Backup for WordPress
Ratings:
Downloads: 321,849
Last Updated: 2013-9-9
This plugin enables you to back up your content with ease. The backup files will be stored to one of the 3 places according to your needs: folders on your server, email inboxes, or Backup Technology's security data centers with up to 100 MB free online storage space. One of the shining features of this plugin is that it encrypts the backup files for security.
Feature Listing
Schedule backups available in daily or weekly schedule
Backup into a local folder
Full AES encryption support
Download on-demand backups as a ZIP file
Simple Tips to Restore WordPress from Backup
In addition, we are to further explain how to restore WordPress from back in detail, mainly from three perspectives including restoring the database backup of WordPress with cPanel, using phpMyAdmin to restore WordPress database, and restore a WordPress site manually. Just keep scrolling down and then learn how to take some precautions.
Option A > Restore the Database Backup of WordPress with cPanel
This choice is the one requiring the least endeavor and time. The reason is that you can restore the database directly within cPanel provided that you have already manually used cPanel to create the WordPress databases backup previously. Specific steps are as following.
Log into the Control Panel and Click Backups
After you have entered the page of Backups, you are able to restore your MySQL database backup by clicking the Choose File and select the backup file from your hard disk. Afterwards, just click the Upload button.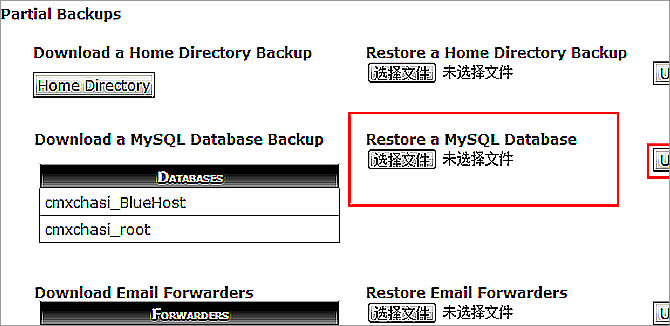 Option B > Use phpMyAdmin to Restore WordPress Database
The database includes almost all momentous raw data for your WordPress website, including pages, posts, comments, settings and so forth. Hence, obviously, it is the most crucial part. And phpMyAdmin refers to a program designed to remotely manipulate the databases via a web interface. We have showed a step by step guidance in the following.
Log into the phpMyAdmin and Click "Databases".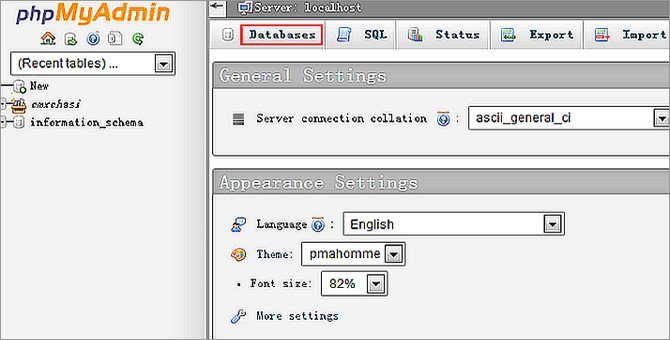 Select the Database into which you are to import your data.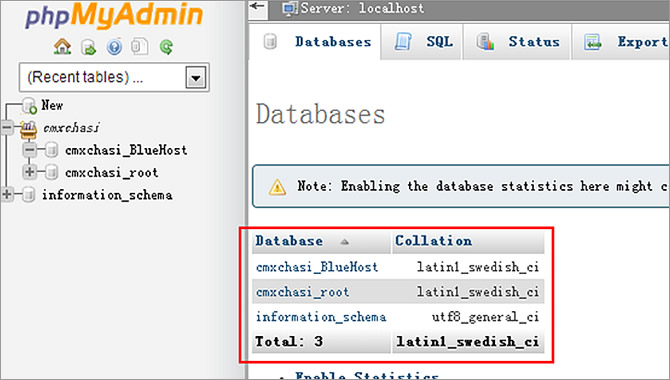 After the database is selected, there is a page showing a list of tables that are already inside or a screen telling you no table exists. The result rests with your setup.
Click "Import" in the Row of Tabs.

After clicking the import tab, you will see a location of text file box next to which there is a button named as Browse. Then just click Browse and locate the backup files that are stored in your computer. Click the Go button after you have made sure SQL is chosen in the Format drop-down menu. Then you have completed all processes to restore WordPress database using phpMyAdmin.
Option C > Restore A WordPress Site Manually
Initially, grab your backup files. Afterwards, upload your database. Finally, use FTP to upload files to your website. Please read the detailed description in below.
Snatch at the Backup Files
Exactly, the first thing you need to do is to get command of the files and folders you want to restore. This part turns to be quite easy if you have set up scheduled backups regularly. Firstly, click "Backups". Then, there is a list of backups for you to choose from. At last, download the necessary ZIP files to a manageable location on your computer.
Upload Your Database
We have emphasized the significance of database previously. Thus, it should be prioritized to get the database run and backed up. To do this, you should access phpMyAdmin which is available in the control panel. Log into your control panel and find out whether the database is unwounded or not.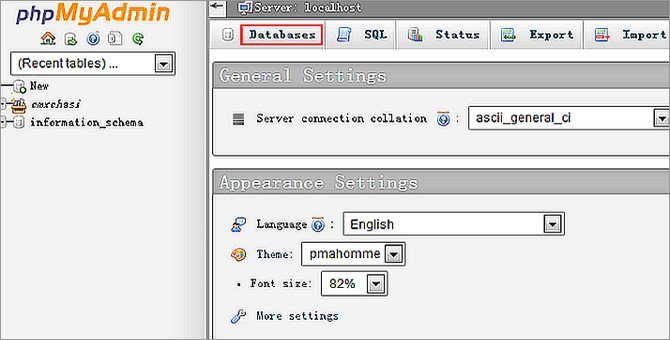 Click "Database" and "Import", and find the ZIP files you have downloaded before and upload the backed up database file. After the above procedure finished, the content parts of your website have already been restored. Nonetheless, the rest parts of media, plugins and themes are still missed. Thus, we need to move to the next step.
Use FTP to Upload Files to Your Site
We have already backed up and uploaded the most important database before. The rest parts can be simply uploaded by FTP. So exactly how to do it? Do a backup first. Then, log into your website via FTP and navigate to the root directory. Finally, upload files and folders you need. The key point is that you will need to transfer the whole backup folder by FTP if the site has been entirely wiped.
With the above step by step guidance, we have showed you how to restore a site from backup. However, for some WordPress newbies, they may need some technical support at times.
Since some top-notch web hosts offer 24/7 technical support with which users are able to reach responsive and helpful assistance, we recommend the following providers which are famed for their services of affordable prices, rich features, outstanding performance and prompt technical support. Please note that this is based on our real hosting experience and hundreds of customer reviews.