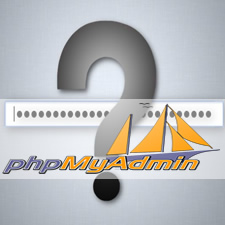 Since security issue has become a key to destroy a website, webmasters try every means to protect their WordPress websites from malicious attacks. In general, the first step to achieve that goal is to strengthen the admin password, because it is the gate of a site. People are able to reset the passwords via various ways, such as phpMyAdmin, FTP, emergency password rest script, email and so on.
In this guide, we are going to talk about how to reset WordPress admin password by using phpMyAdmin, which is regarded as the most effective method to hit the mark. Note that, the demonstration is proceeding via cPanel, which is the most popular control panel in this field and commonly used by a large number of shared hosting providers. Besides, for some readers lacking understanding about this tool, we make a brief introduction as below.
As an open source tool written in PHP, phpMyAdmin is designed for the administration of MySQL and has the ability to manage various operations, like tables, columns, users, permissions, relations, and so on. Besides, you can export and import a database with a help of phpMyAdmin so as to guarantee a high level of security of data. It also makes a big difference on database backup & restore. Here, we would like to focus on the function of WordPress admin password reset.
Reset WordPress Admin Password by Using phpMyAdmin
Before everything, you are required to log into cPanel with your account and pitch on Database > phpMyAdmin. Click the phpMyAdmin icon and enter the interface. Note that, you will be asked to wait a moment for a system redirection.

Look at the left column and find out your WordPress database. If there are several databases available, then you need to choose the most appropriate one. Click the selected database.
And then, there is a list of options coming out, standing for different functions. Find out the wp_user table and click it.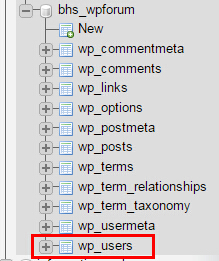 Click Columns and then come to a field that displays specific information about your admin. Move your mouse to the menu bar and click Browse. Here are three options available for you to make a change on your admin user name and password, including Edit, Copy and Delete. You are required to click Edit.

Enter your new password in the user_pass field and then select MD5 from the left drop-down. Here, we suggest you to use a complicated password consisting of letters, specific symbols and numbers. Once finishing the set of password, you need to click Go button.
If you receive a success message including user name and new admin password, you have reached the target.
Thanks to this user-friendly control panel, we can get a full use of phpMyAdmin with a few clicks. However, if you have not been involved in the use of cPanel, you can install phpMyAdmin manually and then reset your WordPress admin password by following the above-mentioned steps. Perhaps, you can also turn to a reliable hosting providers using cPanel like the recommendations in the following ranking table.