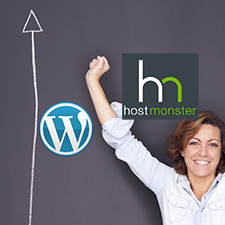 Is HostMonster right for hosting WordPress? HostMonster WordPress hosting review is based on the WordPress support, hosting features, speed, uptime, support and price, from our editors' true WordPress hosting experience.
HostMonster is highly recommended for personal and small businesses to host WordPress websites. It's the top performer for WordPress of all shared web hosts that we have reviewed since 2009. So far, we have a few small WordPress websites hosted with HostMonster like digever.com. If HostMonster is not outstanding and 100% compatible with WordPress, we wouldn't host our own businesses with them.
HostMonster, founded in 1999, designed for personal and small businesses, was one of the first web hosts committed 100% WordPress compatible and 99.9% uptime shared web hosting. In 2010, HostMonster started to develop the dedicated data centers for the more controlled and managed services with its sister brand BlueHost. Today, HostMonster has 3 dedicated data centers in Provo, Utah that has invested 20+ million USD since 2010. With 500+ employees and 5,000+ servers, HostMonster is serving for over 1 million customers and it's still fast growing with 8,000+ new customers added in each month.
So far, our sister site BestHostingSearch.NET has received 22 verified HostMonster customer reviews, based on the statistics, the 100% of customers are satisfied with the HostMonster WordPress hosting service as the following statistics chart.
Features
Unlike most of other cheap web hosts fully utilizing the 3rd-party software for shared web hosting services, HostMonster customized the cPanel and developed a complete new, easy to use and flexible automatic application installer SimpleScripts that allows users to 1-Click install/upgrade WordPress in just a few clicks.
HostMonster WordPress hosting includes the following main compelling features:
Free domain name for life & unlimited blogs hosted on 1 account.
Unlimited disk space, bandwidth, email storage, databases.
cPanel & SimpleScripts, 1-Click install/upgrade WordPress sites.
PHP 5.3.10, MySQL 5, FastCGI, Secure (SSH) Access.
Up to 128MB set for PHP memory_limit.
99.9% uptime & guaranteed WordPress loading times that average less than 2 seconds.
100% US-based technical support with holding times that average less than 30 seconds.
Speed
By leveraging the rock-solid dedicated data centers and up to update powerful servers, HostMonster is one of the fastest WordPress hosting of all shared web hosts that we had reviewed. Their data centers are built with the 4 separate physical fibre lines brought directly into building through two diverse entrances with access to all major IP/transit providers with the bandwidth capacity exceeding 7,500MBits, and all their servers are built with 24x AMD Opteron(tm) Processors, 32GB DDR3 and RAID 10 SATA3 disks.
We had done a trial for the WordPress loading speed of a sample WordPress website with the same source code and the same content hosted with HostMonster. In fact, the HostMonster servers are very powerful and high performance, as the following statistics chart.
HostMonster WordPress Hosting Reliability
So far, we have 3 WordPress sites hosted with HostMonster since 2009, recommended by a friend at that moment. In the past 3 years, we had never experienced serious server downtime and network break. HostMonster WordPress hosting commits the real 99.9% uptime as their guarantee.
In April and May 2012, we set up a site uptime monitor for one of our WordPress sites hosted with HostMonster, and collected the uptime data as the following statistics chart. We didn't found any downtime for our website in these two months indeed.
Technical Support
HostMonster has 500 on-site staffs in their Provo Utah office serving for 1 million existing customers. They have engaged on the shared web hosting for 13 years so far. Their customer service is quite different to the service from some small and cheap web hosts.
HostMonster provides 24×7 100% US-based technical support through toll-free telephone, live chat, email and ticket system. With hold times that average less than 30 seconds, you can be assured that there is an experienced WordPress expert helping you knows how to help.
Price
HostMonster only has a single all-in-one shared web hosting. It's starting at $6.95/mo regularly, but now they're making a special 44% discount for $3.95/mo only for all visitors going through this promotional link. You cannot get the same discount for the renew, so we recommend you going for a longer plan at the beginning, the best cost effective plan is for 36 months.
Pricing Details
12 months plan

$4.95/mo

24 months plan

$3.95/mo

36 months plan

$3.95/mo
Payment Method
Credit Card

Yes

PayPal

Yes
HostMonster Promotion Link Activation