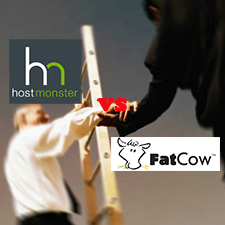 Speaking to web shared hosting, both HostMonster and FatCow are senior hosts who enjoy great reputation in the market. To help people make a balanced choice between the 2 hosting providers, our editors suggest to judge from the intensively reviewed aspects of price, features, uptime, speed and technical support.
Following comparison rating table is worked out to display an overall view on the 2 companies, which concluded from real customers' feedbacks and the practical investigation of our experienced editors.
Price Competition
When one offers services with cheap price but high quality, certainly, people are more likely to give their support. HostMonster sticks to this principle and cares much about customers' interests in accepting its service. Webmasters can enjoy the special offer of $3.95/mo by going through this promotional link to obtain a 44% discount off the regular $6.99/mo. Moreover, the company claims anytime money-back guarantee, which ensures a worry-free and risk-free purchase.
However, FatCow is slightly overtaken by its competitor in price offer. It gives a special introductory rate of $4.67/mo, which is 51% off the regular $9.49/mo. Meanwhile, the 30-day money-back guarantee is not applicable to the full refund if people want to keep the domain offered by the company.
HostMonster Promotion Link Activation
Both companies support the credit cards and PayPal payment methods that facilitate online purchase as well as guarantee the security. Moreover, HostMonster obviously outmatches FatCow in marketing credits offers with a total of $250 comparing with the $175 provided by the later.
Features & Highlights
The companies share common features like unlimited disk space, bandwidth, email accounts, MySQL databases and subdomains. However, what customers need is far from the basic ones, so our editors listed some significant and powerful features to check who is richer-featured.
| Feature | | |
| --- | --- | --- |
| Shared SSL | | |
| SSH | | |
| PHP 5 | | |
| Perl5 | | |
| Python | | |
| Ruby on Rails | | |
| Regular Price | $6.99/mo | $9.49/mo |
| Discount | 44% | 51% |
| Discounted Price | $3.95/mo | $4.67/mo |
| How to Claim | Link Activation | Link Activation |
Highlights
Comparing with the vDeck control panel FatCow provides, cPanel from HostMonster may take some advantages that it is easier-to-use with the offer of SimpleScripts 1-click installer, and it requires less technology than that of vDeck.
Uptime & Speed
When comes to the reliability part that most people concern, both companies are doing a great job as they fulfills their promise of 99.9% uptime in real practice with 24×7 constant network monitoring of technicians. Meanwhile, in case of power outrage event, they have the preparation of diesel generator backup power.
From what we have closely monitored in the past 6 months, we work out the statistics of 99.98% uptime for HostMonster and 99.95% uptime for FatCow. Following result comes from the observation of HostMonster in the past 30 days.