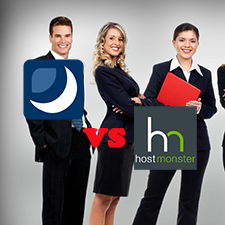 This comparison between DreamHost and HostMonster is aimed at revealing the truth of their web hosting services based on price, feature, performance and technical support.
With our in-depth analyses, HostMonster turns to be the winner of these two companies. In the following, we further explain the reasons why HostMonster is a better option with detailed analyses.
Before lifting the veil of web hosting services offered by these two companies, initially, we work out editorial ratings of them to help you get an overview at the very beginning.
Overall Ratings
Based on our real hosting experience in the past 3 months and feedbacks of hundreds of verified customers, we work out the following table of their editorial ratings, which manifests that HostMonster has won more recognition and recommendation than DreamHost from both professional editors and customers. Please check the table in below for detailed ratings.
| Rating | | |
| --- | --- | --- |
| Overall | | |
| Features | | |
| Loading Speed | | |
| Reliability | | |
| Technical Support | | |
| Price | $8.95/mo | $3.95/mo |
| How to Claim | Not Recommended | Link Activation |
It can be clearly seen from the above table that DreamHost is rated 3 out of 5 stars in overall, whereas HostMonster is rated 4.5 out of 5 stars. In the following analyses, we mainly focus on their prices, features, performance and technical support.
Price
DreamHost web hosting is starting at $8.95/mo, but you should note that this price is only available for 36 months billing. If you need short term subscription, the price of monthly subscription can be high to $10.95/mo with additional setup fees $49.95 charged.
In contrast, HostMonster is starting at $6.95/mo. With promotion, now all readers who click this exclusive promotional link can enjoy 44% discount of the regular price which is down to $3.95/mo.
Please check the following table to get more specific information.
| Price | | |
| --- | --- | --- |
| Regular Price | $8.95/mo | $6.95/mo |
| Discounts | N/A | 44% |
| Discounted Price | $8.95/mo | $3.95/mo |
| Money Back | 97 Days | Anytime |
| How to Claim | Not Recommended | Link Activation |
Meanwhile, DreamHost offers 97 days money back guarantee which is only valid for credit cards payments. By comparison, HostMonster provides No Hidden Fee Guarantee and ANYTIME Money Back Guarantee with which customers can enjoy worry-free purchase. More than that, it also offers some freebies including 1 free domain for 1 year, $100 Google Advertising credits, free site builder and so forth.
Feature
In addition to some basic features including bandwidth, disk space, FTP accounts, PHP, etc., DreamHost designs an exclusive and unique control panel with which customers are able to simplify the administration of their domains, databases, files, etc. with the least time and energy. In this part, HostMonster utilizes cPanel, which is universally acknowledged as the best in the field.
Besides, HostMonster comes with some advanced features that are not supported by DreamHost such as override .htaccess support, custom cronjobs, PostgreSQL database server, and so forth. Please check the following table to get more specific information.
| Feature | | |
| --- | --- | --- |
| Control Panel | DreamHost Custom | cPanel |
| Operating System | Debian Linux | Linux CentOS |
| PostgreSQL | | |
| SSH | | |
| Custom Cronjobs | | |
| PHP.ini | | |
| | Not Recommended | Learn more |
Performance
DreamHost doesn't own a data center by itself. Instead, it cooperates with a Los Angeles-based collocation provider for data center service. By contrast, HostMonster locates 3 dedicated data centers in Utah which are equipped with 4 separate physical fiber lines with 5000+ servers making the bandwidth surpasses 150,000 MBits.
In the past 30 days, we have hosted 2 websites on their servers respectively. As a result, these two companies all deliver an outstanding uptime. Please refer to the following list for specific statistics.
DreamHost : averages 99.90% uptime in the past 30 days;
HostMonster : delivers 99.98% uptime in the past month;
At the same time, we also monitor their server response time using Pingdom with a 5 minutes interval. The result shows that DreamHost takes 498ms. To be honest, this server response time is excellent, however, it still lags much behind HostMonster, which takes 342ms. The gap can be seen from the following chart.
Technical Support
Both DreamHost and HostMonster offer technical support via various channels including phone, live chat, email etc.. Also, customers can seek help and address some common technical issues via knowledgebase, video tutorial, user forum and so forth. The key difference rests with service fees.
HostMonster offers 24/7 US-based technical support for free, whereas DreamHost only offers free support via email. So if customers need phone and live chat support, they can purchase Premium support which includes 3 phone callbacks and unlimited live chat but costs $9.95 per month.
Conclusion – HostMonster Recommended
From the comprehensive comparison above, HostMonster is proven to be the winner of these two companies. Because of affordable price at $3.95/mo, rich features, excellent uptime, fast speed and 24/7 US-based technical support, we highly recommend our readers going with HostMonster for web hosting service.