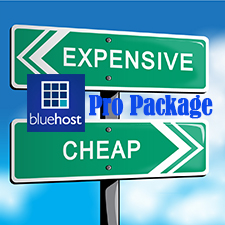 VPS is considered as a more reliable hosting than cheap web hosting service, but BlueHost Pro Plan is better than cheap VPS hosting for price, reliability, technical support and speed, based on our editors' real hosting experience and in-depth comparison.
BlueHost Pro Plan is an advanced shared web hosting solution designed for small and medium sized businesses, pricing for $19.95/mo and working for site with the traffic up to 10,000 page views daily. As BlueHost Pro Plan supports Secure Shell (SSH) Access, the only difference in features compared to VPS hosting is that BlueHost Pro Plan doesn't provide root permission.
We compared BlueHost Pro Plan with InMotion VPS and MyHosting VPS, the former one is a professional business-class VPS hosting provider pricing from $39.95/mo and the latter one is a famous cheap VPS hosting provider pricing from $12.96/mo. Surprisingly, we found BlueHost Pro Plan loads the websites much faster than MyHosting VPS and nearly all the other cheap VPS hosting under $20/mo that we had reviewed so far.
BlueHost Pro Plan Features
As almost all the VPS hosting provides the root permission, choosing VPS hosting you can set up the environment complete depending on your own requirement and favor.
As a business web hosting, BlueHost Pro Plan doesn't provides root permission, but it supports a large number of technologies and features. On the other hand, with the servers been fully managed by the BlueHost expert team with over 16 years' hosting operation experience, you're risk-free and worry-free for the security and reliability.
Web Hosting Features
Disk Space

Unlimited

Bandwidth

Unlimited

Free Domain

1

Hosting Domain

Unlimited

Google AdWords

$100 FREE

FTP

Unlimited

Money Back

Anytime

Support

24×7 US
Email
Accounts

Unlimited

Forwarders

Unlimited

Auto Responders

Unlimited

Disk storage

Unlimited

Web-based Email

Yes
Scripts & Development
PHP

5.2.17 & 5.3.10

Ruby on Rails

3.2

Python w/h CGI

Yes

Perl w/h CGI

Yes

MySQL

Unlimited

PostgreSQL

Unlimited

Cron Job

Yes

Shell Access (SSH)

Yes

Image Magick

Yes

Custom PHP.ini

Yes
Others
Control Panel

cPanel

Fantastico

Yes

SimpleScripts

Yes

Guaranteed Server Resources

Yes
As you see in the above feature-table, BlueHost Pro Plan includes everything which a business needs for the online businesses, even offers free email service, free domain name, and free $100 Google AdWords credits that many cheap VPS hosting don't have. Compared to choose a barebone cheap VPS hosting, you can save a lot of time and energy on setting up your sites.
Guaranteed Server Resources
Usually, VPS is leveraging the mature virtualization technology that can guarantee the server resources allocated to every virtual machine on a physical server, so that VPS is understood as a more reliability website hosting solution than shared web hosting service.
But, BlueHost shared web hosting service is different. In 2009, BlueHost invested largely to customize the kernel of Red Hat Enterprise Linux for an innovative CPU segregation technology that segregates the CPU computing units and memory for the shared web hosting service. This technology can protect customers' websites from the heavy users. BlueHost is among the very few web hosts that have devoted to the developement of such a technology.
VPS VS BlueHost Pro – Performance
Each VPS instance utilizes standalone Linux kernel that consumes additional CPU computing units and memory allocated to your account. Take an example. If you choose a VPS with 1Ghz CPU and 1GB memory, approximately half of your server resources are used for operating your standalone Linux OS. As a result, you pay $20 for a VPS, but you just get the half for what you want.
The advantage of BlueHost Pro Plan is for all the hosting accounts sharing the same Linux kenerl and being segregated by their innovative CPU segregation technology. So, all the server resources allocated to you can be used for running your website efficiently. As the research, BlueHost actually allocates up to 512MB memory and 1Ghz CPU computing units for each Pro Plan hosting account that is sufficient for running a medium sized website with the traffic under 10,000 page views daily.
Read the comparison for the features of BlueHost Pro Plan, InMotion VPS and MyHosting VPS as following.
| Billing Cycle | BlueHost Pro | InMotion VPS | MyHosting VPS |
| --- | --- | --- | --- |
| CPU | 1Ghz | 1Ghz | 512Mhz |
| Memory | 512MB | 1.5GB | 512MB |
| Disk Space | Unlimited | 40GB | 20GB |
| Monthly Bandwidth | Unlimited | 2000GB | 300GB |
| cPanel | | | |
| Fantastico | | | |
| Price | $19.95/mo | $39.95/mo | $12.95/mo |
| | Sign Up | Sign Up | Sign Up |
Our editors compared the performance for these 3 plans, BlueHost is nearly the same with MyHosting VPS, although MyHosting VPS has been the fastest VPS of almost all cheap VPS pricing under $20/mo in our reviews.
BlueHost – Very High Customer Satisfaction Rate
According to the 113 real customer reviews submitted at BestHostingSearch.NET, 99.1% of the customers have no serious complaints about the service from BlueHost. Read the statistics chart as below.
BlueHost Pro Plan is Highly Recommended
As the conclusion, if you're looking for cheap VPS hosting pricing under $20/mo, we recommend you going with BlueHost Pro Plan. BlueHost Pro Plan is starting at $24.95/mo regularly, but now BlueHost is offering a special discount for $19.95/mo for all readers going through this promotional link.
When you visit BlueHost website, sign up with the default professional hosting for $3.95/mo. You will see an upgrade option for the BlueHost Pro Plan in the check out page. If you're new to web hosting, even we recommend you trying with BlueHost professional hosting for $3.95/mo at first. When you find the performance bottleneck, then consider to upgrading to BlueHost Pro Plan. In this case, you won't waste your each penny.