For anyone who has owned a website or personal blog, having as many followers as possible in social media platforms can greatly enhance the popularity and visibility of their site. And one of the most popular social networking platforms is Google+, which is owned and operated by Google. It succeeds in making sharing on the Internet as easy as sharing in real life, and that's why it can become the second-largest social networking site so quickly, since it was launched in 2011. As estimated in May, 2013, Google+ has more than 500 million registered users, and almost 235 million of them are active in a given month.
There is no doubt about the big value Google+ can bring to you. And that's why we write this post to give you some guides about how to increase your Google+ followers.
Complete Your Profile
Once you have logged into your Google+ account, you need to, at first, add your personal information like education, physical location, work place, as well as a nice picture as your profile photo. Be careful not public the detailed information as it may expose you to some dangers. To make your account become more eye-catching, we highly recommend you using some real person picture like the head portrait of yourself, as this helps people remember and recognize you easily. Besides, make sure that your profile is public, so people can find you and share your content.
Find People
If you are new to Google+ and do not have enough followers, then don't worry, you can easily find other users whom you might know or might be interested in. You only need to click on the People button in the left column, then you can see the suggestions of 500 people whom you may like to follow or want to add in your circles. If you want to find your co-workers and classmates, simply enter their account name in the search box. Once you have decided whom you are going to follow, simply click the Add button, and normally, they will add you back.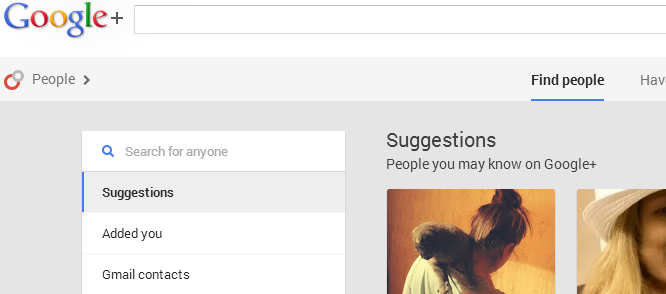 Create Circles
The best way to increase your followers is to create Google+ Circles, with which you can create separate interacting groups according to your explicit requirements as well as niche, such as friends, family, following, acquaintances, customers, and much more. Then you can update each circles separately, as there may be some contents which are specific to only friends and some others may are specific to only family members.
Join Google+ Community
In the left bar of your Google+ homepage, you can see a Communities button, which is similar to, but more appealing than the Facebook group. One of the easiest ways to have more acquaintances is to take part in a party or a club in your niche. This principle works on Google+ too, so just find and join the Google+ communities and share your ideas with group members. You only need to click the Communities button, then Google+ will automatically present you a list of recommended communities and communities that your friends have joined.
Only Share Interesting and Meaningful Content
You can share textual contents, links, images, GIF pictures, videos and much more through Google+, but remember that only interesting and unique content can grab people's attention. In addition, if you really want to boost the number of your Google+ followers, then you'd better become active and post these attractive contents constantly.
Only Posting at Good Timing
It is quite frustrating when you have posted some really interesting content, but your followers are missing out because they are not online. You need to deal with timing carefully, and try your best to make sure that your posts have reached the majority, or even each of your followers. Here, we recommend you utilizing Timing+, which is a perfect tool to help you know when it is the best time to publish your posts, and when you have had the most impact with your posts.
Share, +1, and Comment on Other People's Updates
To gain more Google+ followers, you'd better share, +1, and comment on other people's posts, whether they are your friends or not. Generally, people will feel appreciated that you are paying attention to what they have said, and would love to return the favor by following you or +1 your stories. Besides, if you do this frequently, then people will start noticing you, and you can have more chances to contact with lots of new and target followers in your niche.
Circle Back to Those Who are Following You
It is a human nature that if you have given somebody something, then you'd expect them to pay back as a reward. Therefore, if someone follows you, then you'd better follow them back. If you don't do this, they may remove you from their Google+ circle for they may think you do not want this friendship.
Summary
All the tips mentioned above are the most basic and effective way of gradually increasing the number of your Google+ followers. If you really need lots of followers in a short time period, then you can contact some reliable websites which offer the service of buying or exchanging Google+ followers. Anyway, hope our suggestions are helpful for you, and if you have any other ideas, please let us know via the comment section.