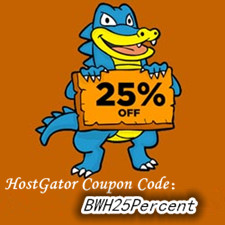 Looking for the best HostGator coupon code? We recommend the coupon code BWH25Percent for a 25% discount off the regular price, which is 5% better than the default 20% discount provided by HostGator when visiting its official site directly.
With the HostGator brilliant industry reputation and 45 days FULL money back guarantee, customers are 100% risk-free and worry-free to ask a refund if they don't like their services after the purchase.
HostGator Coupon Code BWH25Percent > 25% Off
BWH25Percent is designed for saving your money for a long-term plan at one time, allowing customers to get a 25% discount and a cheap hosting charge of $3.71/mo.
Generally, when customers directly visit HostGator website, they can purchase their shared web hosting with a 20% discount by default. However, if they use BWH25Percent in the checkout page as the following screenshot, they can save 5% discount more.

The HostGator pricing table with 25% discount:
| Billing Circle | Hatchling | Baby | Business |
| --- | --- | --- | --- |
| 1-Month | $6.71/mo | $7.46/mo | $11.21/mo |
| 1-Year | $5.21/mo | $7.46/mo | $11.21/mo |
| 2-Year | $4.46/mo | $6.71/mo | $10.46/mo |
| 3-Year | $3.71/mo | $5.96/mo | $9.71/mo |
| Regular Price | $8.95/mo | $9.95/mo | $14.95/mo |
HostGator Coupon Code Activation
Fake HostGator Coupon Codes
Besides BWH25Percent, customers may find some other HostGator promotions from some unreliable review sites. Unfortunately, the majority of the offerings are fake or temporary. We have listed some as below.
HostGator 40% Off – On Aug 28, HostGator launches a special offer for 40% off on all of their packages including Linux and Windows hosting, starting at $2.97/mo. This HostGator promotion only lasts for 3 days, ending on Sep 1st this year.
HostGator 10th Anniversary – HostGator provides a special promotion for its 10th anniversary on Oct 22th, 2012 – 40% off all hosting plans and $5/year for domain names. This promotion only lasts for 24 hours, ended on Oct 23th 12:00AM.
HostGator 50% Off – The biggest HostGator promotion of 50% off starts at $2.48/mo for a few special days in every year, including Black Friday and Cyber Monday in November. Some years, this discount may be available at the "End of The World" on December 21th, lasting from the midnight to 11:59 PM of the day.
Is HostGator Expensive?
Compared with some sucking web hosts offering an extremely cheap plan by overselling the servers and staffs, HostGator is a little more expensive. However, as a trust-worthy company serving for over 5 millions of customers worldwide, the HostGator web hosting performance, reliability, security and technical support are all guaranteed, making the service 100% cost-effective.