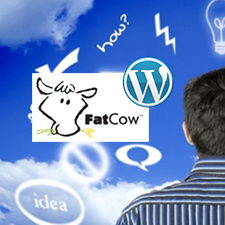 Fatcow turns to be an unremarkable WordPress hosting provider after our in-depth review which is based on our real hosting experience and thousands of customer comments. To help you get a full picture of the service, we mainly concentrate on its price, feature, performance and technical support.
Before setting out this comprehensive review, initially, we show you an editorial ratings chart of Fatcow WordPress hosting service. After our real hosting experience, we don't recommend the service due to the limitations of its price, feature, and speed.
As what has been shown above, with the reputation and reliability rated 3.5 out of 5 stars, the service is rated 3 out of 5 stars in feature, speed, and support. Objectively speaking, all these ratings are not very splendid among hundreds of distinguished WordPress hosting providers in the field. In below, we further reveal the truth of the service.
Price
Specializing in offering high quality web hosting service for more than 10 years, the company has released only one shared web hosting plan, which is named as Original Fatcow. With both monthly and yearly billing cycles available, the service is priced at $5.00/mo for a monthly subscription and $49.00/yr for 1/2/3 years subscriptions. Supporting payments via both credit cards and PayPal, the company provides 30 days money back guarantee.
Besides, the service includes extra bonuses such as 1 free domain name for the first year, $100 Google AdWords, $25 Yahoo/Bing search marketing credits, $50 Facebook advertising credits. But you should note that these prices are offered with limited-time promotion for new customers, and the plans will be renewed as the following list.
36 Months Term : $7.49/mo;
24 Months Term : $8.49/mo;
12 Months Term : $9.49/mo;
Monthly Term : $9.49/mo;
Nonetheless, considering the renewed price, Fatcow WordPress web hosting is not very affordable, especially paling in comparison with some leading companies in the industry like BlueHost, which is starting at $3.95/mo with 44% discount available for readers clicking this exclusive promotional link.
Features
The Original Fatcow features unlimited POP mailboxes, MySQL databases, email accounts, domains per account, and subdomains. As for scripting languages, the service only supports PHP 4 & 5 and Python. To be honest, this point is a little bit disappointing when almost all outstanding web hosting services support PHP 5, Perl, Python, and Ruby on the Rails.
Besides, Fatcow doesn't utilize cPanel, which is universally acknowledged as the best in the field. Instead, it develops its own custom control panel. Compared to cPanel which is famous for its user-friendliness, this Fatcow custom control panel may take time and energy for those new customers who are accustomed to the easy-to-use interface of cPanel.
Performance
The company successfully fulfills its commitment of 99.9% uptime because it owns two state-of-the-art data centers, which are situated in Boston. Both data centers are equipped with high performance servers and safeguarded with physical security measures. With advanced facilities and technologies, the company delivers 99.95% uptime on average in the past month. Check the following chart for detailed statistics.
Supported by a pooled server environment and redundant routers, Fatcow asserts that it guarantees its customers with blazing-fast loading speed. However, it really dispirits us after we personally experienced its service. In the past 30 days, we have hosted 2 websites on its servers and launched a real time monitoring of the server response time. According to the result, Fatcow takes 695ms in server response time, which is not very fantastic in the field.
Technical Support
As a web host who has been specializing in WordPress hosting of high quality for more than 10 years, the company possesses a highly proficient and experienced technical team that includes more than 100 technicians. They always prioritize the requirements of their customers and keep on site 24 hours a day, 7 days a week.
Via diverse ways including toll-free phone call, live chat and email, customers can always enjoy prompt and responsive support to timely solve their technical issues. Meanwhile, there are many helpful articles and video tutorials with which customers can settle some common technical issues by themselves.
Conclusion – Not Recommended
Due to the expensive price, limited feature and unremarkable loading speed, it is obvious that Fatcow is not recommendable. To help our readers seek a reliable and affordable web hosting provider, we have personally tried services offered by numerous companies.
After our strict inspection, we objectively think the companies in the following chart really deserve high recommendations. With affordable prices, rich features, great uptime, blazing-fast loading speed and responsive technical support, they also gain recognition from some authoritative WordPress websites like WPMatter.com, PHPMatters.com, etc.