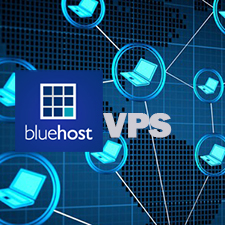 BlueHost – one of best web hosts worldwide, has also integrated revolutionary VPS hosting service in 2013, which is backed by the legendary support and advanced technology. Due to the fact that BlueHost VPS is a newly launched hosting plan, and many customers have no idea how great it is, our editors, therefore, have carried out an in-depth review about the price, features, reliability, speed, and customer service.
In addition, our editors have been hosting a medium sized Joomla site on BlueHost VPS platform for about 9 months, so this review is promised to be unbiased.
Price
BlueHost offers 4 VPS solutions – Standard, Enhanced, Premium, and Ultimate, the original price of which starts from $29.99/mo, $59.99/mo, $89.99/mo and $119.99/mo respectively. To be honest, this price is very budget-friendly compared with the rate offered by many other VPS hosting companies. Now, this company provides a 50% discount, with which the price is low to $14.99/mo. Learn the detailed price information in the table below.
Effective Price
Standard

$14.99/mo

Enhanced

$29.99/mo

Premium

$44.99/mo

Ultimate

$59.99/mo
Payment Method
Credit Card

Yes

PayPal

Yes

Check

Yes
Besides, if customers are dissatisfied with the VPS hosting service and cancel the subscription, they can get their money back by taking advantage of BlueHost 30 days money back guarantee.
BlueHost VPS Promotional Link Activation
Features
BlueHost VPS hosting offers all the standard features that customers would expect from a managed VPS solution, the most significant one is cPanel control panel. Besides, it also supports numerous popular content management systems such as WordPress, Joomla, Drupal, and many security tools.
In fact, what sets BlueHost VPS apart from some common VPS hosting services is the instant provisioning and multi-account management. The former one allows customers to get started quickly, and the latter one allows customers to manage all the accounts with just one login. More features are listed in the table as follows.
| Features | Standard | Enhanced | Premium | Ultimate |
| --- | --- | --- | --- | --- |
| RAM | 2GB | 4GB | 6GB | 8GB |
| OS | CentOS 6.4 (64-bit) | CentOS 6.4 (64-bit) | CentOS 6.4 (64-bit) | CentOS 6.4 (64-bit) |
| Control Panel | cPanel | cPanel | cPanel | cPanel |
| Disk Space | 30GB | 60GB | 120GB | 240GB |
| Bandwidth | 1TB | 2TB | 3TB | 4TB |
| Dedicated IP(s) | 1 | 2 | 2 | 2 |
| Root Access | | | | |
| | Sign Up | Sign Up | Sign Up | Sign Up |
Reliability
BlueHost VPS is extremely reliable based on our tests and research. This company locates all the servers at multiple peerless data centers that are featured with multiple redundant systems, enabling the company to deliver satisfying uptime. All of these power-related technologies are tested every two weeks and monitored 24/7 by the state-of-the-art monitoring system and highly professional engineers.
As tested, BlueHost VPS hosting boasts an unbelievable 100% uptime, which puts it above the competition in this regard. See the this statistics chart for the company's uptime of last month.
BlueHost VPS Hosting Speed
Offering a super-fast VPS hosting service seems to be the core task of BlueHost. To make this possible, BlueHost utilizes the high quality web servers. Besides, by leveraging the power of advanced cloud technology, all the servers can be continuously upgraded and enhanced to maintain the best performance. Read the following chart to learn the server response time of BlueHost of the past 30 days.
Customer Service
BlueHost has an impressive Help Center on the homepage, which places all of the customer support options listed in the following:
24/7 toll free telephone support with the waiting time averages less than 4 seconds.
Toll-free US: (888) 401-4678; Outside US: (801) 765-9400
Email support with the waiting time averages less than 1 hour.
Live chat – Absolutely 24/7 based on our testing.
Company blog with the latest news and company information.
Community forums.
Frequently asked questions.
Network outage and maintenance status blog.
Participates in social media including Twitter and Facebook.
Do note that all the technical support staffs are professional, knowledgeable, and 100% US based.
Is the VPS Hosting From BlueHost Recommended?
Yes, we highly recommend BlueHost VPS Hosting, for it offers rich features, 100% uptime, blazing fast speed, and responsive technical support. Learn more details in this chart.