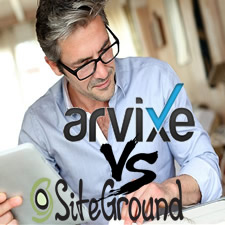 For many readers asking for a recommendation of shared hosting company, we select Arvixe and SiteGround in this comparison to help people decide which web host is worth going. The reason why we choose the two hosting providers is that both of them have been in the market for many years and become rich-experienced gradually.
According to a satisfactory survey on over 200 customers, we make the following table to give people a rough idea about Arvixe and SiteGround. Obviously, Arvixe is preferable and acquires higher support rating than SiteGround. To make certain whether it is the case, we compare the companies in terms of shared hosting affordability, usability, uptime, speed and support service.
Affordability – Arvixe Wins
In general, most people who choose shared web hosting take a fancy to its cheap price. At this point, Arvixe has the ability to satisfy all webmasters. There are 2 solutions included in Arvixe shared hosting service called PersonalClass and PersonalClass Pro, regularly starting at $4/mo and $7/mo. And now, a 30% discount is available for people who use the coupon code BWH360. In this case, the price is automatically down to $2.8/mo. It is worth mentioning that all plans are sold at expressly marked price without any hidden fees.
Arvixe Coupon Code Activation
SiteGround has released 3 shared hosting plans including StartUp, GrowBig and GoGeek. The original price of each solution is $9.95/mo, $14.95/mo and $29.95/mo respectively. To cater to the need of more people, this company enables up to 60% discount to cut the price down to $3.95/mo, $7.95/mo and $14.95/mo.
| Price | | |
| --- | --- | --- |
| Plan in Comparison | PersonalClass | StartUp |
| Regular Price | $4/mo | $9.95/mo |
| Discount | 30% | 60% |
| Effective Price | $2.8/mo | $3.95/mo |
| Money Back Guarantee | 60 Days | 30 Days |
Arvixe guarantees to pay back all money to customers who cancel their accounts within the first 60 days. For SiteGround customers, they are able to ask for their money back in the first 30 days, however, the setup fees, domain registration fees and renewal fees are not refundable.
Features – Arvixe Wins
Webmasters who pitch on shared web hosting think a lot of hosting resources, programming languages, databases, control panel and some other features. In this case, we list the main features of Arvixe PersonalClass plan and SiteGround StatUp plan in the following table.
| Feature | | |
| --- | --- | --- |
| Plan in Comparison | PersonalClass | StartUp |
| Disk Space | Unlimited | 10GB |
| Bandwidth | Unlimited | Unlimited |
| Free Domain | Yes | Yes |
| Hosted Websites | 6 | 1 |
| MySQL Databases | Unlimited | Unlimited |
| PostgreSQL Databases | Unlimited | No |
| PHP5 | Yes | Yes |
| Perl | Yes | No |
| Python | Yes | No |
| Ruby on Rails | Yes | No |
| Control Oanel | cPanel | cPanel |
Arvixe and SiteGround include cPanel in each shared hosting package and simplify the site building furthest. Besides, both companies support the latest version of PHP and enable the maximum allocation of MySQL databases. However, SiteGround fails to offer Perl, Python and Ruby on Rails.
Uptime & Speed – Arvixe Wins
Arvixe locates its SAS 70 Type II Certified data centers in Chicago, Dallas and New Jersey to deliver at least 99.9% uptime to the hosted websites all over the world. Each data center is equipped with uninterrupted power back supply so as to avoid power disruption effectively. The technicians take turns to monitor all facilities and make sure that the infrastructures keep running well in the whole day. The following chart shows the uptime record of Arvixe during the past 30 days.
SiteGround locates its data centers in three continents, including Chicago, Amsterdam and Singapore. In this situation, the websites hosted in North America, the Asia-Pacific region and Europe can enjoy a high level of reliability. However, for some customers out of range, they may not feel good about the hosting environment.
In addition to perfect uptime, Arvixe also guarantees fast hosting speed by using high performance servers. The following statistics show that Arvixe consumes 445ms server response time on average. Besides, we also test the server response time of SiteGround, which takes over 700ms averagely.
Technical Support – Both Have Done a Good Job!
Arvixe and SiteGround both invest a lot to train experienced support teams who have the ability to answer all questions from webmasters. Besides, live chat, phone and email are all available for people around-the-clock to ask for a help.
And also, numerous beginner's guides, hosting tutorials, and some other help articles are offered to visitors who wish to handle more skills on web hosting. Before making this guide, we have tested the response time of the two companies' support service and find that both have done a great job!
Summary – Arvixe Wins!
Arvixe and SiteGround perform about the same in terms of technical support. When it comes to affordability, resource allocation, features and performance, Arvixe goes one better.