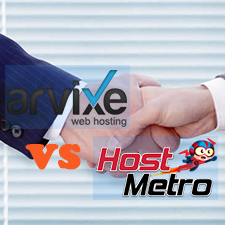 This Arvixe vs HostMetro comparison aims at choosing the best web hosting package for small business owners. In fact, either Arvixe or HostMetro can be an ideal option for any budget-conscious people as both of the 2 companies offer the competitive pricing of $2.8/mo. However, after comprehensively comparing Arvixe and HostMetro, we have found that both of them have some pros and cons.
In below, we first made a table to show the ratings of popularity, performance and hosting uptime of the 2 hosts' shared hosting service. Go on to learn teh details.
| Criteria | Arvixe | HostMetro |
| --- | --- | --- |
| Popularity | | |
| Performance | | |
| Uptime | | |
| Tech Support | | |
| Price Value | | |
Web Hosting Price
Just as we mentioned, the rate of the web hosting services offered by Arvixe and HostMetro stay the same – only $2.8 each month. Customers only need to add the coupon code BWH360 in the checkout and validate it, then they can purchase with this cheap price automatically.
Besides, both of the 2 web hosts offer the money back guarantee, which allows customers to get their money back if they want to cancel their accounts. The only difference is that money back period of Arvixe is 60 days, and HostMetro is 45 days. In this respect, HostMetro falls behind a little.
| Budget-friendliness | Arvixe | HostMetro |
| --- | --- | --- |
| Web Hosting Price | $2.8/mo | $2.8/mo |
| Money Back Period | 60 days | 45 Days |
Web Hosting Features
To set up a business website, features like large volumes of disk space & data transfer, unlimited domain hosting, powerful cPanel control panel, 1-click script Installer, SSL, and free advertising credits are essential. Fortunately, both Arvixe and HostMetro offer these basic features, but in terms of some advanced technologies like Perl and Python, HostMetro is not as rich-featured as Arvixe.
| Feature | Arvixe | HostMetro |
| --- | --- | --- |
| Free Domain Name | | |
| Disk Space & Bandwidth | Unlimited | Unlimited |
| cPanel Control Panel | | |
| Free Advertising Credits | | |
| PHP & MySQL | | |
| Python Script | | |
| Custom Crons | | |
| CGI Engine | | |
| Perl Script | | |
Web Hosting Performance
To compare the page loading speed and uptime offered by Arvixe and HostMetro, we have set up 2 e-commerce websites with the same contents, and host them with the 2 companies respectively. After one month's monitoring, we have found that both of them have achieved at least 99.9% uptime in real world. In terms of speed, HostMetro consumes 507ms averagely for server response, and Arvixe consumes 399ms, which is 108ms faster than HostMetro.
In fact, the hosting speed offered by either Arvixe or HostMetro is swifter than the majority of web hosts on the web. This is because the 2 companies utilize the most cutting-edge technologies to boost the hosting performance to the largest extent.
Arvixe has partnered with the world-class data center provider and largest IDC company – Softlayer. This long period relationship with Softlayer allows Arvixe to offer the most fluent and fastest network connections to speed up websites and ensure maximum uptime. All of these data centers feature state-of-the-art technology for uninterrupted power supply, safety guarantee, and machine cooling.
HostMetro also utilizes the cutting-edge data centers to ensure fastest and the most constant network connections. Besides, in order to further speed up the webpage loading, this company even leverages the power of some advanced technologies like CloudFlare CDN and SSD Drives.
Customer Service
Even experienced webmasters may encounter some problems during the website building and managing process, let alone beginners. In this circumstance, the responsive technical support is critical. Just imagine you have met something wrong, but fail to have some people help you. How frustrating it will be?
In order to eliminate this possibility, both Arvixe and HostMetro hire a group of professional and experienced support staffs who are available 24 hours a day, 7 days a week. Therefore, once customers need any help, they can contact these representatives via phone, e-mail, and live chat. Besides, as the efficiency is the essential ingredient of good customer service, the 2 companies guarantee that the waiting time of e-mail and ticket submit service is no more than 15 minutes, and hotline and live chat is no more than 3 seconds.
HostMetro has done a particularly good job in this aspect as all of their support experts have an average of over 5 years' experience in web hosting support. This means these people have seen a tremendous number of ins and outs of problems raised by customers, and know clearly what to do in order to fix these issues quickly and efficiently.
| Support | Arvixe | HostMetro |
| --- | --- | --- |
| Phone | | |
| E-mail | | |
| Hotline | | |
| Q & A | | |
Summary
According to this comparison, both Arvixe and HostMetro are cost-effective options with cheap price and rich features. However, Arvixe wins a little in terms of features and page loading speed, and HostMetro wins a little in terms of support efficiency.