Generally, a great many webmasters are fond of adopting minimalist themes to implement beatification of WordPress websites. It is not an easy stuff to pick high-quality one because the market is covered with multifarious themes that are crafted with different levels of quality. In consequence, with carefulness, we pick out the best ones that are well worth a try.
The themes we introduced in the following are sought after by reason of strong points in features, usability, customizability, and flexibility on which we mean to elaborate. In addition, for those themes fans who are seeking themes with different purposes, do not feel disappointed. There are some good WordPress theme marketplaces where you are bound to get one meeting your demands.
Evoke
Website: http://www.mojo-themes.com/item/evoke-minimalist-portfolio-theme/
Crafted based upon Hybrid Core framework, Evoke is highly customizable and flexible by featuring floating widget areas and shortcode with which you are capable of creating diverse sorts of layouts. Besides, this theme is stuffed with lots of great features that include 5 different color schemes, 10 custom widgets, and page templates, etc. Using Evoke, you can save time and energy in building and beautifying your websites.
Fabric
Website: http://www.mojo-themes.com/item/fabric-fully-responsive-one-page-html5-template/
This one is designed with CSS3, HTML 5, jQuery and the 960 grid system making it easy to create custom layouts. Being simple to be adjusted to meet different requirements, Fabric gains satisfaction from its users by coming with totally 23 background patterns, working AJAX contact form, Nivo slider with captions, PSD included, social network links, together with structured and commented codes.

Papaver
Website: http://moargh.de/portfolio/downloads/papaver/
This modern, clean and simple theme is packed with abundant features including 11 homepages, 39 HTML5 pages, 8 different sliders, 15 portfolio pages, easy-to-use dropdown menu, 2020 background patterns, and a great number of shortcodes. With the help of these great features, you are capable of demonstrating your company and showcasing products breezily.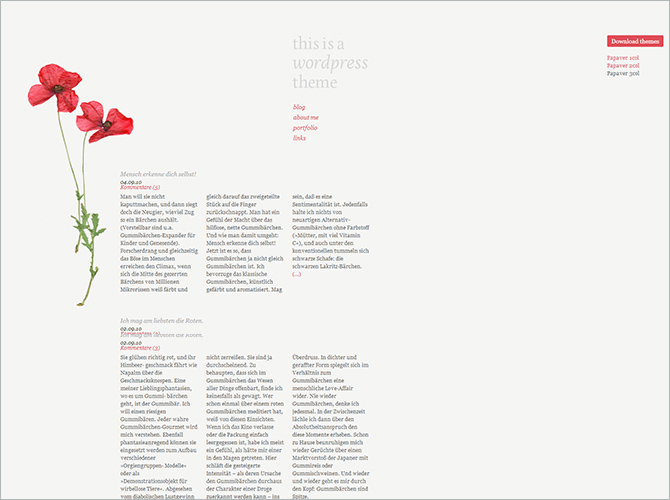 Wootique
Website: http://www.woothemes.com/products/wootique/
This theme is specifically crafted for bloggers, freelancers, businesses, and creative agencies by coming with HTML5, CSS3, and jQuery. Using this one, it is easy to fulfill great customizability including the customization of Favicon, login logo, and avatar, etc. Besides, it is integrated with jPlayer media player plugin with which you are able to enjoy video solutions crossing platforms and browsers.
Milo
Website: http://madebyminimal.com/milo
Milo is a good option for websites consisting of agency, portfolio, and photography, etc. For one thing, it enables you to have multiple choices among post formats that include Gallery, Standard, Quote, Video, Slideshow, Link and Audio, together with page templates that consist of Archives, Full Width, and jQuery Contact Form. For another, you can also get custom widgets such as Recent Posts, Menu, Popular Posts, Video, Twitter and Flicker.
Dorsey
Website: http://madebyminimal.com/dorsey
Featuring a clean and minimalistic design, combined with a powerful panel, being widely recognized, Dorsey is a suitable theme for almost all kinds of websites. Specifically, it greatly integrates more than 50 shortcodes, 7 pages templates, 6 custom headers, 3 custom post types, 9 custom widgets, and 3 custom author layouts. Also, you are free to get Google Maps and Google Analytics options.
Keen
Website: https://creativemarket.com/tienvooracht/22723-Keen-cleanminimal-portfolioblog
For blogs, online stores, and portfolio websites, undoubtedly, Keen is a preferable one owing to unlimited colors, 500+ Google fonts, 20+ shortcodes, 200+ FontAwesome icons, 2 services box style, 2 buttons style, and 3 levels of menu navigation. What is more, as for video, it not only supports local video but also supports Vimeo and Youtube.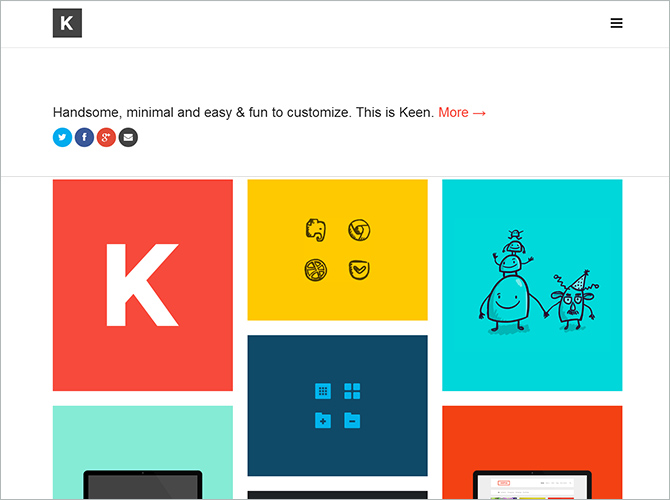 Minimalista
Website: https://creativemarket.com/BloggeretteStudio/25118-Minimalista-Genesis-2.0Child-Theme
Being created with one-page scroll design and full page background images, this theme is aimed at showcasing concise content with regard to which you are enabled to have alternative sections with different content types. Also, its elegant popups allow you to display more content. Moreover, its Bootstrap components include carousel, modals and grid system.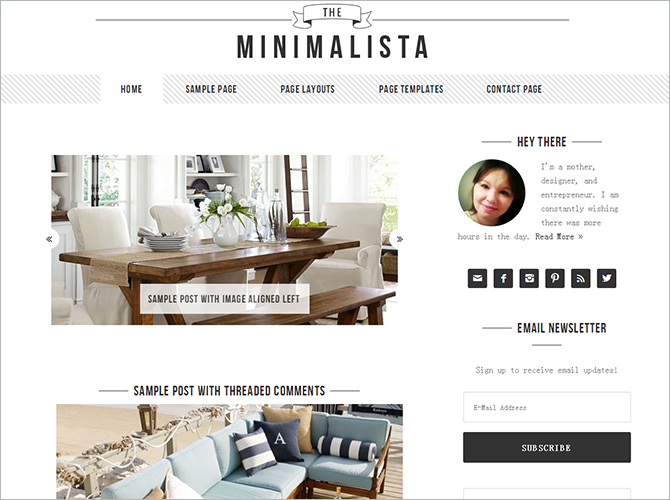 Focused
Website: http://www.s5themes.com/theme/focused/
Focused is designed based upon an intelligent and user-friendly framework and highly compatible with all major browsers working everywhere. Its portfolio pages include classable portfolio with 9 pages in predefined styles. Furthermore, its in-built AD-gallery makes it simple to add greatly flexible galleries to the pages without knowledge and skills in CSS.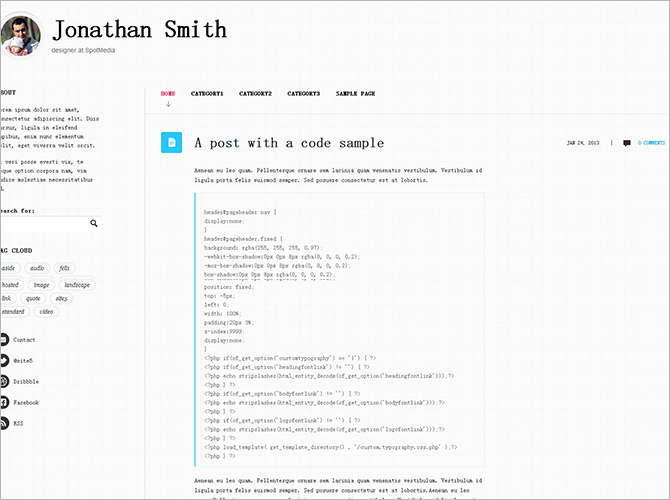 Spacious
Website: http://themegrill.com/themes/spacious/
This greatly flexible and efficiently minimal theme lays stress on mixed media and content by coming with layout that encourages reading. Because it is highly responsive, it is easy to make the images, text and videos of your websites scaled down gracefully in devices of a variety of sizes ranging from smart phones to pad and laptop.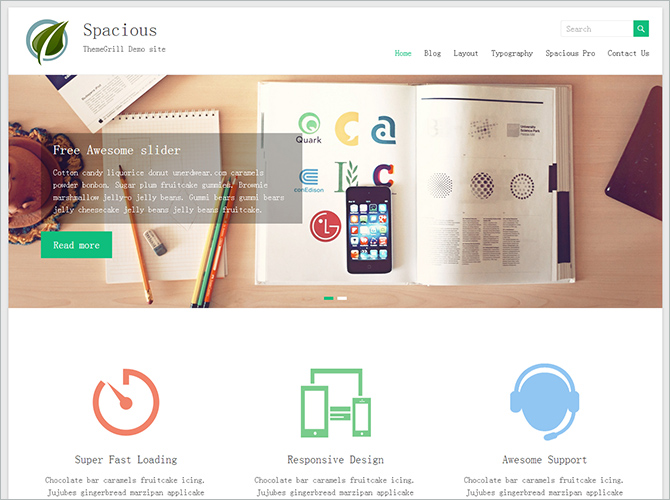 Vector
Website: http://www.templatemonster.com/wordpress-themes/51270.html
Vector minimalist WordPress theme contains a fast and extensive support for the users. It has 12 colour skins. It also contains 10 custom page templates and different sliders too. The theme consists of more than 30 web font support. There are variations of home page presentations and animated menu of presentations too. You are also going to find testimonial custom post type along with the automatic resizing of the image. Furthermore, the theme contains powerful and easy settings offered by admin panel.
Rustik
Website:http://www.mojo-themes.com/item/rustik-minimalist-e-commerce-ready-theme/?r=lovinger2000
This is one of the best WordPress minimalist themes among all. It is the best-selling theme on Mojo themes. With this theme, you can run a successful business of e-commerce in this era.
This is a very attractive minimalist e-commerce theme which helps in making your product attractive among the audiences. You can be attracted due to its exterior beauty as it contains excellent and indulging features which are definitely going to make your online business successful. With this theme in hand, you can use more than 160 options which would help you in customizing each and every single detail of your website.
The theme contains a set up of five minutes. The 17 widget areas and 100% responsive web design make this theme perfect to be used. You can easily translate your language with this theme. The theme works with any browser and provides you with a user friendly and cost effective experience of using WordPress.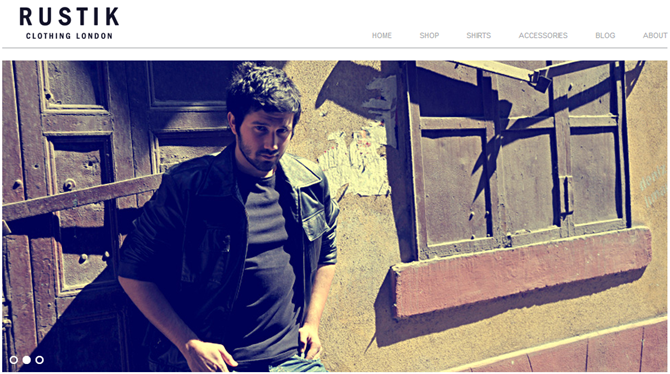 Inspiro
Website: http://www.wpzoom.com/themes/inspiro/
This WordPress theme is considered superb for photography. It also helps agencies with its custom portfolio type and custom type features. The features incorporated in this theme include responsive web design, language translation, post format, page templates, theme options, colour schemes (both light and dark), icons for social media, documentation options, contact form and much more.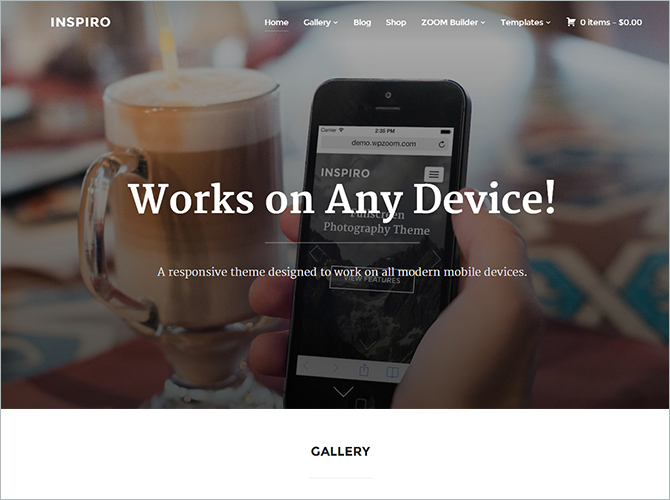 Carajillo
Website: http://themejug.com/theme/carajillo/
Carajillo is one of the best minimalist themes which have been built up using HTML5, jQuery, CSS3 and Grid for freelancers, business owners, bloggers and creative agencies working on the web.
With this theme, you are able to easily set up the amount of works that have been displayed on per page of archives. It would also help you in enabling the filters for your portfolios. In addition, you can decide whether you want to display the author box or not. If yes, then you can choose the exact place to display it. Furthermore, this theme allows you to set up a custom slug for custom taxonomy and other custom type posts. All in all, this WordPress theme is amazing to work with.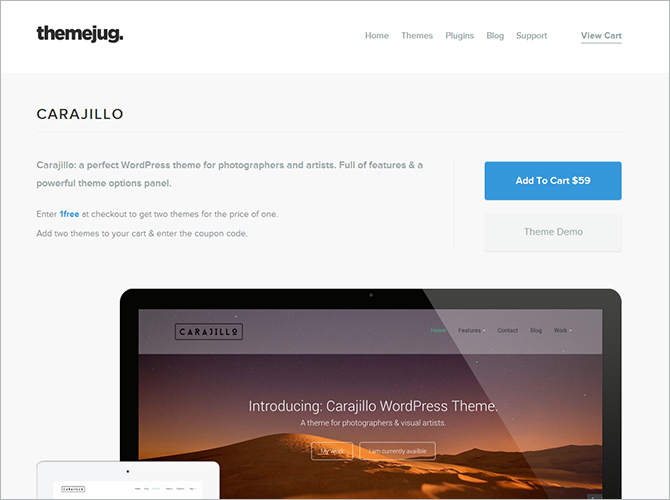 Jotter
Website: http://www.woothemes.com/products/jotter/
It is a responsive website design theme, which is considered perfect for portfolio website designing. It is also considered suitable for blogging and online stores.
It offers unlimited colours to the users. The other features of this theme include modern design, customized background, pre-configured layouts of pages, fixed menu, ready translation, CSS support, JavaScript support, menu navigation, box styles for services, HTML5, smooth and easy scrolling, animated content options, CSS3 and much more.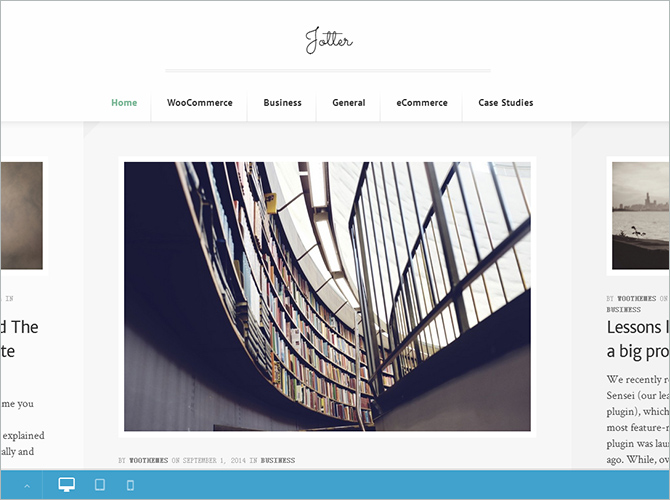 Stock Photography
Website: http://graphpaperpress.com/themes/stock-photography/
Stock Photography is an amazing WordPress theme which is used for multiple purposes. You can use this theme for any of your blogs using strong panel. This theme looks perfect on any device because of its clean and fantastic design.
The other features of this theme include customized support, HTML5 and CSS3, responsive theme, Retina ready, WPML support, over 2000+ icons for fonts, ready translation, custom panel with a lot of options and a lot more.
Wellfolio
Website:http://themeforest.net/item/wellfolio-wordpress-perfect-minimalist-portfolio/2756120?ref=lovinger2000
This theme is considered perfect for the people who like to show off their projects. Its minimal design and interactivity make it unique among all. This theme is actually powered by jQuery animation. You can easily use this theme to attract your clients.
The theme requires five minutes for installation. In addition, the other amazing features of this theme include its nice interactivity, portfolio custom posts, gallery with a lot of columns, video on blogs, CSS style etc.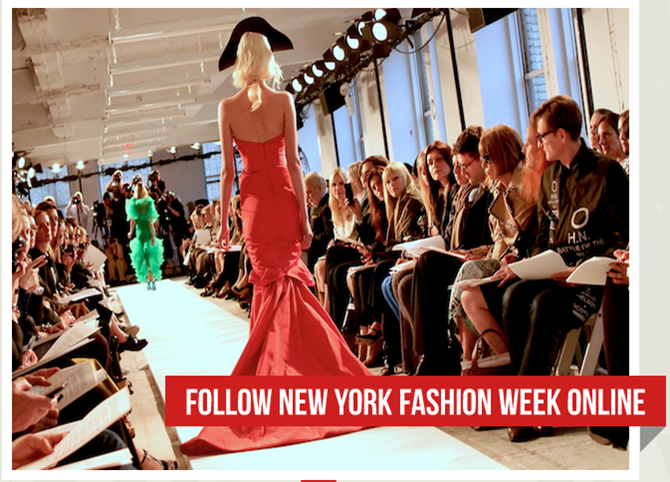 Remobile
Website: http://my.studiopress.com/themes/remobile/
Remobile is a perfect minimalistic theme for businesses. It is a very simple theme which contains a large number of excellent quality features like layout builders, sliders, theme options, and shortcodes, etc. It is regarded to be the perfect solution for those who are wishing to create their online portfolios.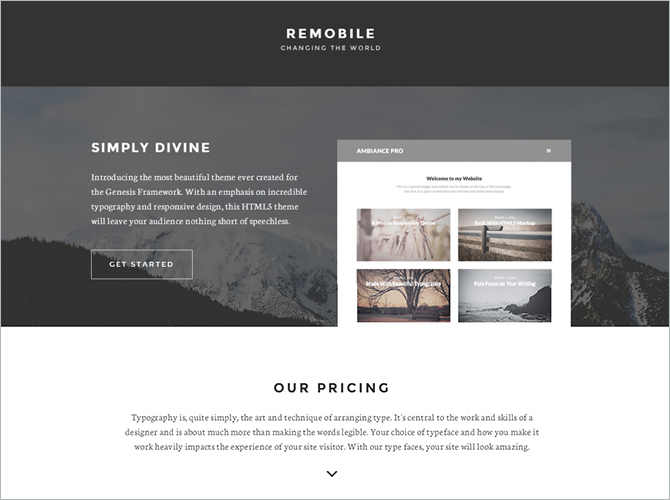 Hello There
Websiate: http://www.templatemonster.com/wordpress-themes/48843.html
It is a grid-based theme, which contains minimalistic themes for creative. You can use this theme for showcasing your work. It is also regarded to be a Tumblr style system for blogging. This theme is among the most versatile themes of WordPress. It offers strong support for post formats as well, which means that you can enhance your blogs with your audios, images, asides and galleries, etc.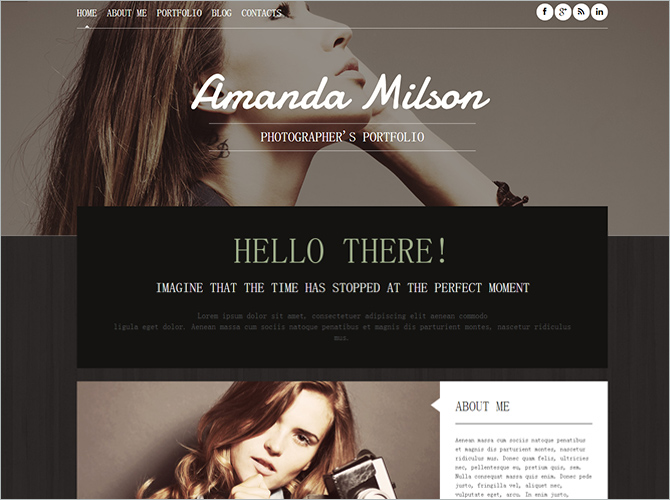 Explore
Website: http://templatic.com/app-themes/explore-directory-theme
It is one of the best minimalist themes for portfolio. It is free from trends, and it makes your main point of great attraction. You can present your work in a very professional manner with the help of this amazing WordPress minimalist theme.