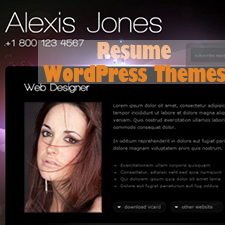 If you are still sending your CV on a piece of paper when hunting for a job, then you are totally outdated. Nowadays, more and more job seekers choose to set up a resume site with WordPress, with which they can easily add and update their skills, working proficiency, education experiences, strong points and much more.
In this article, our editors have shown you the best 10 resume or CV WordPress themes, with a view to helping you build a professional and informative resume website.
Zwin
Website: http://themeforest.net/item/zwin-responsive-vcard-wordpress-theme/2134726
Zwin is an extraordinary and professional WordPress theme for online vCard, which allows you to create a web presence to promote yourself. This theme has a header section where you can add your name, head portrait, e-mail address, phone number, and any other personal information. Besides, there are five different color schemes for you to choose from, including yellow, red, green, blue and purple. And you choose your preferred one from the theme options page. Moreover, Zwin accommodates different screen sizes and is responsive to mobile devices, so your prospective employers can lean about you at anywhere.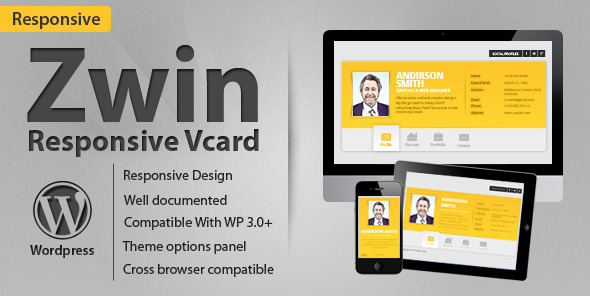 Main Features
User Friendly Theme Control Panel
Clean, Simple, but Responsive Design
jQuery Powered
Custom theme options panel
JobJockey
Website: http://colorlabsproject.com/themes/jobjockey/
JobJockey is a perfect WordPress theme for you to set up a resume site with practically no efforts. The overall feeling of JobJockey is sleek and professional, and it has a special designed job search bar with drop down menus, which allows you add your preferred industry categories, job types, and salary. Besides, its exclusive sidebar and footer sections make inserting widgets an easy thing.
Main Features
User Friendly Theme Control Panel
Clean, Simple, but Responsive Design
jQuery Powered
Custom theme options panel
MyResume
Website: http://www.elegantthemes.com/gallery/myresume/
MyResume is an ideal WordPress theme to create a professional online presence and promote yourself. The total design is sleek, simple and user-friendly. It comes with 5 unique color schemes to suit your needs, and has a special layout for you to effectively showcase your education, skills, and working experiences. Besides, MyResume has a great portfolio feature which allows you to show your best work in a clean and style way.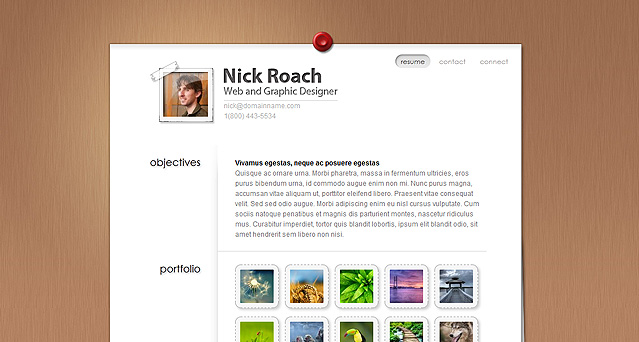 Main Features
Gallery Layout
Five Unique Colors
Exclusive Integration Tab
Aegolius
Website: http://www.mojo-themes.com/item/aegolius-responsive-resume-portfolio-wordpress-theme/
Aegolius is a fully responsive WordPress theme, which is specifically designed to help you set up a professional online resume website. It comes with three color schemes and is ready for translation. Besides, you can click the social media icon integrated with this theme to promote yourself, such as Facebook, Twitter, LinkedIn, Google+, Dribbble, Behance, Flickr, Youtube, Vimeo, Pinterest.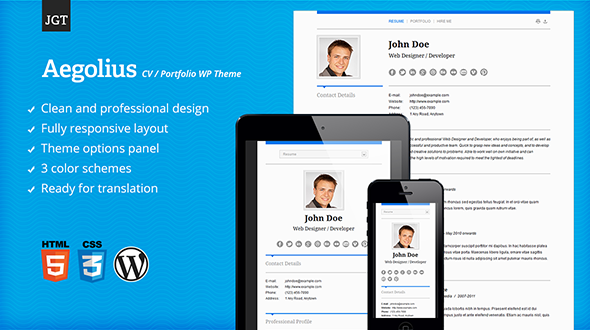 Main Features
Clean and professional design
3 color schemes
Fully responsive layout
Ability to download attached resume files
Me
Website: http://www.cssigniter.com/ignite/themes/me/
Just like the name of this WordPress theme, Me can effectively help you set up a professional resume websites. It was designed by the same designer as Aegolius so they have a very similar style, comes with multiple color schemes. It is not as responsive as Aegolius, but features a print-friendly CSS design which allows you to download a PDF version of your resume.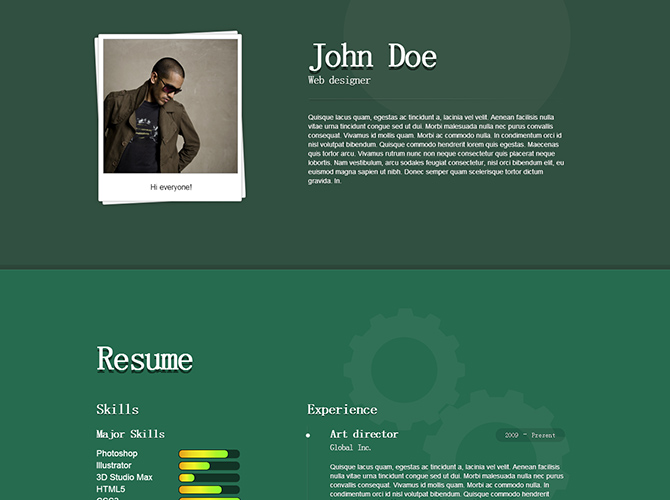 Main Features
Custom post types for Portfolio, CV/resume
6 portfolio layouts
2 different sliders
7 different skins
Visiting Card
Website: http://wparchive.com/visiting-card-wordpress-theme/
Visiting Card is a quality and free to download resume WordPress theme. This theme is very user-friendly with a Theme Control Panel, from which you could handle the layout and design of your website without the need of touching a single line of code. Besides, the overall design of Visiting Card is very simple, with a gray color background, in-built contact form and multiple social network icons.
Main Features
Support for multiple social networks
In-built contact form
Ideal for non-bloggers
Prestige
Website: http://themeforest.net/item/prestige-ultimate-wordpress-theme/
Prestige is a minimal and colorful resume WordPress Theme based on different color menu tabs. It comes with a big pack of various skins, short codes, widgets and fonts, so you can customize your websites as you want. Besides, it offers two versions: Dark with 300 various skins and Light with 50 new unique skins. One of the amazing features of Prestige is that it has a huge list of advanced short codes (up to 350) which allow you to customize text, insert media files, create unique galleries, and much more.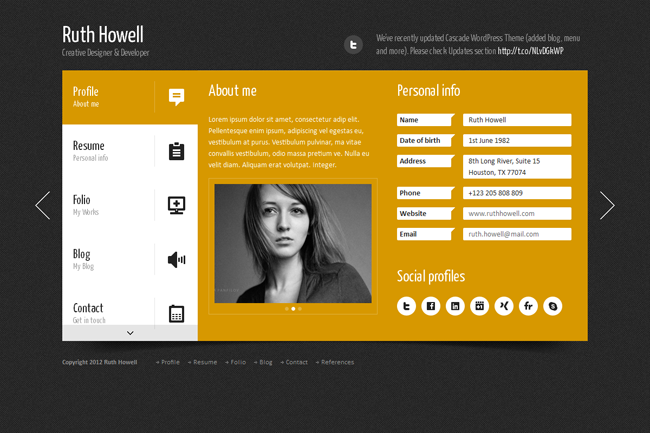 Main Features
7 Different Page Transitions Available
20 Predefined Tab Icons
Build-In Portfolio With Lightbox
Build-In References Implemented With Shortcode
Rachel
Website: http://www.web-savvy-marketing.com/store/rachel/
Rachel is a fully responsive resume WordPress theme, which can work fluidly in all major browsers, tablets and mobile phones. It offers 7 color schemes, and you can change the colors in seconds. Besides, Rachel features an awesome portfolio, a nice blog and resume and a working contact form. Each page has the jQuery feature, so you can provide your prospective readers with a rich and smooth browsing experience.
Main Features
Change colors/style in seconds
17 different background patterns to choose from
unique custom page templates for Profile, Resume, Portfolio and Contact
Layered PSD for more detailed customization
Clean Resume
Website: http://techipost.com/2012/05/15/clean-resume-word-press-theme-2/
Clean Resume is a premium, professional and responsive vCard WordPress theme, which is fully responsive so allows your resume site looks great no matter on an iPhone or a big computer screen. It comes with an extensive documentation that is helpful for everyone install this theme in just few minutes, even for beginners. Besides, its layout is quite simple and ultra clean, so you can showcase your education, skills and work experience effectively.
Main Features
Easy to customize
Clean and modern design
Well documented
zeeBizzCard
Website: https://wordpress.org/themes/zeebizzcard
zeeBizzCardis, like the name says, a perfect resume WordPress theme for any job seekers hunting for a job. It is ultra-responsive, retina ready, and based on Twitter bootstrap. The design is streamlined with minimal colors, maintaining a professional and clean appeal, after all, first impressions count. Also, zeeBizzCard is customizable with the theme Customizer, so you can easily adjust the layout and style of your resume site.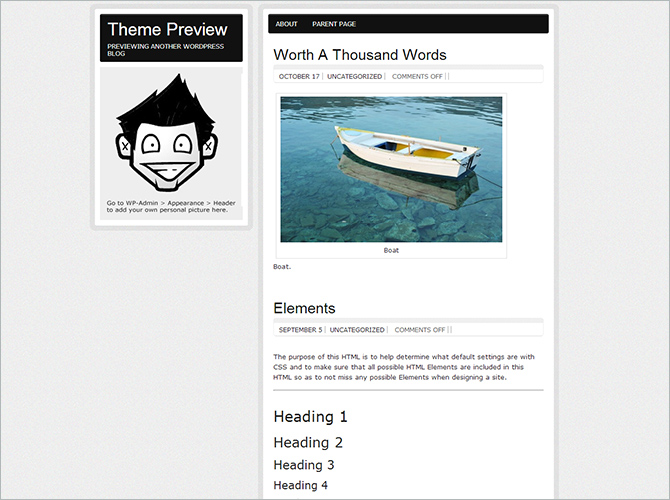 Main Features
Ultra responsive layout
Retina-ready
Based on twitter bootstrap
CSS3 + HTML5