WordPress has offered so many themes for customization, with which you can make any dull and boring page look phenomenal. WordPress CMS themes are full of features, through which you can beautify your website or blog and increase the traffic to your site.
Be it for e-commerce, magazines, stores, businesses or just your personal blog, WordPress CMS themes are suitable for any kinds of websites or businesses. The themes at the same time are compatible with many powerful plugins that make them unique. Below is a list of 10 best WordPress CMS themes for blogs, stores and magazines.
Interia
Website: http://themeforest.net/item/interia-responsive-wordpress-cms-theme/3114354
The theme supports all the major plugins and is fully responsive. You can switch on or off the footer section at the bottom of the page or page titles. It has a top head support for the background image and radial gradient. Besides, it supports WooCommerce, and you can control the WooCommerce sidebar position from the customizer. Interia is equipped with all the portfolio settings and blog page settings. Check out the live preview and get an idea about how exactly it can look on your website or blog.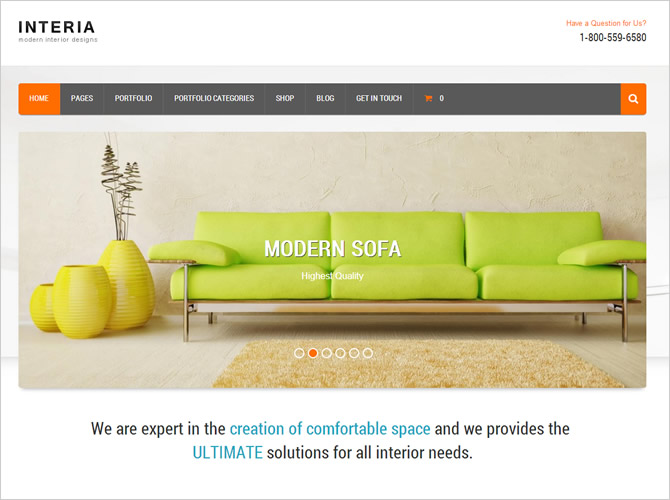 Freemium SaaS WordPress Theme II
Website: http://themeforest.net/item/freemium-saas-ii-html-theme/118417
It consists of layered Photoshop PSD files of the entire site and contains 21 useful shortcodes. You can have your own product tour page and have a billing information and credit card sign-up form. Equipped with 6 pages template and editable 3, 4, 5 column pricing grid, you can customize panel admin settings. Design your blog with this elegant WordPress CMS theme and see the praises you get for your stores, magazines and blogs.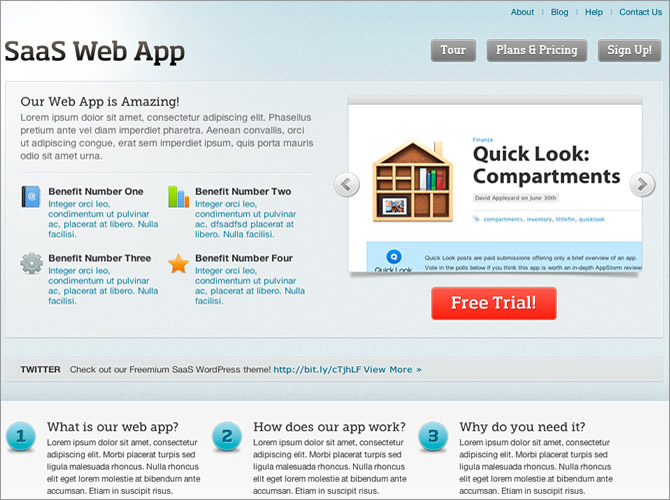 DeepFocus
Website: http://www.elegantthemes.com/gallery/deepfocus/
As a theme that is perfect for photographers, fashion models, portfolio websites and artistic showcase, DeepFocus is equipped with many customizable options. With WordPress theme customizer, you can customize complete layout of your page and custom all the widgets through Kaya DeepFocus Page Widget. With Google Font logos, image logos, custom post formats, and many more, you can build the most beautiful page. The theme demo gives the exact look of how this classy theme can look on your page with a column containing various tabs to the left.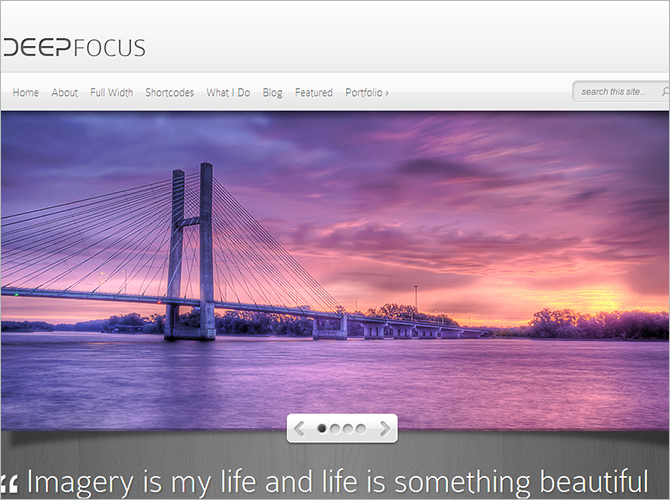 Vimes
Website: http://www.wpzoom.com/themes/vimes
As a fully responsive theme, it has a child theme support page and you can customize post formats, complete layout and other elements the way you want. You can even create custom sidebars and build unique layouts within minutes. The demo with its serene green look makes it very eye catching. With tabs like homepage, about us page, portfolio, services, gallery, shop, blog and contact, it achieves a real look for the perfect magazine website.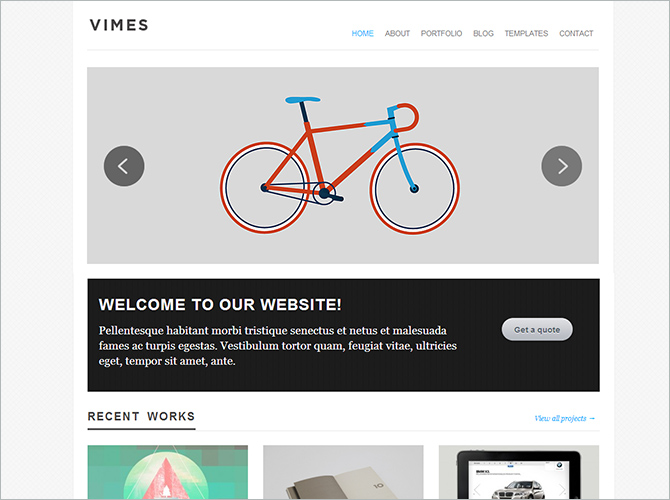 PhotoNote
Website: http://www.wpzoom.com/themes/photonote/
With this fully responsive theme, you can add a list of features like background video, background image/ slider, header image, header slider and many more. You can customize the page through theme customizer or change the full-screen background settings the way you want. The beautiful and elegant demo page with many full-screen background pictures and highly customized colors can give you an idea concerning about how to turn your page into a sophisticated one.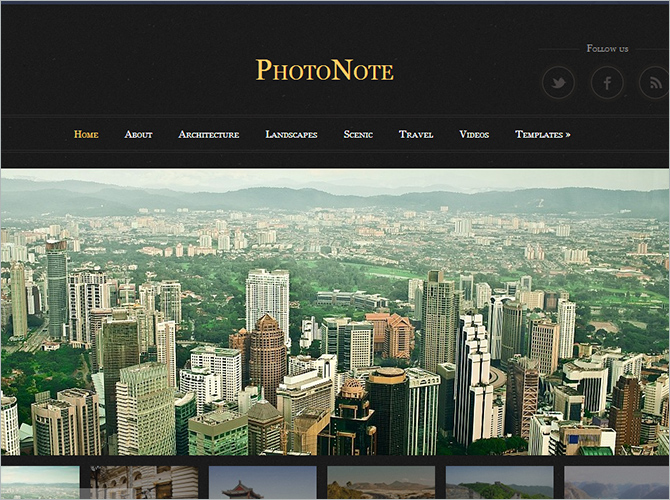 Allure
Website: https://smthemes.com/allure/
The Allure theme has especially been created for you to market your software as a web application with full localization support. It comprises features such as 23 useful short codes, editable 3, 4, 5 column pricing grid and product tour page templates. It has 6 admin switchable color schemes, through which you can make a page perfectly matching your imaginations. You can even add billing information and credit card sign-up form.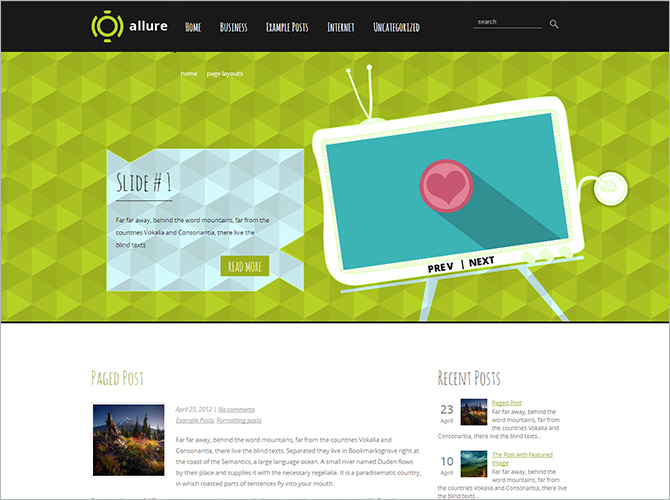 Photolia
Website: https://upthemes.com/themes/photolia/
This creative WordPress CMS theme has more flexible page builder widgets to create a unique page in minutes. Supporting all the major plugins, the theme has a customizer for the background image and color of a menu bar, content, footer and many more. Its fantastic demo can give you a tour through this theme with many background images, tabs and beautiful colors, all designed especially for you.
Professional
Website: http://inkhive.com/product/professional/
Feature-rich, clean and flexible Professional WordPress CMS theme is ideal for photographers, models and portfolio websites. It supports video and dynamic thumbnail resizing. You can beautify your page through many portfolio page templates and customization options. The elegant black and red combination makes the theme demo look gorgeous in the screen. You can view photos slide through a stylish red tab bar at the top with options like homepage, about us page, and portfolio, etc.
Bose
Website: http://inkhive.com/product/bose/
This interior and premium WordPress theme is ideal for home décor websites. With WooCommerce support, you can even turn it into an e-commerce site. With custom sidebars, video support, Kaya slider custom post type, and so on, you can create a dynamic page of your own. This theme allows you to get a clear visit of the theme demo and check out the elegantly designed page with beautiful soothing colors and background images, emanating an impressive persona out of it.
Lens
Website: https://smthemes.com/lens/
As a clean WordPress CMS portfolio theme, it comes with many page builder, custom widgets and theme customizer. Build for today's website, it is highly responsive and translation ready. You can create unlimited portfolios and inset videos, widgets, portfolio page templates, custom post types and many more. You can also insert images as small blocks/tiles or add a custom background image support. With the theme options panel, it is modern and extremely easy to use.