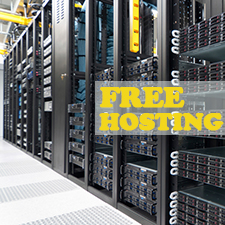 As investigated, a lot of webmasters choose the free web hosting to build their sites, but end up finding that it is not an ideal option for website creation. In fact, for beginners who have never built a site before and want to have a try, some free web hosting providers like WordPress.org, Tumbler, and Blogger are good choices. However, if you are serious about your brand-new website, or if you want to make a business online, a free hosting service will never bring you success. Check the reasons in the following.
Limited Allocation of Server Resources
Free web hosting only includes a limited amount of disk space and bandwidth for you to store and transfer the website data. For instance, Blogger offers a total of 2GB for image storage and 1 GB for webpage size. It may barely enough for a super-simple and plain personal blog containing only textual contents and small-sized photos. But if you want to upload some high-resolution images or multimedia files, you may exhaust the allocation within a short period of time.
Surely, you can upgrade your plan to increase the amount of available storage space, but you have to pay extra money. WordPress.com, for instance, costs you $99/yr for 10GB disk upgrade.
Frequent Downtime
What webmasters complain most about free web hosting is the frequent and serious downtime. This is because many of these providers utilize cheap web servers with low specification, and many of them even piece together the servers by themselves with the cheapest parts purchased from the market. Besides, in order to save budget, it is impossible for these companies to locate servers at world-class data center featuring the lasted advanced technologies. Thus, the web servers always break down due to the power outage, facility overheat, or secure vulnerabilities.
Slow Page Loading Speed
You can never have a website with fast page loading speed if you choose a free web hosting, as they have no quality server and top-level data center infrastructure to guarantee peak performance. In addition, the majority of them don't offer resource protection technology, meaning that once your neighbours consume too much server resources, your website performance will be affected negatively.
Little Chances for Customization
In order to make your site stand out from the crowd, you have to customize it with the most unique and attractive template. With free web hosting, however, your choices are very limited. Even the most popular WordPress.com only allows 200 themes for you to choose. Besides, if you want to install some plugins to extend the functionality of your website like adding social networking or discussion board, you may encounter some compatibility issues to get these plugins work properly. Some free web hosts even disallow you to install any plugins, unless you upgrade your package with extra money.
Security Issues
Websites hosted with free web hosting are more likely be hacked by malicious intruders than sites hosted with paid hosting service. This is because these companies spare little or even no budget for security measurements to save money, such as daily website backup and data encryption. Besides, you are not allowed to utilize any security relates plugins to protect your website, so you are very likely to encounter website hacking or valuable information loosing.
Not Search Engine Preferred
If you host your website with free web hosting, then you will feel difficult to get a high ranking in the search result list. After all, no one likes a website which is always inaccessible and consumes a long time for webpage loading, so dose search engine. Besides, as the domain name plays a vital role in search engine optimization, you can never have a SEO friendly domain with free web hosting. Blogger, for example, gives you a domain that looks like yourdomain.blogspot.sg.
Lack of Technical Support
Typically, free web hosts don't offer technical support with a group of professional support representatives. Therefore, once you are in trouble and need help, you cannot find any expert who is ready to assist you day and night.
Best Affordable Web Hosting
Clearly, free web hosting is unable to help you set up a real successful website, so you'd better choose a paid one. In fact, there are a lot of award-winning web providers supplying fast, reliable, and rich-featured web hosting solution with customers at affordable prices, such as Arvixe, WebHostingHub and JustHost. All of them are priced no more than $4/mo, coming with reliable server resources, at least 99.9% uptime, fast page loading speed, and 24/7 responsive technical support.