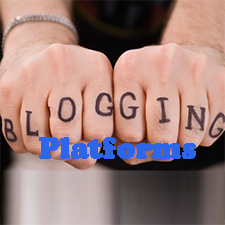 There are a large number of blogging platforms available on the web, so many bloggers, especially beginners, might feel confused which one is the best choice to set up their blog sites. In this article, we'd like to give you an introduction of the best blogging tools, as well as their pros and cons. Note that all of the selected platforms are handpicked by our editors carefully, based on usability, cost, technologies, and customization.
WordPress
WordPress is the most popular blogging tool which has been recommended by a tremendous number of users all over the world. As estimated, there are more than 60 million of websites being created by this software, and over 18.9% of the top 10 million sites are powered by WordPress. Besides, it is totally free and open source, coming with countless quality themes to beautify your blog and powerful plugins to extend the core functionality.
Pros
Customizability – You can download and install thousands of themes and plugins from WordPress.org and some other third party companies easily.
Flexibility – WordPress is really flexible, which can be used by both geeks and newbies to set up sites of any kinds, such as the personal blog, online store, and business website, etc.
Full Control – You can get the full control of your blog, being able to do whatever you like with it, including selling ad spaces, joining an affiliate program, expanding the online reach, and many more.
Ease of Use – With the 1-click installer offered by almost all the web hosts, you can get your WordPress blog up and running within minutes. Besides, even a 5-grade kid can create content, upload photos, and publish posts with WordPress without any hassle.
Cons
Cost – In order to set up a WordPress powered blog successfully, you need to purchase a web hosting service which causes some overhead of $7/mo averagely.
Too Many Options – For users looking to make the full use of WordPress, they need to spend hours to learn all of its features comprehensively.
WordPress.com
This is another WordPress option you can choose – a free WordPress hosting service provider. People can start a blog immediately after registering to the website without spending even 1 penny. However, these blogs come with strict limitations like limited storage spaces and little options of customization.
Pros
Free of Charge – If you only need a small blog to share your daily activities with people all around the world, then the blog built with WordPress.com is totally free of charge.
No Responsibilities – You only need to focus on your blog content, because WordPress.com will handle the rest like spam protection, software updates, website backups, and server maintenance, etc.
Multiple Content Types – In addition to standard blog posts, you can also share some images, videos, quotes, and links.
Social Media Integration – There is no need to install any social networking plugins as your blog is integrated with these tools by default.
Cons
Disallowance for Third Party Themes – You can only choose a theme among WordPress.com theme library (only 209 at present), which has been used to beautify some other blogs for many times. Some premium themes that have been used for less time will cost you from about $45 to $100
Disallowance for Plugins – WordPress.com doesn't allow plugin utilization in a free plan. If you really need one, you have to spend $166/yr to upgrade your account.
Unprofessional Domain – You can never get a simple and professional domain name with WordPress.com, but the one looks like yourdomain.wordpress.com.
Blogger
Blogger is a free blog publishing platform, which has been bought by Google in 2003. As one of the earliest blogging service providers, it now supports numerous blog sites on the web, with more than 1 million new posts and comments being published every day. Besides, Blogger is owned by Google, so people wishing to use it must have a Gmail or Google plus account.
Pros
Usability – People only need to login to their Gmail or Google plus account via blogger.com, then can get a newly-launched blog at once after deciding the name, domain, and template.
No Cost – Blogger is an absolutely free blogging service provider so you can start a blog without any cost.
Monetization – Blogger is integrated with Google AdSense by default, making money-making through blogging an easy thing.
Multiple Integration – In addition to AdSense, there are some other useful integrations with Blogger for better blogging service, such as Google Toolbar, Amazon Associates, Windows Live Writer, and Google+ comments, etc.
Cons
Not SEO-Friendly Domain Name – The blog hosted with Blogger comes with a long domain like domainname.blogspot.com, which is not preferred by search engines.
Limitations – Blogger has some limitations on user account, team members, as well as content storage and bandwidth. The number of blogs should be less than 100 per account; the size of pages is limited to 1 MB; the size of pictures is scaled to 1600px; the blog description is limited to 500 characters.
Customizability – Bloggers offers limited options of themes and plugins.
Recommendation
To be honest, as compared with 2 free blogging platforms, self-hosted WordPress is more suitable for newbies setting up a blog site. This is because it is highly customizable, user-friendly, and search engine preferred. If you are in a tight budget, you can choose an affordable and reliable web hosting company to host your blog. In the following, we have listed the top 3 blogging web hosts for your consideration.