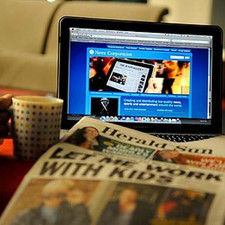 There are a lot of news media that recognize the powerful features of WordPress for website creation and online words management. Many news sites owners are using WordPress as their only choice for content creation and promotion. BBC America, for instance, has been using this software since a long time. After all, WordPress is a free and open-source CMS platform, coming with an easy-to-use interface and loads of great features. Its simplicity and beauty have attracted companies toward this tool.
Due to the confusion of website design and content layout for news sites, in this article, we'd like to discuss some awesome news sites that are made with WordPress, along with their unique features and highlights.
Time.com
Website: http://time.com/
You can be surely familiar with this U.S. based news website. This site is among the top 1000 websites on the internet. Its elegant design works seamlessly on all devices, along with the top posts that are set as the featured articles.
It provides a simple and user-friendly interface for readers to go through and browse the whole site without any hassle. In addition, WordPress Cheetah Mail plugin is integrated for all subscription forms and lead capturing pages. Readers can also find and utilize the various other WordPress plugins and templates on this website. This website is proudly powered by WordPress VIP.
News.Harvard.edu/gazette
Website: http://news.harvard.edu/gazette/
This oldest American institute website is built using WordPress. It is a news-room platform that is the online engine of the 132-year Harvard gazette, which is serving the nation by presenting great content to students, administrative staff and other readers.
Dynamic design, beautiful backgrounds, research options, and a result-oriented template provide an excellent end-user experience. WordPress education plugins and university templates are used to create this awesome website. As a result, this multi-purpose site receives more than 6 million page views per year at present.
Nytimes.com
Website: http://www.nytimes.com/
New York Times is more than 162 years old. It has been serving readers by providing high-quality content to fulfill customer needs and expectations. Nytimes.com is the digital expansion of this newspaper. Its responsive design, featured posts, social media buttons, rich menus, different categories, unique advertisement system, and mobile optimization present a great user experience.
This international website supports multi-language features, and has a complete traditional newspaper design that works very well with all modern mobile devices.
thedailycougar.com
Website: http://thedailycougar.com/
Dailycougar is published by the University of Houston. Student media advisory committee is responsible for the maintenance of this news site. The main focus of this website is to help students in different affairs such as learning and out-class activities.
This multi-purpose website has a flowing design to capture reader attention. It has featured multimedia posts, polls, subscription options and unique advertising system. Twitter update sections, opinions, administrator sections, and a learning-oriented design are also available. This news website is updated daily, and the print version is only available once in a week.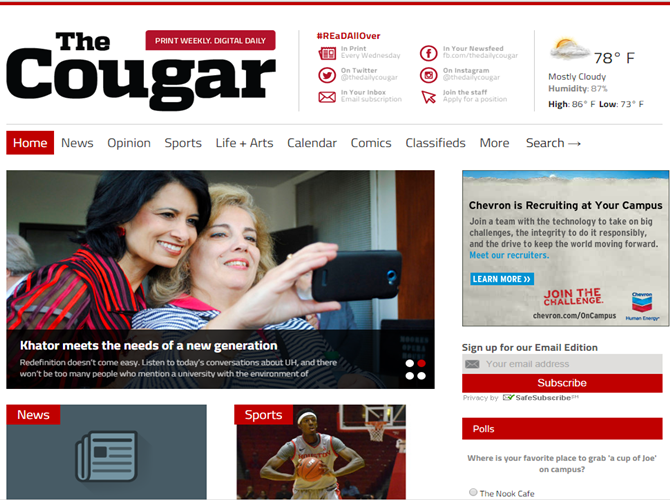 Temple-news.com
Website: http://temple-news.com/
This magazine was first published in 1921 by the Temple University. It is a great illustration for a news magazine packed with multimedia content posts. The clean and elegant design achieves a better display of different types of polls, twitter updates, news, advertisements, and slide shows. The newspaper is updated daily. Print version is available each Tuesday.
The official website hosts three blogs i.e. The Cherry, The Owlery, and the Broad & Cecil. Temple news now has received a 3.5 rating based on the implementation of different WordPress features.
Annarborchronicle.com
Website: http://annarborchronicle.com/
Chronicle was launched in September 2008 to publish civil affairs and local government issues. It is advertised as a news website with main to provide useful information to local residents. It has been voted 3.5 due to the presence of loads of meaning and updated contents.
The traditional design of this website allows for displaying advertisements, job sections, posts, journalism writing and other content types in a simple and elegant way. As this site is powered by WordPress, there are different templates and plugins for readers to use for better reading experience.
La Times
Website: http://mediakit.latimes.com/
This news site also uses WordPress as a basis for the online newspaper creation. La Times is published in 4 versions i.e. digital, print, direct mail and mobile version. The digital version has a versatile design that attracts visitors using the colorful backgrounds, well-structured website layout and carefully-crafted words.
It is estimated that the La Times gets 6.8 million readers weekly since its serving for Southern California for more than 132 years, with approximately 5 million readers. The site has received a rating of 3.5.
National Post Blogs
Website: http://www.nationalpost.com/
This is a Canadian local newspaper website based in Toronto. It is a weekly newspaper that has been serving the nation since 1998, publishing content from Monday to Friday. This online newspaper covers a wide range of topics for all ages, and can get almost 200,000 readers in a day.
The combination of great traditional design, beautiful colors, ad placements, posts and rich menu system offers a great reading experience without any distraction. The site is rated 3.5 out of the eight sample news sites we have discussed in above.